Schneider Tawarkan Solusi Pusat Data Prefabrikasi Modular untuk Sambut Tren IoT
Ada empat produk yang ditawarkan yaitu SmartBunker SX, SmartBunker CX, SmartBunker FX dan SmartShelter
Adjie Priambada - 22 February 2016
Jumat kemarin (19/2), Schneider Electric Indonesia memperkenalkan solusi pusat data terintegrasi untuk menjawab tren Internet of Thing (IoT) yang terus tumbuh. Di samping itu, Schneider juga menghadirkan dukungan berupa data center infrastructure management (DCIM) yang memungkinkan pelanggan memonitor kebutuhan dan aktivitas pusat data dari jauh.
Laju pertumbuhan teknologi yang sudah tidak terbendung lagi telah berhasil mendorong berbagi tren baru naik ke permukaan, di antaranya adalah IoT dan Big Data. Kedua fenomena tersebut memiliki potensi untuk merubah berbagai aspek bermasyarakat dalam pendekatan terhadap teknologi, mulai dari gaya hidup hingga perputaran roda ekonomi. Inovasi yang naik ke permukaan saat ini adalah teknologi wearable devices, smart home sampai smart city.
Berdasarkan data dari perusahaan analis Gartner sendiri pada tahun 2020 akan ada lebih dari 26 miliar perangkat yang saling terhubung, termasuk wearable technology, peralatan elektronik di rumah dan banyak lagi.
Business Vice President Schneider Electric divisi IT untuk Indonesia, Malaysia, dan Brunei Astri R Dharmawan mengatakan, "Besarnya koneksi jaringan dan jumlah perangkat elektronik yang saling terhubung menciptakan permintaan yang lebih tinggi untuk kapasitas data center [pusat data]. Namun, hal ini menimbulkan tantangan khusus bagi data center, terutama di bidang infrastruktur, keamanan, kapasitas data, manajemen storage, server dan jaringan data center."
Berangkat dari alasan tersebut, Schneider coba menawarkan solusi pusat data prefabrikasi modular yang dinilai dapat menghemat waktu dalam membangun pusat data. Sistem ini juga diklaim Schenider dapat diandalkan di berbagai kondisi karena dirakit dan melalui berbagai tahap uji di pabrik untuk kondisi yang berbeda. Tren yang berkembang terkait pusat data prefabrikasi modular ini dan dilirik oleh perusahan adalah Micro Data Center yang terdiri dari 1 hingga 10 rak server.
Pasar yang dibidik sebagai pengguna Micro Data Center sendiri adalah perusahaan dengan skala besar. Beberapa di antaranya yaitu industri perbankan dan retail, pabrik otomotif, industri migas, pemerintahan dan militer, sampai ke perusahaan telekomunikasi.
Dusebutkan Enteprise Sales Director APC by Schneider Electric Yana Haikal, untuk solusi ini Schneider memiliki empat pilihan produk yang diunggulkan. Keempat produk itu adalah SmartBunker SX untuk ruang IT tradisional, SmartBunker CX yang dioptimasi untuk lingkungan perkantoran, SmartBunker FX, dan SmartShelter dengan multi-rack dan diklaim tangguh di berbagai kondisi.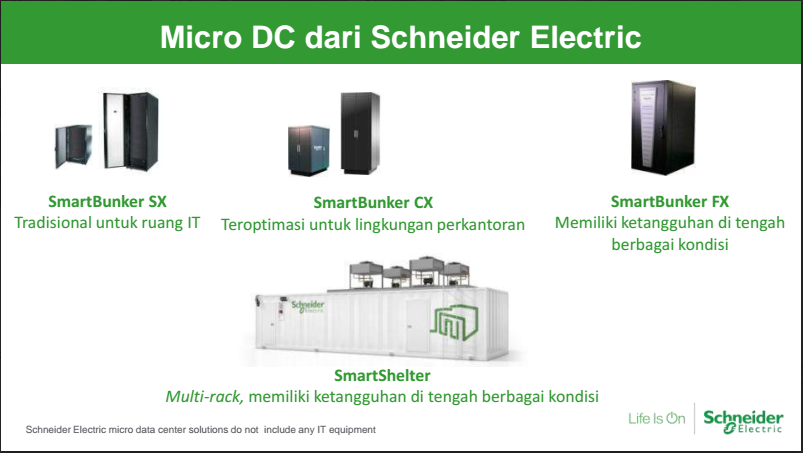 Disamping itu, Schneider juga memperkenalkan solusi untuk Data Center Lifecyle Service dalam bentuk perangkat lunak DCIM bernama StruxureWare. Menurut Schneider, DCIM tersebut akan memungkinkan pelanggan melakukan monitoring perangkat di dalam pusat data dari ancaman seperti panas berlebih, kebocoran air, kelembaban, hingga menghitung estimasi kebutuhan listik dan penambahan server.
"Melalui berbagai solusi inovatif data center yang kami tawarkan, kami akan terus berkomitmen untuk membantu meningkatkan daya saing pelanggan kami di tengah pertumbuhan IoT, khususnya dalam berdaptasi dengan perubahan teknologi yang sangat dinamis," pungkas Astri.
Are you sure to continue this transaction?
processing your transaction....