Interview
Siklus Ingin Biasakan Penggunaan Layanan Isi Ulang di Masyarakat
Memanfaatkan aplikasi untuk memudahkan isi ulang sampo, deterjen, dan kebutuhan rumah tangga lainnya
Ketika tinggal di India dan Filipina, Jane von Rabenau melihat besarnya jumlahnya sampah plastik dan memikirkan solusi yang tepat untuk mengurangi jumlahnya. Di Indonesia, ia terinspirasi untuk mengembangkan solusi penggunaan kembali plastik sebagai wadah isi ulang kebutuhan sehari-hari dengan nama Siklus.
"Banyak pelanggan berpenghasilan rendah akan menggunakan ini sebagai alternatif yang lebih murah untuk air kemasan. Jadi, saya berpikir, mengapa kita tidak dapat melakukan ini untuk produk yang biasanya dijual dalam kemasan sachet," kata Jane.
Siklus merupakan salah satu portofolio Teja Ventures. Sebelumnya, perusahaan telah menerima investasi dari Golden Space Capital, CEO Zenius Rohan Monga, dan Chief Commercial Officer Gojek Antoine de Carbonnel. Siklus Refill juga menerima hibah dari Partnering for Green Growth and the Global Goals (P4G).
Memanfaatkan kemitraan dengan perusahaan FMCG terkemuka, seperti Wings, P&G, Nestle, Total Chemindo, Siklus menyediakan pos pengisian isi ulang mobile menggunakan motor yang memudahkan konsumen mengisi ulang sampo, deterjen, hingga cairan pembersih lantai.
"Satu jerigen sampo [yang dibawa petugas] mampu menghemat biaya pembuatan 2.500 sachet. Kami kemudian menjual kepada pelanggan kami melalui pos pengisian ulang mobile, untuk memastikan bahwa mereka dapat membeli sesedikit atau sebanyak yang mereka suka dengan harga yang lebih murah dan tanpa harus khawatir membayar untuk kemasan plastik. Ke depannya kami juga berencana untuk melakukan memonetisasi iklan di pos pengisian ulang dan aplikasi," kata Jane.
Saat ini Siklus telah memiliki sekitar 25 pos pengisian ulang yang tersebar di wilayah Jabodetabek. Perusahaan mengklaim mendapat respon positif dari pengguna. Bulan Maret lalu, Siklus meluncurkan aplikasi untuk Android.
Tantangan Siklus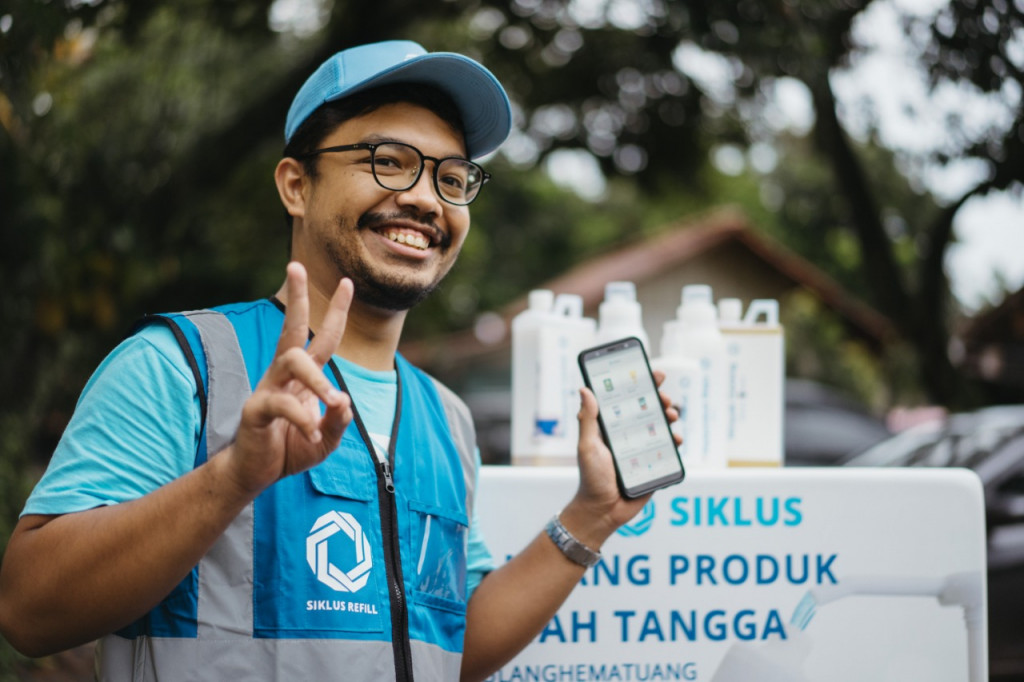 Pandemi diklaim tidak terlalu mempengaruhi pertumbuhan bisnis perusahaan. Dengan memanfaatkan layanan pengantaran langsung ke rumah pelanggan, bisnis Siklus mampu bertahan. Perusahaan bahkan terus menambah jumlah pegawai.
"Pandemi adalah saat di mana kita harus merenungkan dan bersatu menghadapi tantangan saat ini. Polusi plastik telah meroket selama pandemi dan sekarang, lebih dari sebelumnya, kita harus bersatu untuk mengatasi krisis plastik," kata Jane.
Tantangan yang masih ditemui Siklus adalah membangun rantai pasokan sirkular dengan perusahaan FMCG dan menciptakan norma sosial baru seputar konsep pengisian ulang.
"Tujuan kami adalah untuk memperluas layanan ke tiga kota lagi, menambahkan lebih banyak produk, dan meningkatkan teknologi pengeluaran kami. Kami sangat bersemangat untuk membawa revolusi isi ulang ke wilayah lain di Indonesia, terutama yang paling terpukul oleh krisis plastik," kata Jane.
Application Information Will Show Up Here
Are you sure to continue this transaction?
processing your transaction....