Sinar Mas Land and Nakama Introduced Startup Heroes in BSD City
The development of the Indonesian startup ecosystem continues to show positive things. It is shown through the emerging new startups even during a pandemic. It is also proven by the number of seminars and short classes to help founders to better understand the procedures and steps in making startups.
In addition, some competitions were held for these new startups, both by the government and private parties (companies). However, one problem arises that after attending a series of seminars and competitions, there are many new startups still don't have access to the next stage, especially related to the funding. In answering this problem, Sinar Mas Land and Nakama Connecting created a Startup Heroes started from last Saturday (7/25).
The first Bootcamp program amid a pandemic
In collaboration with Nakama, Sinar Mas Land held the first Bootcamp program called Startup Heroes followed by more than 500 startups and 1000 founders. The initiators of this program are Temmy, Iga Alma, Thomas Ardi, and Hendri Chen from Nakama. They have experience running several Impactpreneur seminars, startups, and community builder seminars.
In the series, participants will receive training and one-on-one mentoring with 30 experts for 3 months. It is to finalize ideas before the meeting with potential investors to be held in October. This event also supported by Amazon Web Services (AWS), Intel, DailySocial.id, Techinasia, and Kejora Venture in the implementation.
"This Bootcamp program will provide an opportunity for every startup participant to get one-on-one monitoring with mentors in accordance with the related field. Nakama will facilitate, foster, and gather the leading startups with investors," Temmy said from Nakama.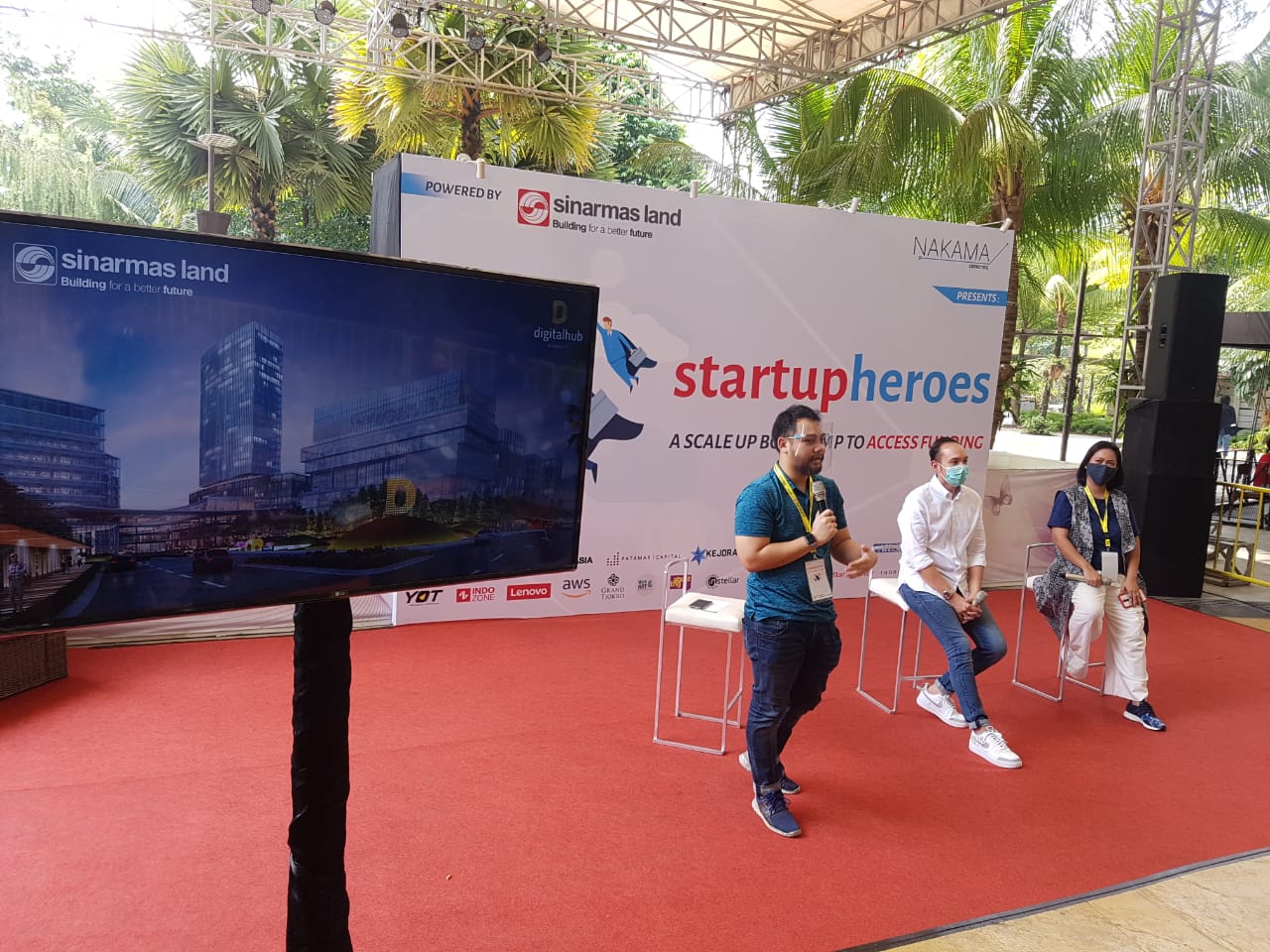 This is also the first bootcamp program held during the COVID-19 pandemic. It means, the event should be followed by certain health protocol to support them with a face-to-face meeting. The first face-to-face event was held on Saturday (7/25) at The Breeze's BSD City semi-outdoor atrium and limited to 44 selected founders. Other participants who can't directly attend this face-to-face event can still follow through the Zoom application online.
Providing Digital Hub as a space for the digital community
As a sponsor for the Startup Heroes event, Sinar Mas Land is actively contributes to the development of Indonesia's startup ecosystem. Also, through this bootcamp event, Sinar Mas Land has made a serious move to support the development of digital technology that is also manifested in the form of ​​26 hectares Digital Hub area in BSD City. It is to be dedicated as a research and education center for startups to multinational companies engaged in digital and technology. The Digital Hub Project Leader from Sinar Mas Land, Irawan Harahap, expected Sinar Mas Land through the Startup Heroes program can support young talents and the digital community to grow amid the Covid-19 pandemic.
A massive digital transformation drives Sinar Mas Land to build BSD City as a digital ecosystem. It is believed to bring its own challenges and require other parties such as governments, corporations, and startups to join and form a cohesive digital ecosystem. In order to accelerate this vision, BSD City is to prepare its area as a digital talent pool with national and international-based digital schools based.
"In a general note, technology is obviously required for increasing online activities. This program becomes a serious form to continue enriching the Digital Hub ecosystem and develop an integrated smart digital creative city in BSD City," Irawan said.
The complete facilities offered by Digital Hub has attracted all technology industry players in the domestic and international markets. Ranging from interactive meeting rooms, 3D printing machines, gaming rooms, VR rooms, to segways can be utilized by all tenants. The facilities and infrastructure prepared for the Digital Hub are also a serious move of Sinar Mas Land to build an integrated smart digital city that is capable to contribute to people's lives and the country's economy.
Disclosure: This article is a sponsored content by Sinar Mas Land
Are you sure to continue this transaction?
processing your transaction....