Soulcops to Develop the "Play-to-Earn" Concept NFT Game
Build upon the Ethereum blockchain, the app's Alpha version will be released in the first quarter of 2022
Nowadays, the play-to-earn (P2E) concept NFT game is getting more popular as they have introduced the use of crypto to a completely different sector. Blockchain technology allows players to buy and sell digital assets in the form of games. Soulcops aims to be one of the local startups to work on this segment in Indonesia.
Soulcops is a Jakarta based P2E NFT gaming startup founded last year by eight co-founders. They are Aji Pratomo (CEO), Hasby Ristama (Soulcops IP Creator), Robby Wahyudi (Head of Commercial), Mochtar Sarman (Head of Retail & Merchandising), Chris Lie (Head of Creative), Sunny Gho (Project Manager), Irzan Raditya (Tech Advisor), and Novrizal Pratama (Lead Marketing).
Each Co-founder comes from different backgrounds that support each other, therefore, creating a strong milestone in manifesting Soulcops' vision and mission. Hasby for example, an active police officer and IP Police maker. Next, there is Sunny Gho who started his career as a colorist at Marvel and DC Comics since 2009 until now. Also, Chris Lie with his work as one of the illustrators and designing comics GI Joe, Spider-Man, Iron Man, and Transformer.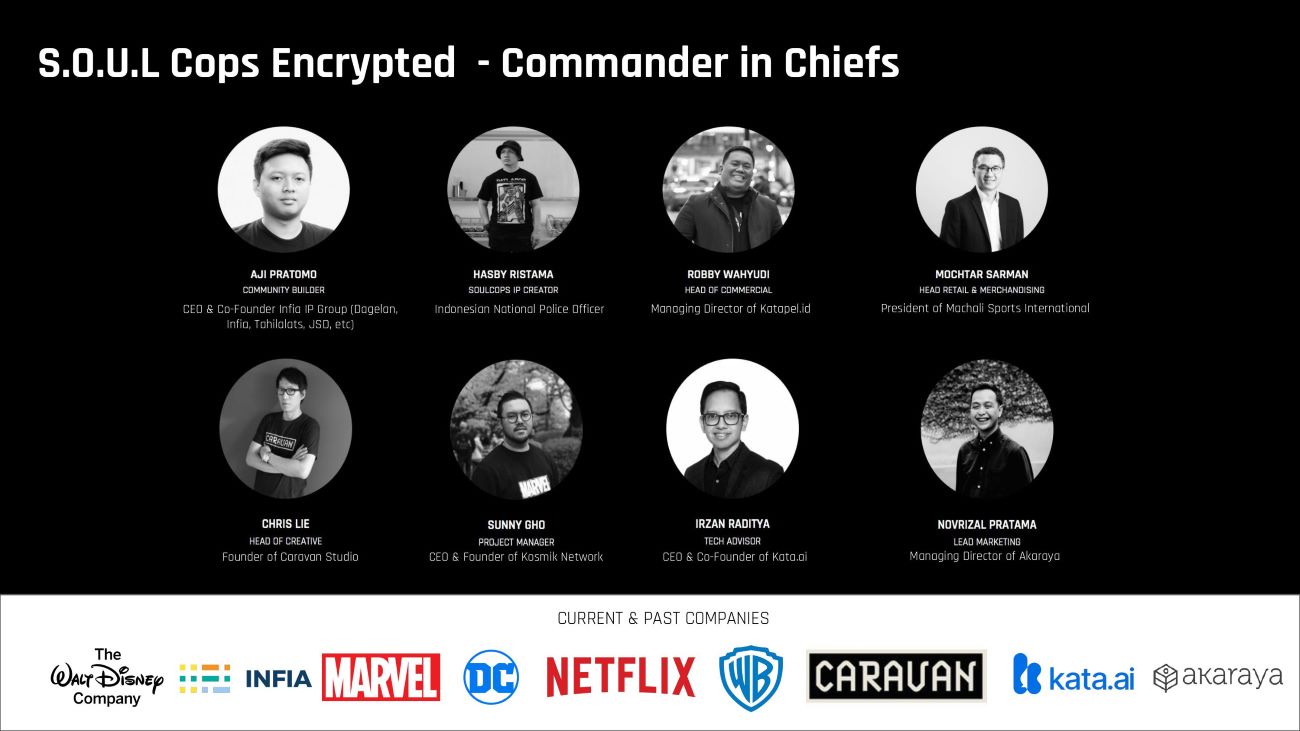 Soulcops embarks the story of the good and bad cops in a universe. The honest police aims to rebel from the domination of the evil police, consisting of criminals and mercenaries, who are creating chaos through a multinational organization called Hexagon Technologies.
"We focused on the universe for police characters. In any part of the world, police force is very underrated, many people despise them. It is only natural, but if we look at the universe in terms of the metaverse context, the concept of bad cop good cop really fits. Moreover, both online and offline, crime still exists today, the police role is necessary," Novrizal told DailySocial.
The NFT game provides 3,000 digital cards for collectors to purchase before the official Soulcop mobile game is released next year. Collectors can play later with the NFT collections with its own rarety to be used to achieve objectives while playing the game, and upgradeable with other weapons and utilities to create stronger characters. Also, the tokens that can be exchanged for real money as an implementation of P2E.
In the global market, several NFT crypto-money-generating games grant prizes in the form of crypto coins and P2E tokens, including Axie Infinity with AXS tokens, Gods Unchained with ERC tokens (GODS), Alien Worlds with TLM tokens, and The Sandbox with SAND tokens.
"We have released 3,000 digital cards to be sold through OpenSea. The enthusiasm turned out to be good [during the pre-sale], 2,300 NFT had been sold, around 50%-60% were bought by collectors outside Indonesia. We can project Soulcops might be played not only in Indonesia, but also in the global market."
Through this achievement, he is optimistic that NFT games such as Soulcops can attract gamers from both local and foreign countries. In Indonesia alone, based on Statista, as of October 2021, revenue from the mobile game business is predicted to reach $1.4 million in 2017 and reach $1.96 million in 2025 assuming a CAGR growth of 8.7%. In terms of users, it is predicted to reach 65.6 million in 2025.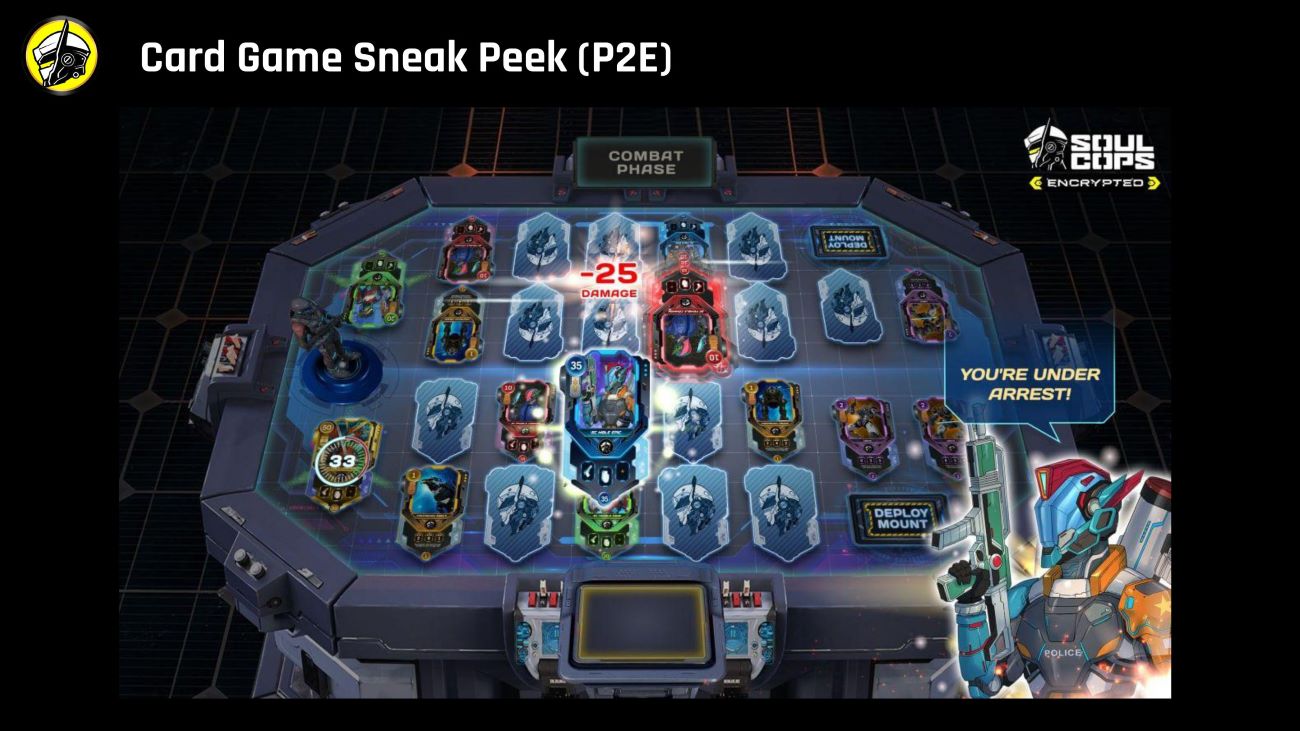 Create the whole universe
The Soulcops mobile game application is planned to release an Alpha demo version in the first quarter of 2022, then a Beta version in the second quarter. Currently, digital card minting is hosted through OpenSea. This app is also open to common gamers who are yet to purchase Soulcops NFT.
Novrizal said the company will continue to improve its IP to provide high value for collectors. In the long-term plan, Soulcops plans to produce merchandising, films, animations, comics, and so on from Soulcops characters. "We believe we have a great chance to get the Soulcops universe bigger scoop, to enter the metaverse."
Regarding education, he said, the right approach will really help grow the ecosystem to be more mature. This will certainly get better, especially with a positive impact on the industry.
The reason, he continued, is that the art world is experiencing a revolution since the rise of NFT. Creators or artists can produce its own works and everyone can appreciated directly without a third intermediary. Also, royalties are transparent as it received directly by creators, as well as when it is sold on the secondary market.
"NFT also legitimizes digital possession, it's about smart contracts. The NFT image is just a representation, but it contains a smart contract. This concept will change a lot of things. Therefore, we need very proper education, the Soulcops founders are very serious about this," he said.
In terms of funding, Soulcops is currently bootstrapping. However, management is currently in discussions with investors about the possibility of a seed funding.
–Original article is in Indonesian, translated by Kristin Siagian
Are you sure to continue this transaction?
processing your transaction....