Stella Lux, Mobil Listrik Bertenaga Matahari dengan Efisiensi 1.000 Km/Charge
Glenn Kaonang - 9 July 2015
Efisien dan ramah lingkungan, tidak salah apabila mobil listrik menjadi fokus pabrikan-pabrikan otomotif. Kendati demikian, proses pengisian ulang baterainya tetap harus dilakukan secara manual.
Bagaimana jika sang mobil listrik bisa menciptakan sendiri energi yang diperlukan? Bukankah mobil seperti itu akan sangat menarik? Pastinya, dan umat manusia rupanya sudah bisa merealisasikannya, dengan bantuan panel surya.
Tahun 2013 kemarin, tim mahasiswa asal Eindhoven University of Technology di Belanda membangun sebuah prototipe mobil listrik bertenaga matahari. Mobil tersebut dinamai Stella, dan ia berhasil mengantongi salah satu gelar dari kompetisi World Solar Challenge di tahun yang sama.
Info menarik: Prototype BMW i8 Tempuh 480 Km Cuma Berbekal Satu Tangki Hidrogen
Tahun ini, tim yang sama kembali hadir dengan sebuah prototipe baru yang mereka juluki Stella Lux. Stella Lux adalah mobil empat penumpang dimana seluruh atapnya telah ditanami panel surya.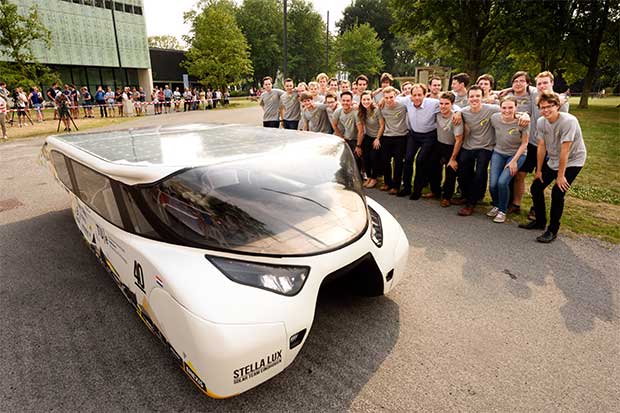 Karena mengemas panel surya, Stella Lux pun bisa menghasilkan energi listrik secara mandiri. Bahkan menurut klaim tim pengembangnya, Stella Lux dapat memproduksi energi listrik lebih banyak ketimbang yang ia perlukan untuk menenagai mesinnya.
Prestasi ini bisa dicapai berkat desain Stella Lux yang amat aerodinamis, seperti yang bisa kita lihat dari semacam 'terowongan' di tengah-tengah sepanjang tubuh bawahnya. Lebih lanjut, mobil ini juga dibuat seringan mungkin menggunakan bahan-bahan seperti serat karbon dan aluminium.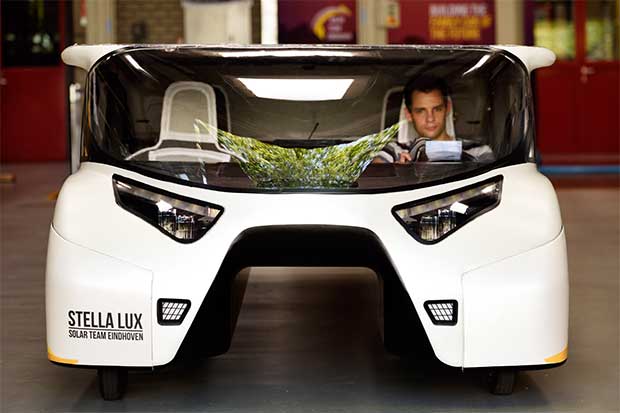 Secara statistik, saat baterainya terisi penuh, Stella Lux sanggup menempuh jarak hingga 1.000 kilometer. Angka ini jauh lebih tinggi ketimbang mobil-mobil listrik yang sudah ada di pasaran saat ini.
Info menarik: Wireless Charger untuk Mobil Listrik? Qualcomm dan Daimler Tengah Mengejarnya
Selain efisiensi dan produksi energi secara mandiri, Stella Lux juga mengunggulkan sejumlah fitur-fitur pintar. Ia dibekali sistem manajemen energi bernama Solar Navigator. Sistem ini akan mengumpulkan data cuaca, lalu memberikan rekomendasi rute dimana matahari bersinar paling cerah.
Sinkronisasi dengan smartphone turut disematkan, seperti misalnya, pintu mobil yang akan terbuka secara otomatis ketika smartphone sang pemilik yang berada di dekatnya terdeteksi.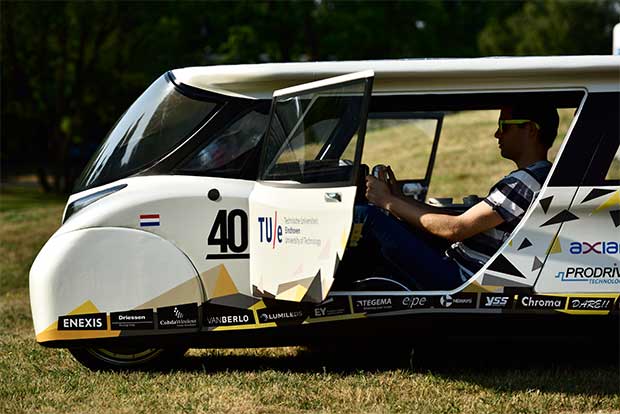 Lebih lanjut, Stella Lux diklaim juga bisa berkomunikasi dengan mobil lain nantinya. Sebagai contoh, volume musik yang tengah diputar di dashboard akan otomatis diperkecil ketika ada ambulans di sekitarnya.
Stella Lux saat ini masih dalam tahap persiapan mengikuti kompetisi tahunan yang sama dengan yang sempat dimenangi oleh pendahulunya tadi. Fitur-fitur pintar yang saya sebutkan tadi mungkin baru sebatas konsep, akan tetapi efisiensi beserta kemampuannya memproduksi energi surplus sudah teruji dan terbukti.
Via: Inhabitat.
Are you sure to continue this transaction?
processing your transaction....