TaniHub Fokus Menjadi "Supply Chain" Produk Pertanian Indonesia
Berencana mendirikan lebih banyak "packing house", menjalin kemitraan dengan IPB
Yenny Yusra - 20 August 2019
Sejak didirikan tahun 2016 lalu, TaniHub yang bernaung di bawah startup agritech TaniGroup, sudah memiliki lebih dari 25.000 petani lokal di seluruh Indonesia dan mengoperasikan lima kantor cabang dan pusat distribusi regional di Jakarta, Bogor, Bandung, Yogyakarta, dan Surabaya.
Kepada media saat acara kunjungan ke gudang TaniHub Bogor beberapa waktu lalu, CEO TaniGroup Ivan Arie Sustiawan menyebutkan, fokus TaniHub saat ini adalah agar bisa menjadi platform agritech top of mind bagi kalangan korporasi maupun konsumen umum. Dilengkapi dengan gudang, teknologi dan jaringan petani di pulau Jawa, TaniHub ingin menjadi layanan supply chain terlengkap di Indonesia.
"Ke depannya kami berharap TaniHub bisa menjadi [layanan] supply chain terlengkap dengan teknologi dan aplikasi yang kami ciptakan untuk memudahkan petani hingga pelanggan untuk mengakses TaniHub. Bukan hanya berfungsi sebagai tools, aplikasi TaniHub kami ciptakan untuk memperkuat supply chain," kata Ivan.
Rencana mendirikan packing house
Saat ini gudang TaniHub di Bogor diklaim menjadi salah satu gudang percontohan yang dinilai paling lengkap dan mewakili proses hingga teknologi yang dimiliki perusahaan. Semua produk yang dikirimkan dari berbagai wilayah di pulau Jawa, dikumpulkan di gudang TaniHub Bogor untuk kemudian dilakukan proses grading atau penentuan kelas dari buah hingga sayuran. Usai proses tersebut, produk akan dikemas dan dikirimkan ke pelanggan.
Ke depannya TaniHub juga berencana mendirikan packing house di sejumlah lokasi yang bisa memudahkan petani mengirimkan semua produk pertanian mereka secara langsung.
"Pembangunan packing house tersebut masih menjadi rencana kami selanjutnya. Kami melihat packing house bakal menjadi 'the next best thing' untuk Tanihub dan juga para petani pada khususnya," kata Ivan.
Disinggung apakah TaniHub bakal melakukan ekspansi ke pulau-pulau Indonesia yang lain, Ivan menyebutkan rencana tersebut ada, namun untuk saat ini TaniHub masih fokus di pulau Jawa dan Bali.
Pasca perolehan pendanaan Seri A bulan Mei 2019 lalu, sebesar $10 juta atau setara dengan 143 miliar Rupiah, TaniHub masih ingin fokus untuk mengakuisisi lebih banyak petani untuk bergabung sekaligus mengembangkan ekosistem agritech di Indonesia.
"Setelah fokus kami mulai bergeser kepada B2B pada tahun 2017 lalu, TaniHub telah melancarkan strategi yang cukup efektif dan berhasil mendapatkan product market fit. Untuk saat ini dan selanjutnya kami ingin meng-cater industri terkait dalam hal penyediaan supply chain produk pertanian di Indonesia hingga ekspor ke mancanegara," kata Ivan.
Kolaborasi dengan IPB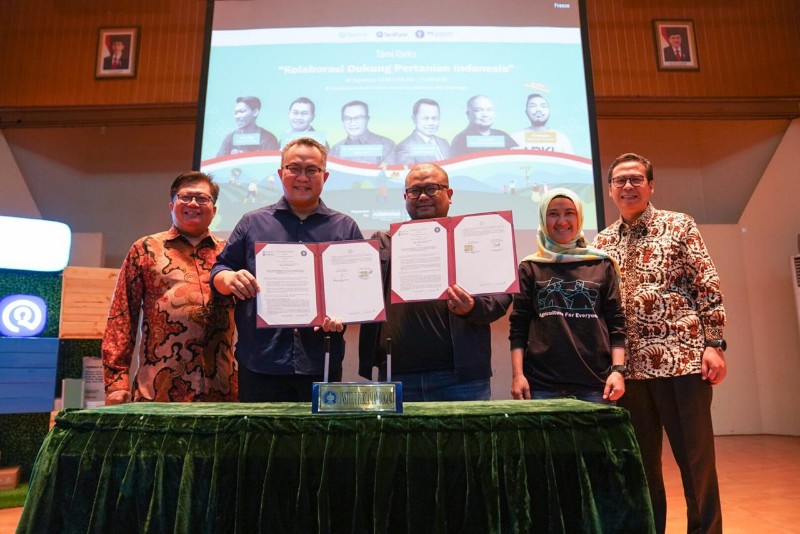 TaniGroup juga menandatangani nota kesepahaman (Memorandum of Understanding/MoU) dengan Institut Pertanian Bogor (IPB). Sebagai institusi pendidikan yang fokus ke segmen pertanian di Indonesia, TaniGroup melihat kolaborasi ini bisa membantu, tidak hanya untuk perusahaan, tapi juga mahasiswa pada khususnya.
TaniGroup melihat kolaborasi dengan institusi pendidikan penting dilakukan karena berbagai permasalahan di sektor pertanian Indonesia sangat mendesak untuk dipecahkan. Perusahaan dan IPB bersama-sama memiliki peran sebagai pemangku kepentingan (stakeholder) di dunia pertanian Indonesia.
Kerja sama tersebut tidak terbatas pada bidang penelitian serta pengembangan data dan SDM yang bersifat mutual saja. Sebagai contoh, SDM yang ahli dalam pengelolaan tanah dan tanaman (agronomist) dapat berperan signifikan dalam memperbaiki kualitas hasil panen, sehingga para petani dapat memenuhi kebutuhan pasar yang terus meningkat.
"Saya harapkan ada hasil konkret dari kolaborasi ini yang selanjutnya bisa menghasilkan inovasi atau sesuatu yang positif yang bermanfaat, tidak hanya untuk TaniGroup namun juga IPB dan ekosistem agritech," kata Ivan.
Application Information Will Show Up Here
Are you sure to continue this transaction?
processing your transaction....