The Adoption of Enterprise Communication Platform in Startup
Inviting local players to present its products
One thing that supports the productivity of working in an office is enterprise communication platforms. In Indonesia, platforms such as Slack, Google Meet, Workplace from Facebook, and Microsoft Teams are quite familiar to startup enthusiasts. However, WhatsApp, which is not specifically aimed at corporate communication, is also very popular.
DailySocial has summarized the most popular enterprise communication platforms among startups and whether startups have a special budget for premium features. On the other hand, this also invites local players to present their products and to compete.
Essential platform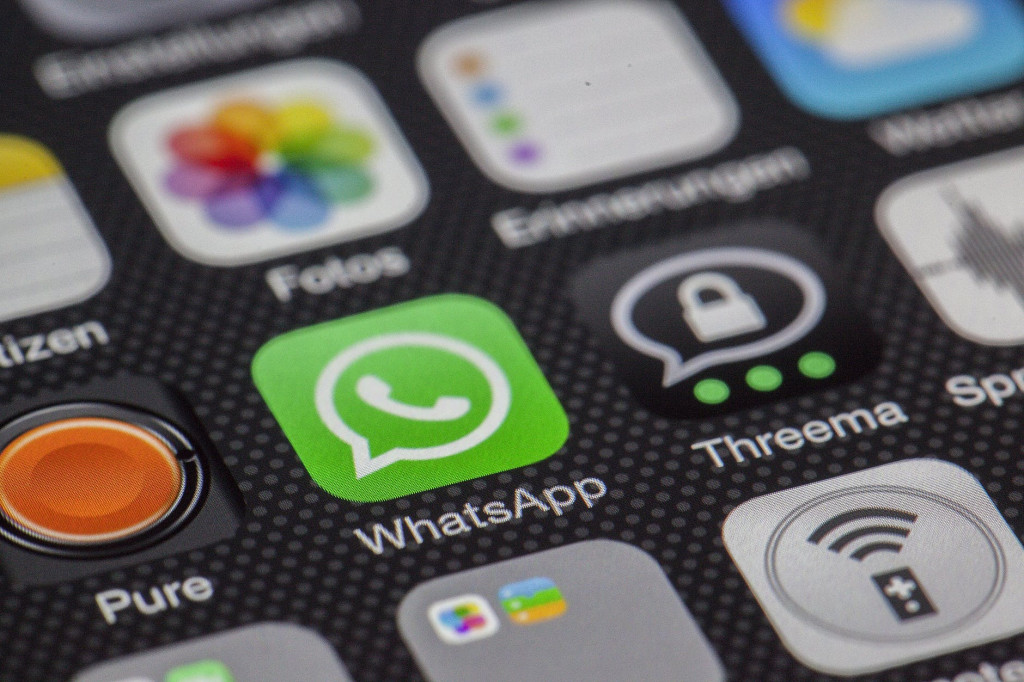 When the Covid-19 began to spread and the work-from-home system is widely applied, the use of communication platforms surged. Zoom is inevitably become the most popular platform, both globally and in Indonesia. Zoom monthly active users have reached 12.9 million in February 2020. This indicates the essential function of the communication platform to support productivity.
"The use of communication tools is clearly determined by the needs of the company and the habits or main communication channels used by each country," AnyMind Group Indonesia's Head of Operations, Yuwanda Fauzi said.
This communication platform helps employees break down tasks and discuss constraints and workloads. On the other hand, supervisors and managers also monitor employee performance using this platform.
"In DANA, ideas for innovation, problem-solving, and value creations must be well communicated and synergized on a daily operational scale for employees. This step needs to be done to ensure all communication among team members work well, given the many functions of each department or different divisions and individuals in a company. Message and communication are key to ensuring that different teams and individuals can work together in the same direction. The goal is for DANA to achieve its shared goals and vision in the most effective and efficient way," DANA's CTO Norman Sasono said.
Achieving aligned goals and ensuring collaboration work well is the main focus of startups to utilize a variety of existing communication platforms. The use of applications is also crucial when allowing employees to do other things online, such as meetings, giving presentations, and creating surveys.
"In fact, choosing an application that can safely facilitate employee activities is also important to maintain the privacy of all employees and the security of company information that is confidential," Head of Corporate Communication Bukalapak Intan Wibisono said.
As a digital payment and financial services company, OVO is demanded to constantly develop and adapt so that OVO services can continue to be accepted and able to support the daily lives of its users. In order to stay agile, there needs to be good communication, coordination, and relations between employees, therefore, they can work together and discuss optimally.
"The platform is easy to use, fast, and practical in supporting daily activities such as discussion and coordination. Especially in a startup environment where speed and practicality are substantial in working," OVO's Head of PR Sinta Setyaningsih said.
Slack and WhatsApp as the most popular apps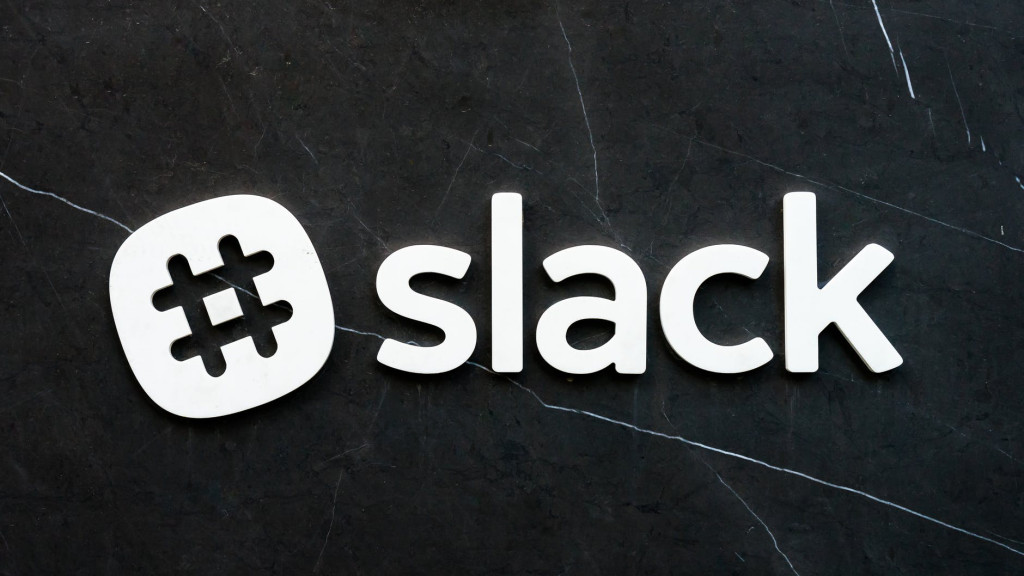 Based on a survey conducted by DailySocial to 16 startups, most of them chose a foreign platform to support their daily activities. Although the options are quite varied, apparently the two platforms are more dominant than the other platforms.
The first platform is Slack founded by Stewart Butterfield and the second is WhatsApp founded by Brian Acton and Jan Koum. WhatsApp is now under the auspices of Facebook.
In global, Slack as of March 2020 has more than 12 million active daily users. WhatsApp, on the other hand, with wider adoption, as of February 2020 claims to have had two billion users worldwide.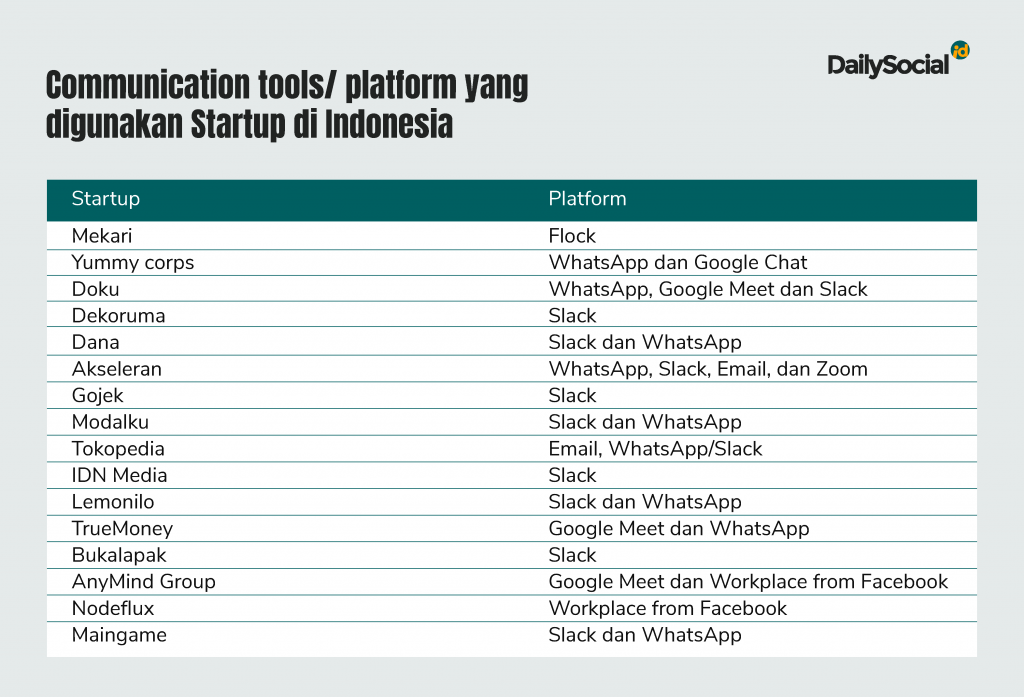 The interesting thing is, WhatsApp and Slack are perceived differently by users.
"WhatsApp as a communication tool focuses on chat experience and its simplicity and already has a very large number of users from various industries. While Slack as a communication tool focuses on productivity supported by bots and integration tools, making it look more complex and getting large support, especially from technology-based industries," DOKU's Chief of Innovation Officer Rudianto said.
The attractive UI/UX display and comfortable user experience make DANA choose Slack and WhastApp as a platform to support daily activities. The company is also willing to allocate a budget to provide premium features for employees.
"There are some factors that cause the instant messaging platform to become popular, such as habits, good user experience (UI / UX), features for productivity and efficiency, and also security aspects," Norman said.
Slack's excellent features are to create coordinating groups openly (anyone can join to discuss) and closed (limited to a few people), make voice calls, start and finish work (clock in and clock out), create and fill out forms, and polling on the same platform. In addition, Slack can also provide reports on the results of measurements of communication effectiveness by the team on the platform.
While WhatsApp allows employees to communicate via chat, exchanging documents and photos, and conducting group conferences (in limited numbers) with guaranteed data encryption.
Most startups are willing to pay subscription fees and allocate special funds to support employee productivity.
"Working in a tech company and startup requires fast, efficient, and safe coordination with fellow employees, therefore, a communication channel to fulfill those needs, such as Slack and WhatsApp, is required," Intan said.
Analyzing opportunities for local platforms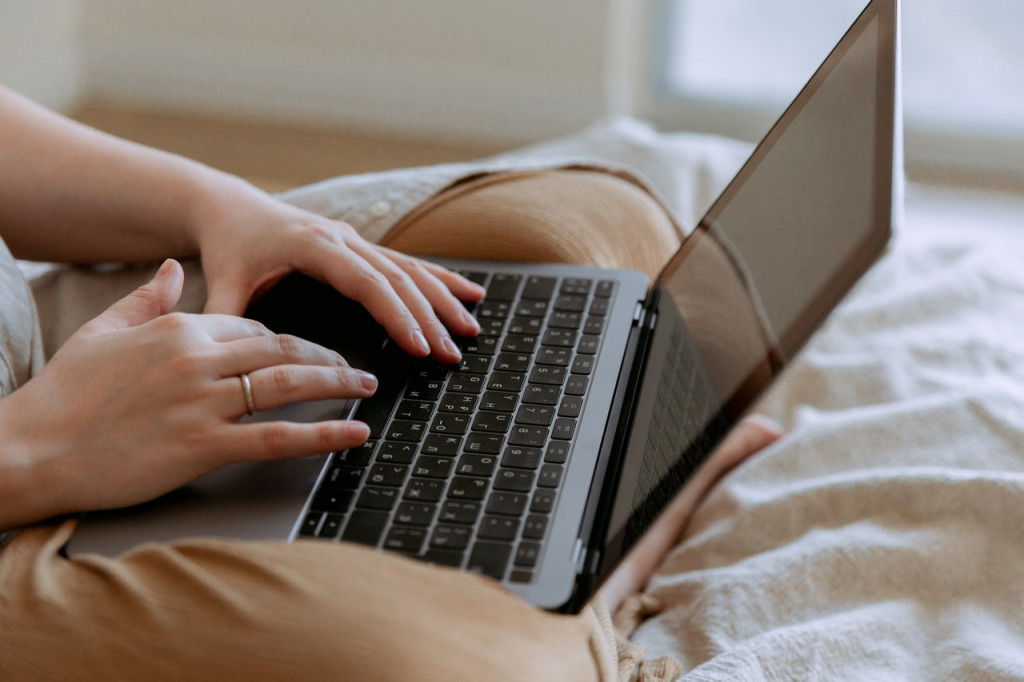 For local platforms in the communication sector, the challenge lies in how they can convince consumers and compete with global platforms. Although most startups in Indonesia use foreign platforms, when the local products provided are more competitive in terms of functionality and price, they are willing to try.
"Local communication tools have the potential to compete with foreign platforms, because in terms of technology, creating communication tools is not complicated. The main challenge is that local platforms must be able to answer the basic question: 'Why should I move from WhatsApp to the local platform?'. If there is a startup capable to answer this question, it is most likely to become the next unicorn, Indonesia's first national communication tool, as happened with WeChat, KakaoTalk, and Line in their respective countries," Rudianto said.
Those with a unique proposition to solve user problems can also attract certain users. In addition to exciting new features, local providers must also really be very well aware of the basics of B2B services, such as UX, SLA for performance and availability and reliability and security.
"Every instant messaging instrument/platform provider can compete in the industry, if it provides a solution or product that is better than the options that are already available in the market," Norman said.
Seeing the development and trends in this matter, began to emerge several local platforms that try to provide this enterprise communication service.
"The higher the demand for communication tools in work activities, the developers will be more creative and innovative in making products that can meet the needs of a dynamic market. We will certainly always support Indonesian developers to compete with other developers from around the world in creating tools of the highest quality," Intan said.
– Original article is in Indonesian, translated by Kristin Siagian
Are you sure to continue this transaction?
processing your transaction....