Edtech startup, Zenius, is reported to have acquired the offline tutoring service, Primagama. According to a reliable source, this acquisition involves all branches of the course institution. According Primagama's website, the company currently operates more than 250 branches in various provinces in Indonesia, serving 4 million students with 3 thousand employees. Branch expansion is carried out with the franchise concept.
We tried to contact Zenius' rep, but haven't received official confirmation.
Founded by Sabda PS and Medy Suharta, Zenius is known as one of the pioneers of online tutoring services in Indonesia. They debuted with offline tutoring, packaged the material on DVD, then fully became an online service. In fact, Primagama was founded in 1982. The collaboration between the two allows an integration of online to offline learning models or blended learning, utilizing their infrastructure and capabilities.
Previously, around the early 2010s, Primagama has developed an online service called "PrimagamaPlus". However, due to the very premature market, the service seems to get less attention. At that time, direct tutoring (offline) was still the prima donna. Currently. the applications are there to support learning, but there is not much traction.
Zenius' corporate action was held amidst the collapse of many offline tutoring businesses due to the pandemic. The school-from-home appeal has caused declining enthusiasm, especially when edtech services are rising digitally.
On the other hand, Zenius' penetration to Primagama has the potential to provide a more interesting learning experience. Especially once the learning activities return to normal.
According to the 2021 KPAI survey, 78% of students demand to return to class. Virtual spaces are considered less effective. 57% of students find it difficult to follow the subject matter and practicum.
Zenius growth
Zenius currently has several products, the best selling is the online tutoring. Throughout the 2019/2020 school year, the Zenius tutoring application was accessed by more than 20 million users. It contains about 100 thousand learning videos and practice questions that is accessible for free. In addition, Zenius also provides Live Class services for direct guidance with selected teachers; there is also a UTBK simulation, and several other learning products.
Apart from formal learning, there is also Zenius Land app for toddler. While ZenPro is intended for professional learning with more general subject. Apart form focusing on students, Zenius also developed ZenRu for the teaching management platform.
In early 2021, Zenius secured a Pre-Series B round backed by a number of investors, including Alpha JWC Ventures, Openspace Ventures, Northstar, Kinesys, and BeeNext. One year earlier, they posted an investment of $20 million in a Series A round. Zenius' value is currently estimated at over $100 million.
Market competition and value propotition
Indonesian edtech sector is growing rapidly. The two head-tohead players are Ruangguru and Zenius – statistically, Ruangguru's site visits and application downloads are far more superior. In addition, the two owned very similar sub-product variants.
Zenius always have strong sense to the material side. Instead of driving students to simply memorize, the material at Zenius emphasizes understanding fundamental concepts and critical thinking through various case studies.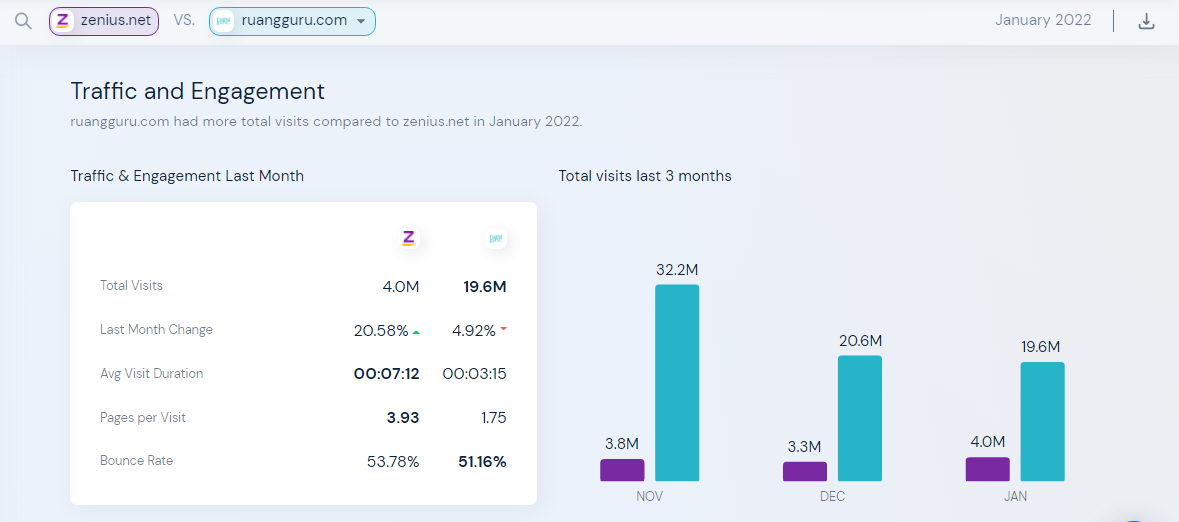 Apart from Zenius and Ruangguru, a number of edtechs are haveing quite the maneuver. Most recently, CoLearn has recently secured a Series A funding of IDR 244 billion. The app heavily focused on math and science subjects, helping students complete homework independently. Other than that, there are Pahamify, Squline, and others.
The presence of Primagama in Zenius' line of business has the potential to strengthen its value proposition once it succeeds in wrapping up a hybrid learning experience – this could also be the first in Indonesia.
–Original article is in Indonesian, translated by Kristin Siagian
Application Information Will Show Up Here
Application Information Will Show Up Here
Are you sure to continue this transaction?
processing your transaction....