The Machines Adalah Game Multiplayer Kompetitif yang Sepenuhnya Bergantung pada AR
Eksklusif untuk iOS 11 karena membutuhkan dukungan ARKit
Glenn Kaonang - 14 September 2017
Dalam acara peluncuran iPhone X dan iPhone 8 kemarin, tidak kurang penekanan yang diberikan Apple terkait pentingnya augmented reality bagi mereka, bahkan lebih penting ketimbang VR yang belakangan memang mulai menurun hype-nya. Baik iOS 11 maupun hardware kedua iPhone baru tersebut sama-sama dioptimalkan untuk AR, dan ini sejatinya bisa menjadi indikasi akan besarnya industri AR ke depannya.
Sebelum ini, Ikea sudah lebih dulu menunjukkan bagaimana ARKit di iOS 11 memungkinkan mereka untuk menyuguhkan pengalaman AR yang lebih baik dari sebelumnya. AR pun tentu saja juga sangat berpotensi di bidang gaming, seperti yang ditunjukkan oleh developer game asal Tiongkok, Directive Games.
Mereka diberi kesempatan oleh Apple untuk mendemonstrasikan game terbaru mereka di panggung peluncuran iPhone 8. Game berjudul The Machines itu diklaim sebagai game multiplayer kompetitif pertama yang sepenuhnya bergantung pada augmented reality.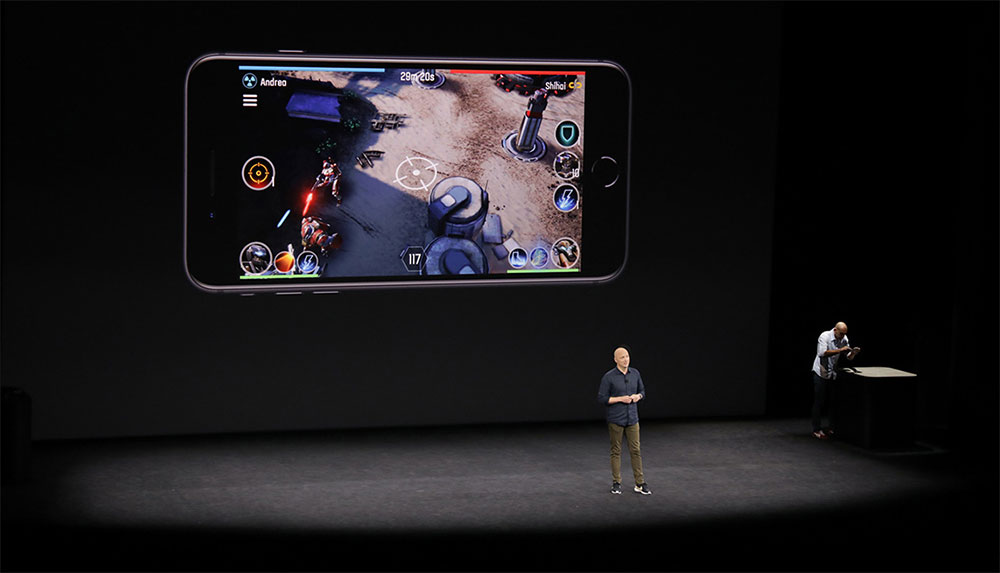 Dalam demonstrasinya, tampak pertempuran mematikan antar robot tengah berlangsung di sebuah medan virtual yang ditempatkan di atas meja. Perpaduan chip A11 Bionic milik iPhone 8 dan ARKit sanggup me-render jutaan polygon beresolusi tinggi secara real-time, menyajikan pengalaman bermain yang mulus di angka 60 fps.
Mengingat ini adalah game AR, tampilannya bisa diubah sesuka hati hanya dengan mengarahkan kamera iPhone atau iPad. Saat perangkat didekatkan ke meja, otomatis tampilan game-nya juga ikut diperbesar, dan yang lebih menarik, volume audionya pun ikut bertambah berkat penerapan teknologi spatial audio.
Sama seperti VR, AR sebenarnya juga bisa menyajikan sensasi seperti sedang berada di dalam game sesungguhnya, walaupun dengan cara yang berbeda. Selain via internet, multiplayer pada The Machines juga bisa dimainkan secara lokal di atas meja yang sama – siap-siap saja tubuh Anda sering berbenturan satu sama lain dengan lawan Anda.
Belum ada informasi mengenai jadwal perilisan The Machines, namun saya kira waktunya akan bertepatan dengan peluncuran iOS 11 pada 19 September nanti. Untuk lebih jelasnya, tonton sendiri video demonstrasi The Machines di bawah ini.
Via: VentureBeat.
Are you sure to continue this transaction?
processing your transaction....