This Indonesian Startup Wins Two International Awards In Two Weeks
This Indonesian Startup Wins Two International Awards In Two Weeks
The exclusive worldwide startup search, Seedstars World Jakarta (SSW), is over. After seeing 16 finalists do their pitches on stage, the event officially crowned the best local startup to represent Indonesia at the SSW final in Geneva, Switzerland, in the coming February 2015. After extensive judging process, SSW organiser and judges decided the winner of SSW Jakarta is eFishery.
e-Fishery, a Bandung-based startup, has successfully topped the rank, while KitaBisa and Tinker Games were placed second and third respectively. There were seven professionals involved in the judging process: Julien Berthomier (SSW's organizer), Raphael Dana (CEO Galixo), Shinta Danuwardoyo (Founder of Bubu and Nusantara Ventures), Diyanto Imam (Excecutive Director Inotek Foundation), Calvin Kizana (Founder and CEO PicMix), and Hary Candra (Founder PesonaEdu).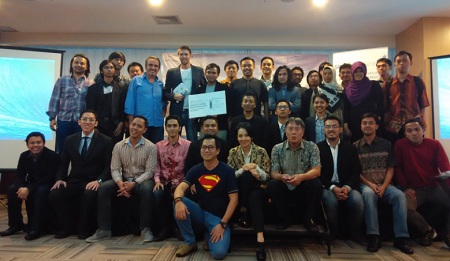 It seems that 2014 has been such a wonderful year for e-Fishery. Before ending the SSW as the champion, the startup was also crowned at the Get in The Ring Indonesia 2014 competition, which paved its way to represent Indonesia at an international startup competition.
So, how does e-Fishery keep victorious at different international-level startup competitions? One of the most prominent factor would be its distinctive yet excellent product idea and execution. e-Fishery itself is an automatic fish feeder tool which can be accessed remotely through internet-connected mobiles or tablets.
Besides simply feeding the fish, founder Gibran Chuzaefah Amsi El Farizy developed a system that allows fish owners to set the time of feeding and real-time monitoring feature that allows them to monitor their fish at any given time. These features would be beneficial not only for the fish owners, but also for fish farmers as well. Moreover, the fish feeder machine is also equipped with a fish appetite sensor, which would send the appropriate feeding timing and data to the fish owners. They could, then, feed their fish remotely via eFishery's web app. It is really as simple as that.
As being described above, e-Fishery will be sent to Geneva, Switzerland, to represent Indonesia at the SSW final round, which will be held in the coming February 2015, and win an opportunity to receive up to half a million dollar in investment. Not to mention, eFishery will be pitching on stage attended by Europe's who's who in tech investment.
Will e-Fishery be able to come out victorious at the SSW final round? We'll see next year.
[Header illustration: Dailysocial Doc.]
DailySocial.id adalah portal berita startup dan inovasi teknologi. Kamu bisa menjadi member komunitas startup dan inovasi DailySocial.id, mengunduh laporan riset dan statistik seputar teknologi secara cuma-cuma, dan mengikuti berita startup Indonesia dan gadget terbaru.