Tim eSport NXL Umumkan Kerja Sama Resmi Dengan Twitch
Umur Twitch mungkin tidak setua YouTube, namun dengan spesialisasi khusus pada streaming video game, kepopularitasannya meroket. Banyak gamer profesional menggunakan Twitch sebagai medium unjuk kebolehan serta berbagi tips. Dan bagi tim eSport kebanggaan Indonesia, NXL, pemanfaatan platformstreaming milik Amazon itu bukan lagi hal yang aneh.
Kesamaan visi antara Twitch dan NXL tampaknya kian mendekatkan kedua nama ini. Kepada Trenologi, Richard Permana selaku CEO dan team leader NXL menyingkap kabar gembira yang akan membuat para pemerhati industri olahraga elektronik nusantara tersenyum lebar. Ia memberi tahu bahwa NXL secara resmi telah menjalin kerja sama dengan Twitch. Salah satu tujuan kolaborasi tersebut ialah mempererat tim dan para fans.
Richard menerangkan bagaimana di era kompetitif gaming bergengsi ini, khalayak Indonesia sudah sangat familier dengan Twitch. Menjadi sebuah kepuasan tersendiri saat Twitch menunjuk talenta lokal untuk menjadi rekan mereka. Apalagi Twitch merupakan partner resmi acara-acara kelas dunia seperti The International (turnamen Dota 2 Valve), ESL One, dan DreamHack.
"Saya harap, dengan bantuan yang ditawarkan Twitch, tim Counter-Strike: Global Offensive mampu memberikan konten-konten menarik buat ditonton pecinta eSport nusantara, sembari mengakrabkan hubungan dengan komunitas CS:GO Indonesia," ungkap Richard. Untuk sekarang, konten andalan tim NXL adalah demonstrasi sesi latihan. Favorit saya pribadi ialah beberapa rekaman 'highlight' singkat kill-cam (biasa diunggah NXL ke Instagram).
Info menarik: Tips Memilih Hardware dan Gaming Gear Dari Tim eSport NXL
Di sisi 'ekonomi', kerja sama kedua belah pihak memungkinkan NXL menghasilkan pendapatan via iklan dan menerapkan program langganan berbayar di channel resmi serta menyuguhkan emoticon custom. Saluran resmi NXL kini juga dilengkapi transcode di mana pengguna bisa menyesuaikan kualitas video dengan kecepetan koneksi internet.
Yang terpenting: Tim CS:GO NXL memperoleh perhatian spesial dari staf Twitch. Mereka bertugas mengawasi seberapa besar potensi Richard dan kawan-kawan. Jika performa NXL mengesankan, besar peluang Twitch akan memberikan dukungan tambahan. Ditunjuk menjadi wakil Indonesia di ESL EMS One Katowice CS:GO Championship atau DreamHack? Semoga saja.
"Twitch ingin menjamin bahwa penonton lokal dapat menikmati konten domestik juga, maka dari itu kami ingin memberikan broadcaster terbaik ke dalam platform streaming Twitch," tutur Matthias Beyer dari Twitch.tv. "Kami percaya tim NXL dan para pemainnya bisa memperkuat kehadiran kami di Indonesia, dan Asia Tenggara secara umum. Twitch ingin memberikan yang terbaik dan mendukung seisi komunitas."
Trenologi ucapkan selamat buat tim NXL!
UPDATE: Inilah tautan ke channel resmi masing-masing anggota tim NXL: frgd[ibtJ], Roseau, Sys, Soifong, dan FrostMisty.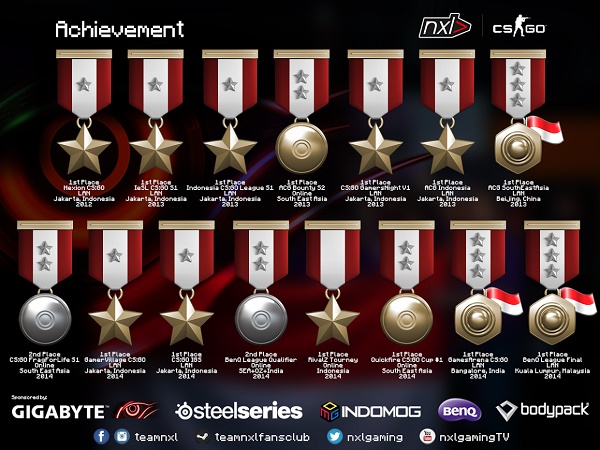 Are you sure to continue this transaction?
processing your transaction....