Tumblr Umumkan Post+, Mudahkan Kreator Memonetisasi Konten Lewat Sistem Subscription
Apapun jenis kontennya, baik yang bersifat guyonan ataupun serius, semuanya bisa dipublikasikan sebagai konten khusus untuk kalangan subscriber
Glenn Kaonang - 22 July 2021
Semua akan subscription pada waktunya. Bahkan Tumblr, platform blogging yang sudah berusia 14 tahun pun juga mulai mengadopsi tren ini. Mereka baru saja mengumumkan Post+, fitur anyar yang memungkinkan kreator untuk memonetisasi konten bikinannya dengan cara menarik biaya berlangganan ke para audiensnya.
Apapun jenis kontennya, entah itu teks, gambar, GIF, video, ataupun audio, baik yang sifatnya guyonan maupun serius, semuanya dapat dipublikasikan sebagai konten khusus untuk kalangan subscriber. Kreator bebas memilih di antara tiga opsi tarif berlangganan yang tersedia: $4, $6, atau $10 per bulan. Tumblr bakal mengambil 5% dari total keuntungan yang didapat masing-masing kreator.
Post+ pada dasarnya merupakan jawaban Tumblr terhadap tren paid newsletter yang sedang marak. Angka 5% tadi tentu bukan suatu kebetulan, sebab kita tahu bahwa Substack — salah satu platform newsletter terpopuler — mengambil untung 10% dari komunitas kreatornya.
Di tempat lain, ada pula Bulletin, platform paid newsletter besutan Facebook, yang berkomitmen untuk tidak mengambil untung sama sekali dari para kreator selama periode awal peluncurannya.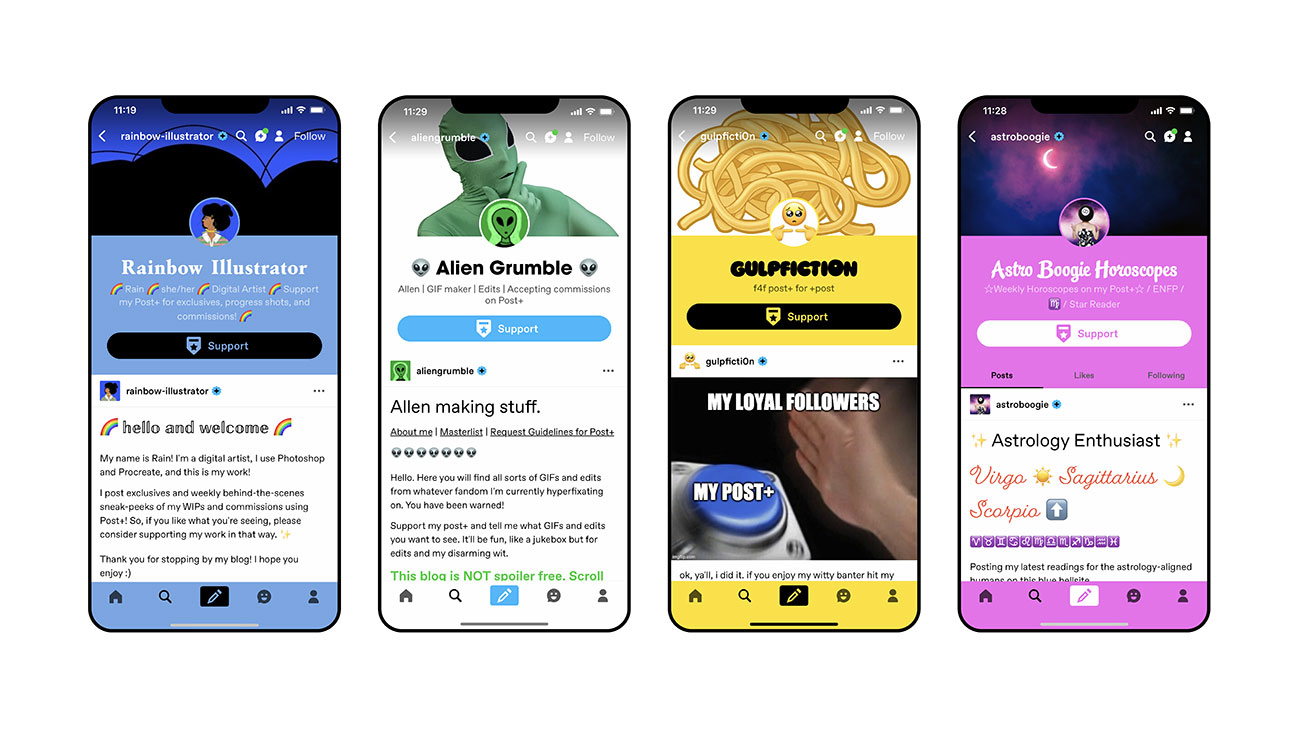 Tumblr tidak membatasi siapa saja yang bisa memanfaatkan Post+. Dengan kata lain, kreator tidak perlu memiliki follower dalam jumlah tertentu untuk bisa menawarkan konten berbayar. Pun begitu, berhubung Post+ statusnya masih beta, sejauh ini Tumblr masih membatasinya untuk sejumlah kreator terpilih saja.
Tumblr memang sudah tidak sepopuler dulu. Meski demikian, setiap harinya masih ada lebih dari 11 juta post baru yang berseliweran di platform Tumblr. Jumlah pengguna aktifnya saat ini tidak diketahui, tapi jumlah blog-nya tercatat ada lebih dari 500 juta blog. Angka ini tentu tidak bisa jadi patokan, sebab kita tidak tahu seberapa banyak dari 500 juta blog itu yang sudah nonaktif dan tidak pernah merilis konten baru.
Menariknya, Tumblr bilang bahwa 48% dari total semua penggunanya adalah kalangan Gen Z. Pengguna Gen Z ini menghabiskan waktu 26% lebih lama di Tumblr ketimbang pengguna yang lebih tua, dan rata-rata waktu penggunaan hariannya naik lebih dari 100% dari tahun ke tahun. Bisa jadi ini merupakan salah satu faktor yang mendorong Tumblr untuk menghadirkan Post+, sebab kalangan Gen Z memang sudah sangat terbiasa dengan budaya subscription.
Sumber: TechCrunch dan The Verge.
Are you sure to continue this transaction?
processing your transaction....