Tutorial Membuat Catatan Suara di Evernote Versi Desktop
Bambang Winarso - 23 October 2013
Seperti yang saya janjikan minggu lalu bahwa untuk edisi depan kita akan membahas cara membuat catatan audio atau Audio Note di aplikasi Evernote desktop. Syukurlah minggu ini kita kembali dipertemukan, sehingga saya bisa memenuhi janji tersebut.
Dan perlu juga saya sampaikan bahwa artikel ini edisi terakhir di kolom tips dan trik atau tutorial khusus Evernote, tapi jangan khawatir sebab saya dan Chief Editor TRL sudah sepakat dan memastikan kolom tips tidak akan berhenti sampai di sini, selanjutnya akan ada tips dan trik yang tak kalah keren tapi dengan layanan yang berbeda, apa itu? Tunggu tanggal mainnya, sekarang kita selesaikan tutorial ini dulu, oke?
Seperti biasa, jalankan dahulu aplikasi Evernote di komputer Anda, kemudian klik New Note - New Audio Note.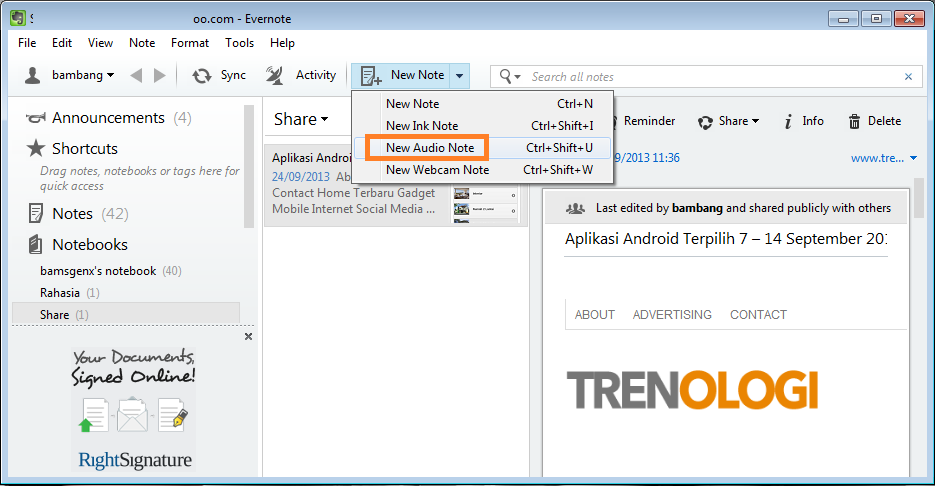 Secara instan aplikasi akan menampilkan halaman note baru, tampilannya hampir sama seperti saat Anda membuat email di mana ada judul dan isi. Pertama silahkan pilih jenis huruf dan ukuran [lihat bagian dalam kotak biru di gambar], langkah ini sebenarnya hanya opsional alias tidak harus tapi jika ingin catatan jadi lebih menarik tak ada salahnya dilakukan. Kemudian isi judul dan pesan catatan [lihat kota bergaris kuning] dan lanjutkan dengan mengklik tombol RECORD untuk mulai merekam pesan suara.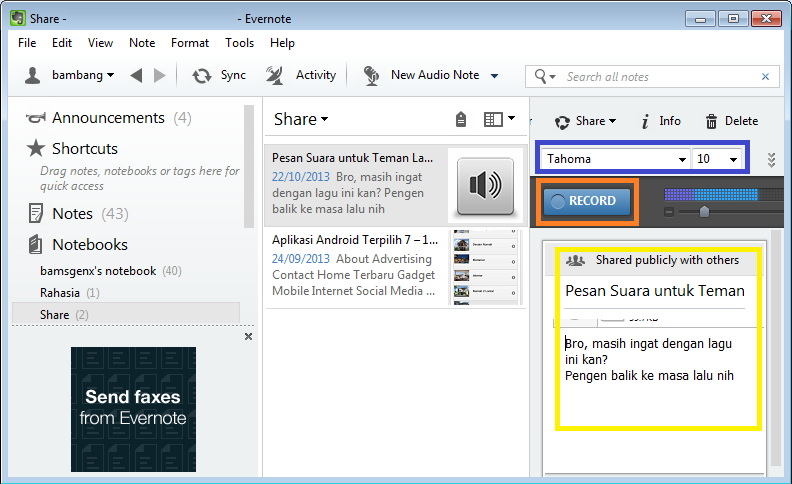 Setelah dirasa cukup klik tombol SAVE berwarna merah untuk menyimpan pesan suara yang barusan Anda rekam.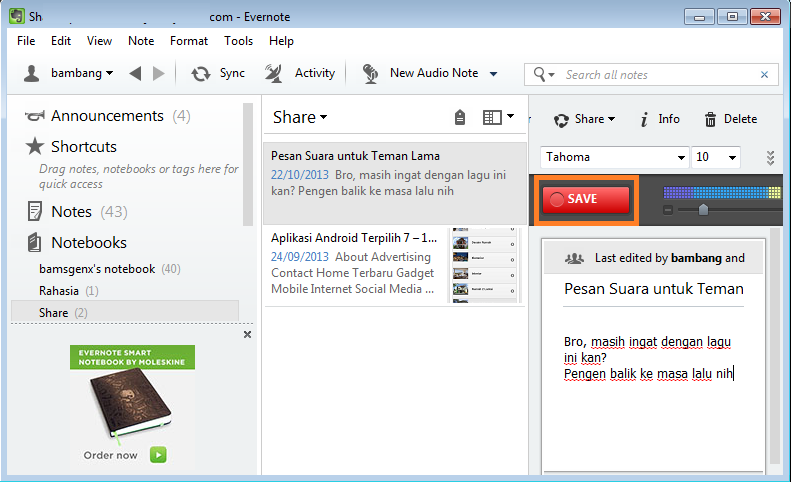 Dan selesai, seperti inilah tampilan pesan suara yang dibuat dengan menggunakan aplikasi Evernote desktop. Anda bisa berbagi dengan teman via email dan jejaring sosial dengan cara mengklik menu Share dan pilih media yang Anda inginkan. Jika ingin memutar kembali pesan yang sudah Anda rekam, klik saja tombol "play" di dalam pesan tersebut.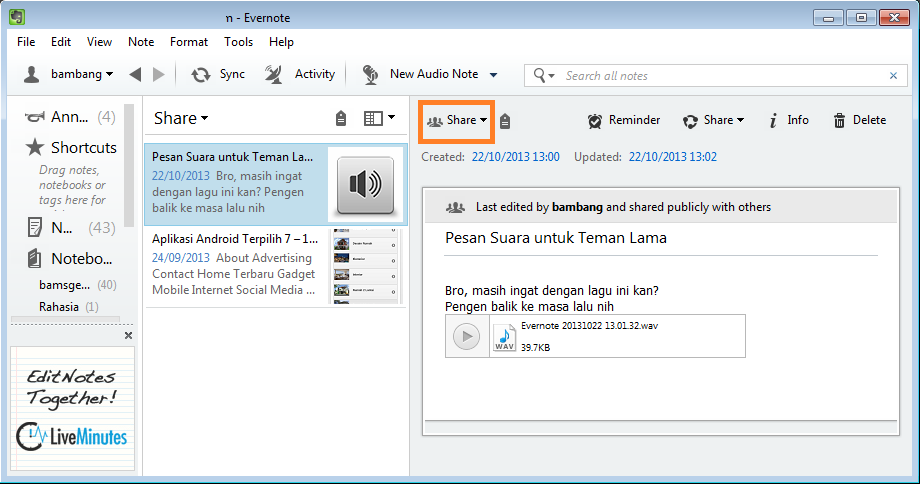 Sampai di sini saya beranggapan tidak ada kendala yang Anda hadapi, tetapi jika tebakan saya meleset jangan sungkan untuk berbagi melalui kolom komentar.
---
Demikan kolom untuk tips atau tutorial penggunaan Evernote, harapan saya semoga selama tips tentang Evernote ini hadir di TRL menjadi informasi yang berguna bagi Anda, don't be sad... karena kita akan jumpa di kolom tips dan trik lain, tentunya dengan pembahasan yang lebih oke. Sampai jumpa!
Are you sure to continue this transaction?
processing your transaction....