TV Premium Samsung The Frame dan The Serif Hadir di Indonesia, Bisa Menggantikan Lukisan!
Samsung pun berhasil memadukan teknologi dengan seni
Dimas Galih W. - 27 November 2019
Samsung kembali meluncurkan televisi pintar dan cantik untuk memperkuat posisinya di pasar audio video. Kali ini, TV yang dikeluarkan sudah menggunakan QLED dengan resolusi 4K. Keduanya pun juga bisa menampilkan gambar seni saat sedang di non aktifkan.
Samsung pun mengundang saya dalam rangka peluncuran dua TV tersebut. Acara dilaksanakan pada La Moda Plaza Indonesia pada tanggal 25 November 2019. Pada restoran dengan ruangan yang cukup terbuka di tengah Plaza Indonesia ini, Samsung memperkenalkan dua TV berikut ini.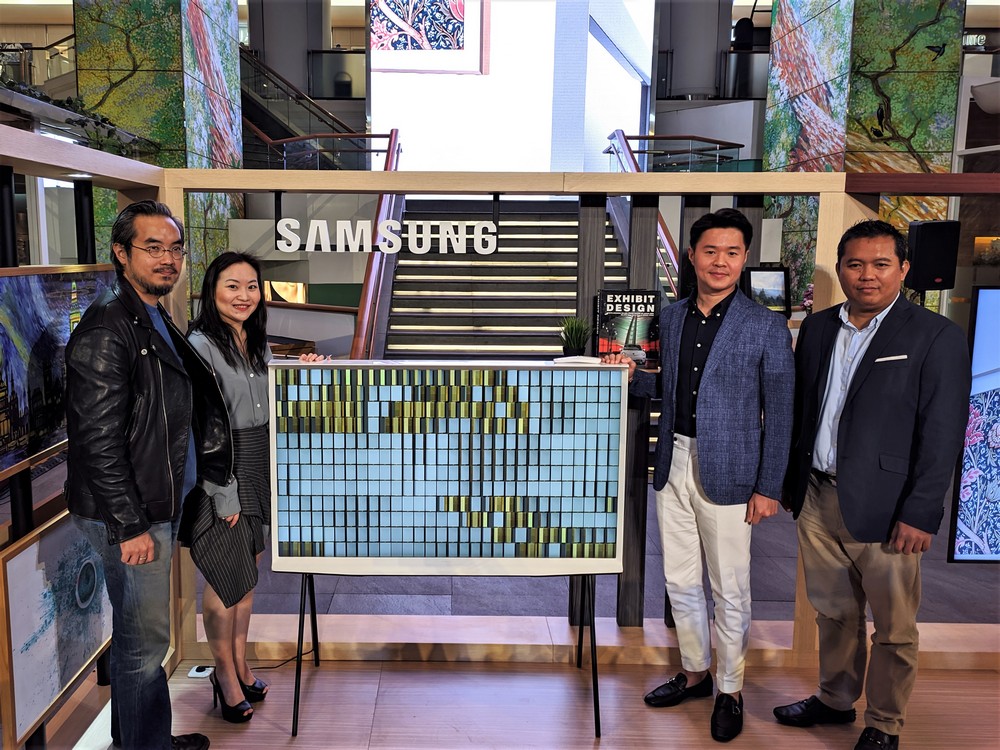 The Frame
Yang pertama diperkenalkan adalah Samsung The Frame. Sesuai dengan namanya, TV yang satu ini memiliki bingkai layaknya sebuah lukisan. Dengan bingkai yang bisa dibongkar pasang tersebut, nantinya TV ini bisa digunakan sama seperti lukisan pada saat tidak sedang digunakan untuk menonton.
The Frame dilengkapi dengan Intelligent Sensor yang mendeteksi kadar cahaya di ruangan. Sensor ini nantinya akan  menyeimbangkan warna  dan tone layar secara otomatis hingga pada siang maupun malam hari dapat menampilkan gambar karya seni dengan baik, tanpa overbright.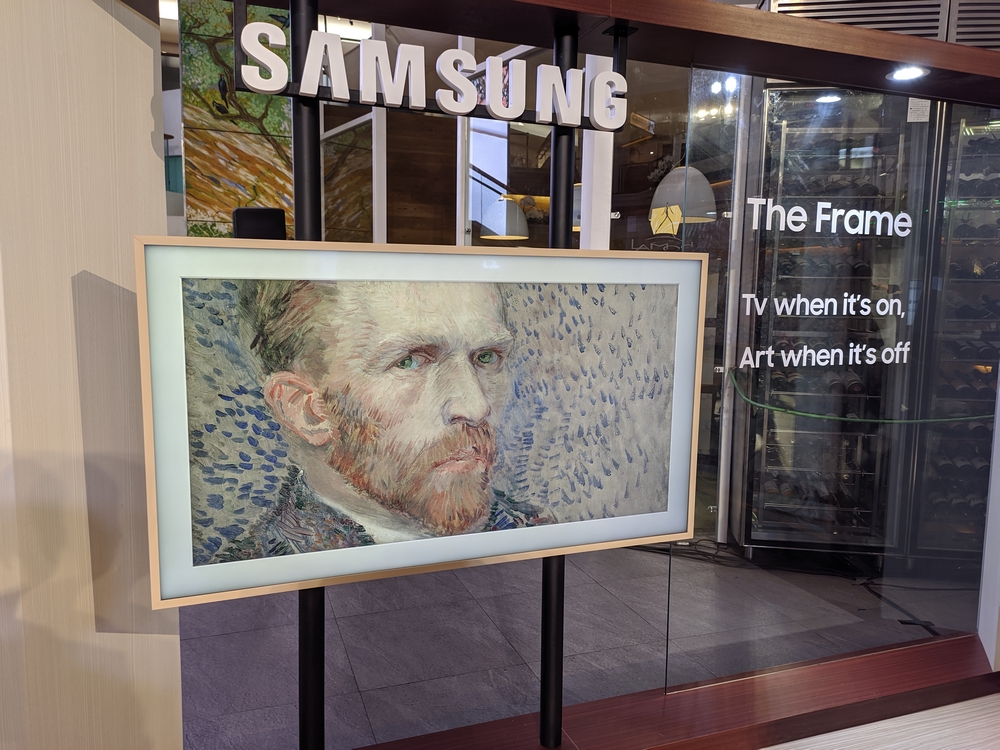 Hingga kini Samsung Art Store memiliki lebih dari 1.000 karya seni dari artis dan fotografer ternama seperti Cezanne, Monet, Bosch, Klimt, Van Gogh dan seniman brilian lainnya. Jika tidak ingin menampilkan karya seni yang bisa diambil dari Samsung Art Store, pengguna juga bisa menampilkan gambar buatan sendiri seperti foto keluarga.
The Serif
Saat pertama saya mendengar The Serif, saya langsung teringat dengan sebuah font. Benar saja, The Serif akan berbentuk seperti huruf kapital I dengan font Sans Serif dari pinggirnya. TV ini sendiri juga memiliki kaki penyangga sendiri sehingga tidak bisa dipasang di dinding.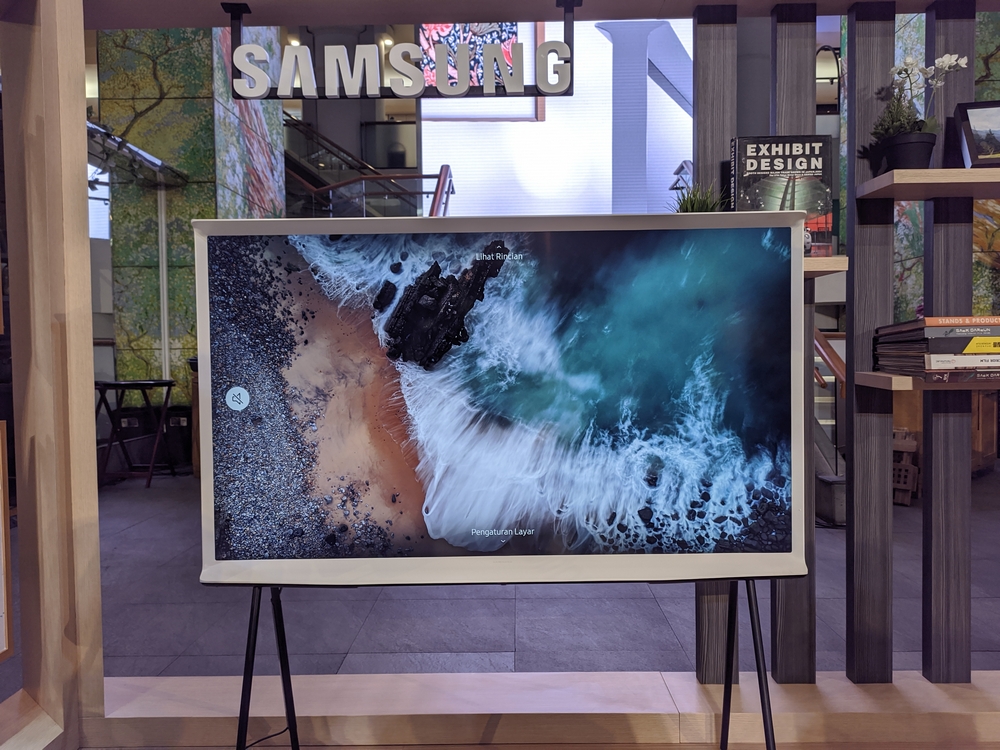 The Serif memiliki sebuah NFC di bagian atasnya. NFC ini berfungsi untuk memindahkan speaker dari sebuah perangkat ponsel ke The Serif. Nantinya, audio akan terhubung melalui Bluetooth. Hal ini membuat para penggunanya tidak lagi harus repot melakukan pairing yang memakan waktu cukup lama.
Saat mencoba The Serif, hal pertama tentu saja mencoba sebaik apa suara dari TV cantik ini. Dengan volume 100%, ternyata suaranya cukup keras terdengar. Saya pun bisa mendengarkan detail suaranya yang dimainkan dari sebuah smartphone Samsung Galaxy dengan baik. Hal ini tentu saja bisa membuat pemilik The Serif tidak perlu lagi membeli speaker baru, kecuali ingin menghadirkan suara 5.1 sampai 7.1.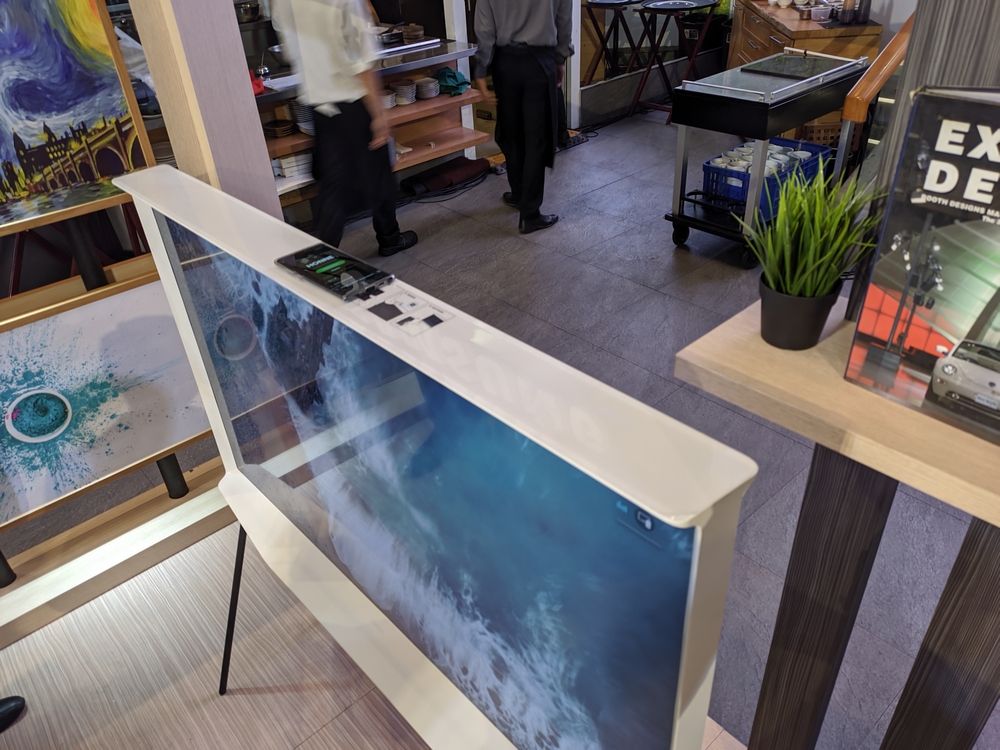 Kedua TV tersebut sudah dilengkapi dengan Bixby, yang bisa menerima perintah suara dari remote-nya. Selain itu, keduanya juga sudah memiliki One Invisible Connection agar tidak terlihat kabel yang berantakan.
The Frame 2019 tersedia dalam ukuran 55 dan 65 inci dengan harga Rp. 20.999.000,- hingga Rp. 26.499.000,-. The Serif hadir berukuran 55 inci dalam warna putih termasuk dengan kaki pijakan, tersedia seharga Rp. 19.999.000,-.
Are you sure to continue this transaction?
processing your transaction....