UC Browser Ambil Alih Lebih Dari 50 Persen Pangsa Pasar Peramban Mobile di Indonesia
Data StatCounter tunjukkan UC Browser meraih 55,27 persen pageviews dengan rata-rata pertumbuhan tiga persen per bulan sepanjang tahun lalu
Adjie Priambada - 28 January 2016
Peramban mobile asal Tiongkok UC Browser mengumumkan telah berhasil mengambil alih lebih dari 50 persen pangsa pasar peramban mobile di Indonesia, tepatnya 55,27 persen untuk pageviews per bulan. Raihan tersebut berkiblat pada data yang ditunjukkan oleh StatCounter dari Desember 2014 hingga Desember 2015. Selain itu UC Browser juga mengklaim menjadi satu-satunya peramban mobile yang terus tumbuh tahun lalu dengan rata-rata pertumbuhan tiga persen per bulan.
Melalui keterangannya, Director of UCWeb International Business Kenny Ye menyatakan, "Kami akan mempertahankan pertumbuhan dengan memperbesar jaringan mitra lokal, selain tetap terus menjaga berbagai inovasi produk kami. Semua pembelajaran berasal dari kemitraan dengan e-tailers, penyedia konten dan lainnya."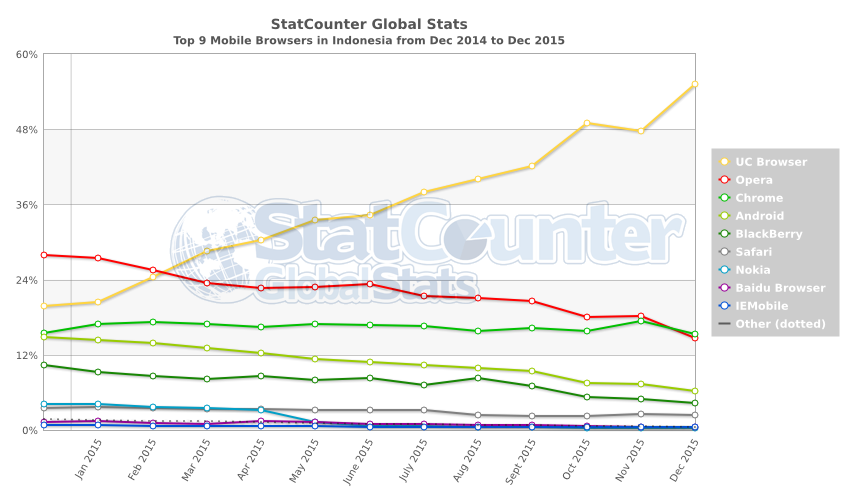 UC Browser juga mengklaim bahwa saat ini satu dari setiap dua halaman seluler yang dilihat di Indonesia diproses oleh UC browser. Ini membuat UC Browser optimis telah menjadi salah satu jalur penting dalam lalu lintas mobile di Indonesia.
Pencapaian yang diraih oleh UC Browser sendiri sebenarnya bisa dikatakan cukup cepat, mengingat di awal tahun lalu UC Browser masih menduduki peringkat ketiga untuk marketshare peramban mobile di Indonesia dengan raihan 12,48 persen. Sedangkan di posisi puncak masih ada Opera dengan 38,43 persen diikuti peramban Android dengan 18,29 persen. Kini UC Browser berhasil menyalip Opera dengan raihan 38,57 persen.
UC Browser sendiri memang telah menunjukkan ketertarikan terhadap potensi pasar yang dimiliki Indonesia. Hal tersebut ditunjukkan dengan kesiapan UC Browser untuk membuka kantor perwakilan di Indonesia.
UC Browser sendiri merupakan bagian dari Alibaba Group Company. Saat ini UC Browser mengklaim telah memiliki lebih dari 500 juta pengguna secara global di lebih dari 150 negara dengan dukungan dalam 11 bahasa. Bersamaan dengan klaim pencapaian di Indonesia, UC Browser juga menyatakan telah berhasil menjadi peramban mobile paling populer kedua dengan raihan 18,6 persen page views di akhir 2015 kemarin.
Are you sure to continue this transaction?
processing your transaction....