Update Info Turnamen The International 2015 Dota 2
Buat para penggemar permainan Dota 2 yang pada minggu ini kebetulan tidak berkesempatan hadir di gelanggang KeyArena Seattle, kemungkinan besar mereka tidak jauh dari layar PC ataupun perangkat bergerak. Alasannya, tentu saja mereka tidak mau melewatkan para tim esport papan atas dunia beraksi dalam ajang Dota 2 The International 2015.
Turnamen sendiri sendiri diawali lewat sesi Wild Card pada tanggal 26 Juli, lalu dilanjutkan dengan Group Stage. Kini acara puncak yang ditunggu-tunggu telah tiba. Sejak hari Senin kemarin, 16 tim bertarung mati-matian demi mendapatkan porsi terbanyak dari total hadiah US$ 18 juta lebih - terkumpul berkat penjualan The Compendium. Di artikel ini, Trenologi sudah merangkum berita teranyar seputar The International 2015.
Terserang DDoS
Di hari kedua event, Valve terpaksa menunda pertandingan selama beberapa jam karena serangan DDoS. Sebelumnya The International memang mengalami sejumlah masalah terkait internet, tapi para komentator mengkonfirmasi bahwa jenis serangan DDoS-lah yang menyebabkan kompetisi terhenti. Hal ini cukup unik, karena bahkan para peserta di acara resmi berskala global menghadapi problem serupa seperti gamer Dota 2 biasa. Sayang sekali tidak ada mode LAN di sana.
Info menarik: Tips Dota 2 Buat Para Pemula
Jumlah hadiah
Menang ataupun kalah, ke-16 tim tidak akan pulang dengan tangan kosong. Meskipun berada di urutan yang kurang bergensi, setidaknya mereka telah mengamankan uang US$ 54 ribu lebih. Selanjutnya total hadiah naik ke US$ 218.044 buat tempat ke-9, 10, 11 dan 12. Ada hadiah 'hiburan' US$ 817 ribu buat posisi ke-6 dan ke-7, namun batas US$ 1 juta dolar baru disajikan untuk ranking 6 ke atas. Buat pemenang utama, uang US$ 6,5 juta sudah menanti. Ini dia bagan lengkapnya.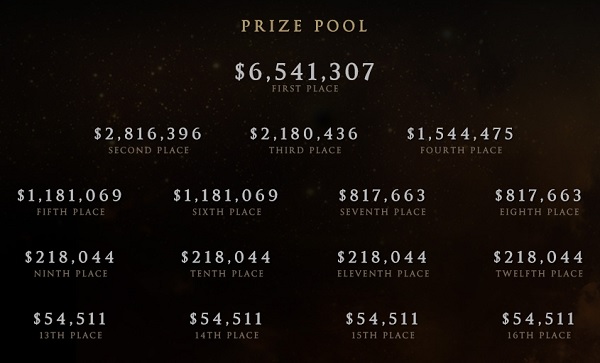 Cara menonton
Setidaknya ada empat metode menyaksikan The International 2015 gratis via live stream. Anda dipersilakan menonton lewat Steam Broadcasting, YouTube, WatchESPN atau Twitch. Platform live stream terakhir itu yang saya paling rekomendasikan karena paling familier dan aksesnya sederhana. Tanpa sign-in atau sign-up, Anda hanya perlu mengunjungi channelThe International di Twitch.
Pertandingan sejauh ini...
Di hari keempat ini, tim kuda hitam CDEC Gaming asal China mengalahkan LGD Gaming yang dijagokan secara telak, mengamankan posisinya di babak preliminary final. Padahal melihat hasil Group Stage, LGD memperoleh poin terbanyak. Sebelum menghadapi CDEC, LGD sukses menghantam Empire di upper bracket.
Match kedua tanggal 6 Agustus 2015 di upper bracket mengadu Evil Genius dari Amerika dan Ehome. Walaupun awalnya Ehome tampak mendominasi, Loomis, Sumail dan kawan-kawan sukses membalikkan keadaan - menyeret Ehome ke lower bracket. Masih ada peluang kedua buat Ehome dan LGD, menunggu hasil MVP Phoenix vs. Vici Gaming, dan Virtus Pro melawan Team Secret.
Info menarik: Total Hadiah Turnamen Dota 2 The International 2015 Lewati $15 Juta
Inilah hasil sementara The International 2015: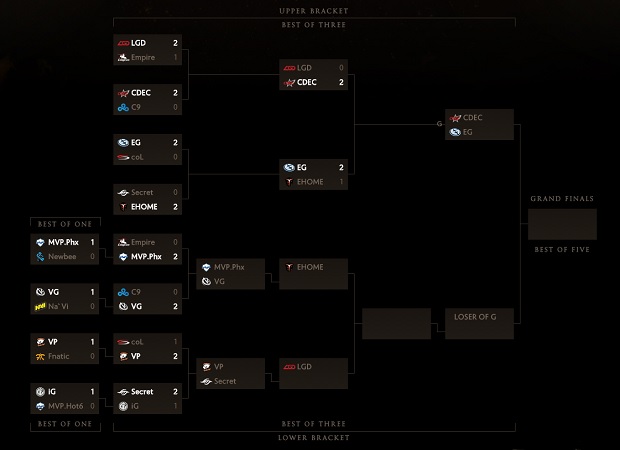 Jadwal selanjutnya
Tersisa tiga hari lagi menuju grand final, berpuncak pada hari Sabtu tanggal 8 Agustus 2015 waktu Seattle. Simak Agendanya di bawah.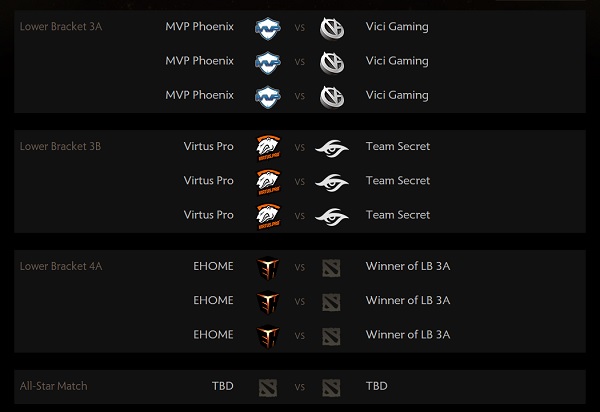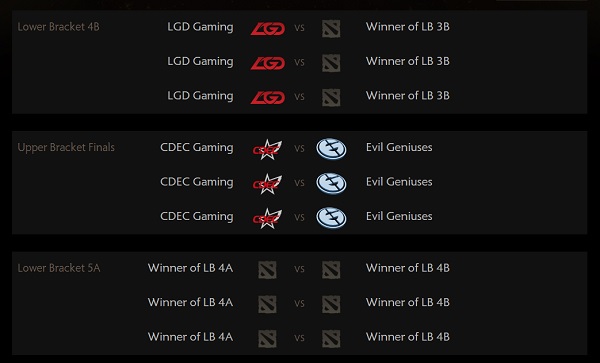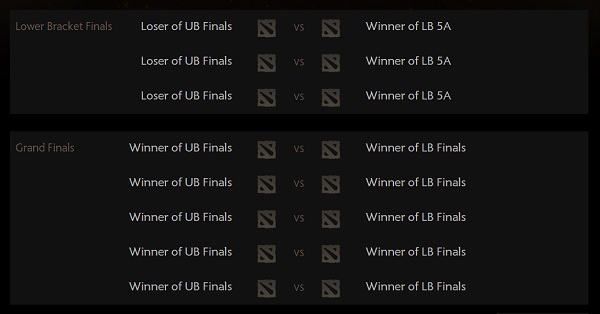 Tayangan ulang dan informasi lebih lengkap bisa Anda peroleh di Dota2.com.
Are you sure to continue this transaction?
processing your transaction....