Vainglory Bakal Meluncur di PC dan Mac, Versi Alpha-nya Sudah Bisa Dicoba Sekarang
Eksistensinya sebenarnya sudah bisa diendus sejak game tersebut didemonstrasikan berjalan pada Samsung DeX tahun lalu
Genre MOBA (Multiplayer Online Battle Arena) memang terlahir di platform PC, akan tetapi bukan berarti genre tersebut selamanya harus diam di tanah kelahirannya. Seperti yang kita tahu sekarang, game seperti Mobile Legends dan Arena of Valor merupakan dua di antara game smartphone terlaris, dan keduanya juga merupakan game MOBA.
Meski terbukti sukses, keduanya bukanlah MOBA pertama di ranah mobile. Vainglory sebenarnya muncul lebih dulu di tahun 2014, meski pada saat itu baru untuk platform iOS saja. Sebelum Vainglory sebenarnya masih ada yang lebih tua lagi (selisih beberapa bulan); judulnya Fates Forever, tapi game itu cuma bertahan sampai Oktober 2015 saja.
Vainglory di sisi lain masih bertahan sampai sekarang di iOS maupun Android. Malahan, Super Evil Megacorp selaku pengembangnya berencana melebarkan jangkauan Vainglory lebih lagi ke ranah desktop. Ya, Vainglory sedang dalam proses 'membuka cabang' di PC dan Mac.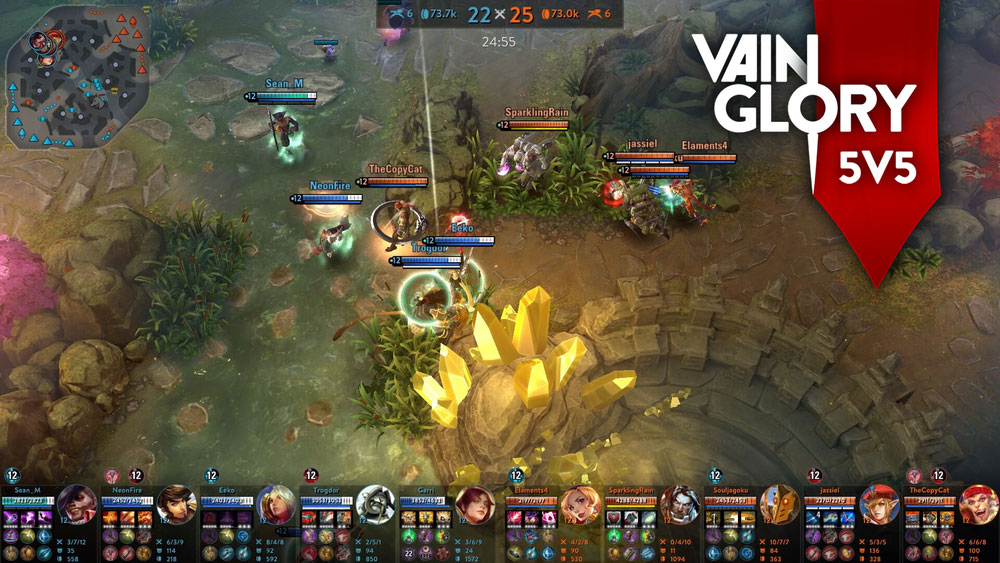 Pada kenyataannya, Super Evil Megacorp sudah membuka fase alpha-test Vainglory di PC dan Mac. Label "alpha" merupakan indikasi bahwa Vainglory versi desktop ini masih dalam tahap awal pengembangan, sehingga bisa dipastikan para pengujinya bakal menjumpai banyak bug dan problem lainnya selama bermain.
Beberapa kekurangan yang disoroti di antaranya adalah perihal input teks, menu pengaturan, optimasi UI (user interface) dan opsi kustomisasi tombol. Super Evil Megacorp pun berjanji untuk merilis update secara rutin guna menyempurnakannya.
Satu hal yang perlu dicatat, Super Evil Megacorp sebenarnya sudah berkutat dengan input kontrol mouse dan keyboard untuk Vainglory sejak tahun lalu, tepatnya ketika Samsung mendemonstrasikan kebolehan aksesori Samsung DeX untuk Galaxy Note 8. Mungkin dari situ mereka melihat potensi Vainglory untuk menjadi alternatif Dota 2 dan League of Legends di PC, dan kini mereka pun langsung mengeksekusinya.
Kalau Anda tertarik mencoba versi alpha Vainglory di PC atau Mac, silakan langsung mengunduhnya di situs resminya.
Via: Windows Central.
Are you sure to continue this transaction?
processing your transaction....