Vexanium Wants to Transform Loyalty Program using Blockchain
Currently in the ICO stage, presented as PaaS-based product
Another blockchain-based platform will arrive in indonesia. Vexanium has two Co-Founders, Danny Baskara and Robin Jang. The company focused on creating PaaS (Platform as a service) product for recording reward, loyalty point, creating voucher/coupon tokens, also advertising platform.
In this early stage, Vexanium debuts with ICO (Initial Coin Offering) campaign. As any other blockchain startups, they deliver new crypto token called "VEX" as the medium for a transaction. Along with this writing, Vexanium has come to a phase 1 of ICO, after successfully closing the pre-ICO phase.
A decentralized model blockchain is considered to offer efficiency in marketing. In the implementation, Vexanium system will be embedded with business players' service or app. VEX Token will be the transaction base, company will use the related platform to buy and use it as a loyalty program.
Vexanium business model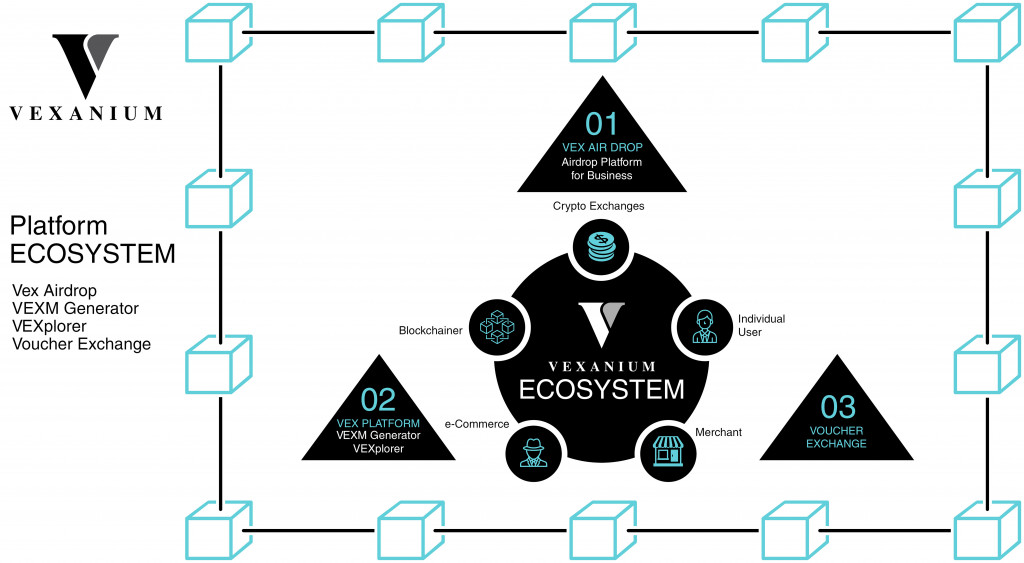 Vexanium platform ecosystem consists of three main systems. First, Vex Airdrop, is designed to facilitate "blockchain exchanger" business players to distribute VEX token. Second, VEX Platform consists of VEXM Generator and VEXplorer, is designed to facilitate business players to make and manage its own token for marketing. Third, Voucher Exchange, it allows VEX token to be operated by business merchant and consumer.
The loyalty program, for example, allows a business to buy VEX token. After the customization (for example with a business brand), Vexanium system can automatically distribute token in the specific amount to users based on marketing target. Due to its nominal, the token can be exchanged to subsidize purchasing of related products, users can also sell it using the exchange channel connected with VEX, the token will be available in INDODAX.
"Vexanium will be focusing its service in Indonesia, we'll start from targeting tech-savvy companies. The platform is ready enough, blockchain process is backend, users or merchants have no major difference regarding UI/UX, it looks like loyalty or vouchers in general," Baskara said to DailySocial.
Massive publication
A number of digital business players in Indonesia have joined Vixanium. Some of those are Calvin Kizana (PicMix), Jason Lamuda (Berrybenka), Anton Soeharyo (Touchten), Edi Sulistyo (Loket.com), and Joseph Aditya (Ralali). These advisors are rumored to be Vexanium's angel investor.
The advisor's confidence may be due to the business model and the founder experience in the previous business. Danny Baskara is known as a founder of E-voucher platform. He and his team are currently making a transformation of the previous work using blockchain mechanism. However, he assured that Evoucher and Vexanium are two different entities.
"Vexanium and Evoucher are two separate entities, Evoucher's business model is centralized like the usual tech startups, as a middleman or a bridge between merchants and customers. Vexanium has a very different business model, the similarity is they act as a bridging solution between merchant and customer," he added.
As an effort to increase participation in ICO stage, he did some intensive publications in various blockchain events, either local or international level.
– Original article is in Indonesian, translated by Kristin Siagian
Are you sure to continue this transaction?
processing your transaction....