English
Wise Egg Announces Pre Series A Funding, Launching "MoneyDuck" Financial Products Aggregator in Indonesia
MoneyDuck is a financial product aggregator platform to facilitate consumer acquisition for sales teams and financial experts from financial institutions
The Singapore based fintech startup Wise Egg announced a pre-series A funding with convertible notes led by Genesia Ventures, which was also a previous investor in the seed round. The new investors include Money Ventures and some angel investors. The value in this round is undisclosed.
The company will use this fresh money to build teams in Indonesia and Thailand, as well as expand its expert network and recruit engineers. Next, MoneyDuck plans to expand its business to other Southeast Asian countries by improving features to support sales for professionals.
Genesia Ventures' General Partner, Takahiro Suzuki said, there are many consumers in Southeast Asia with limited access to financial services although the region's economy continues to grow. "This business is in line with six of our challenges, including 'Enriching People's Lives' and 'Equality of Information and Opportunities', therefore, we are re-investing in this round after the previous one," he said in an official statement, Wednesday (12/1).
In Southeast Asia, the working age population continues to grow, creating a pyramid where the younger generation took bigger space than the older generation. It will give birth to a "demographic bonus" in the future. As income grows, people can access financial services and products.
Financial products such as insurance, loans, and fintech product innovations have been offered in the market and currently growing, however, there are many challenges on the way. One of the challenges is the lack of public financial literacy, that makes it difficult to optimize financial services experience.
Wise Egg is the company behind MoneyDuck, a financial solutions platform for consumers and financial providers. Wise Egg's Founder & CEO, Takashi Matsuura said, "Through MoneyDuck, we want to increase user access to financial services, create efficient relationships between consumers and financial companies, and contribute to creating a richer life by solving financial inclusion and social problems.
"MoneyDuck is not only trying to provide financial inclusion solutions for the public as users of financial services, but also solutions to financial providers for appropriate financial services," Matsuura said.
Some players in Indonesia have offered similar services, such as CekAja, Cermati, Lifepal and what GoBear used to do until it finally went out of business. However, MoneyDuck offers an added value that allows users to get financial advice from experts through the chat feature on MoneyDuck, WhatsApp, or other communication platforms.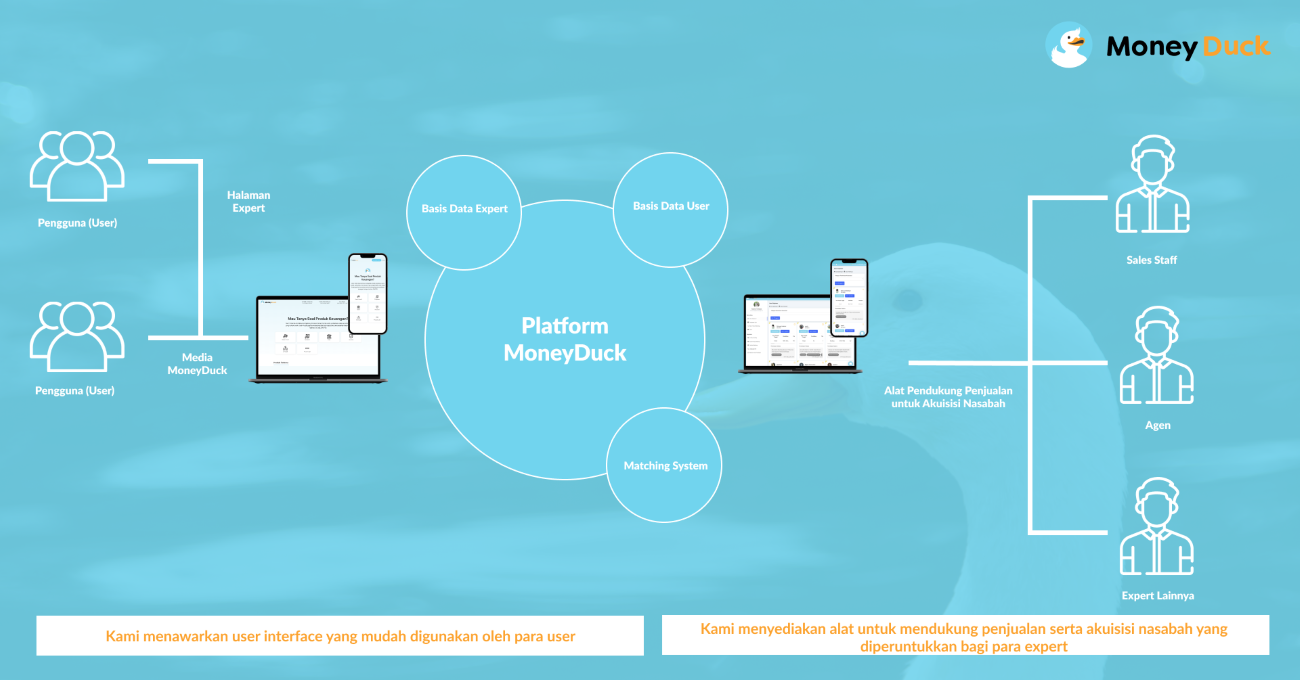 In terms of experts, they will be able to find prospects and carry out promotions, and get access to a dashboard to contact potential consumers based on their profiles. Meanwhile,in terms of users, they can consult with financial experts through a friendly UI, after answering a few simple questions to connect with experts according to their financial needs, for free.
The company also ensures that the information entered by this user is shared with suitable experts, and nothing to worry about getting a massive sales offers.
"Financial services are an important foundation for living a stable life. However, there are many people who are yet to have access to financial services due to the low level of user literacy in Southeast Asia. Meanwhile, the digital transformation of financial institution is yet to be improved, it creates inefficiency to approach new customers," Matsuura said.
Based on its website, MoneyDuck provides credit card products, loans, savings, insurance, investments, and others together with related partners. Starting from J Trust Bank, Bank Mega, BNI, DBS Bank Indonesia, CTBTC Bank, Bank Danamon, BCA, BRI, Panin Bank, and many more. In terms of investment products, forex is currently the sole trading products.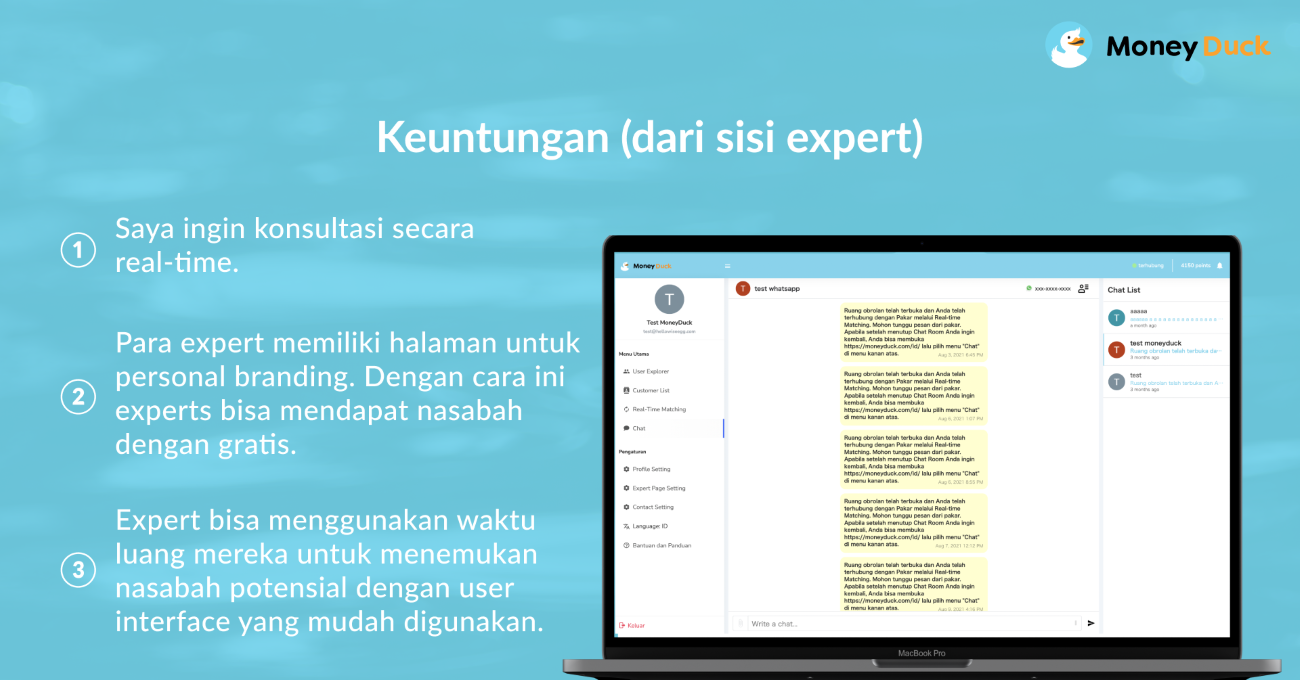 Similar business in Indonesia
The opportunity to become an aggregator of financial products is widely open. In Indonesia alone, the potential for the unbanked is still higher than the bankable. This is the right aggregator solution to reach those with low financial literacy and have not been able to keep up with the fast changing market. On the regulatory side, the aggregator platform is currently work under the Digital Financial Innovation at OJK.
Another issue is the inability to choose and conduct personal research on financial products, causing problems due to choosing illegal products without realizing the consequences; users cannot access certain financial products due to difficulties in filling out forms and incorrectly preparing the required documents; and there are still few sources of financial advice providers with friendly UX.
It creates difficulty for financial institutions to switch to more efficient features such as AI chat bots or communication methods without a human touch due to user resistance. Users need sales people and customer service personnel to offer and explain products, as well as guide them through the application process.
Both CekAja and Cermati, currently with their aggregator business bases that have been operating for a longer time, have transformed into various other fintech business units. CekAja, for example, ventured into the credit scoring business to see how much loan and credit card applications were approved. Meanwhile, Cermati entered the insurtech realm with the Cermati Protect brand, Indodana p2p lending, and Bank-as-a-service (BaaS) solutions.
–Original article is in Indonesian, translated by Kristin Siagian
Are you sure to continue this transaction?
processing your transaction....