Zalora, layanan e-commerce fashion besutan Rocket Internet, akhirnya resmi membuka pop-up store pertama di Indonesia di Kota Kasablanka Shopping Mall Jakarta sepanjang Desember ini. Isu mengenai Zalora akan membuka offline store di Indonesia sebenarnya sudah lama menjadi perbincangan, bahkan sempat beredar kabar bahwa mereka akan membuka offline store pertamanya di Plaza Blok M. Meski bukan yang pertama di Asia Tenggara, pop-up store ini bakal menjadi showcase produk-produk yang biasa dijual Zalora secara online.
Industri e-commerce di Indonesia sendiri saat ini memang sedang mengalami pertumbuhan yang pesat. Menurut riset yang diprakarsai oleh Asosiasi E-commerce Indonesia (idEA), Google Indonesia, dan TNS (Taylor Nelson Sofres), pada tahun 2016 pasar e-commerce Indonesia diprediksikan dapat meningkat 3 kali lipat menjadi $25 miliar (Rp 295 triliun) dibandingkan tahun 2013 lalu ( $8 miliar atau sekitar Rp 94,5 triliun). Wajar jika Zalora meresmikan pop-up store sebagai langkah untuk meningkatkan level kompetisinya.
"Masa depan e-commerce (di Indonesia) sangat besar, kami ingin hadir di mana saja. Kami ingin berada di tiap channel mobile, TV, tablet, Apple app, offline, di mana saja. Kami ingin menjadi Spotify-nya fashion," kata Managing Director Zalora Indonesia Fredrik Thomassen dalam acara peresmian pop-up store ini.
Hadirnya pop-up store ini memang bertujuan untuk dapat memberikan pengalaman belanja offline yang dirasa hilang saat berbelanja secara online. Selain itu, pihak Zalora juga mengklaim inovasi untuk menyatukan online dan offlineretail ini juga untuk memperkenalkan konsep belanja yang belum pernah hadir di Indonesia sebelumnya.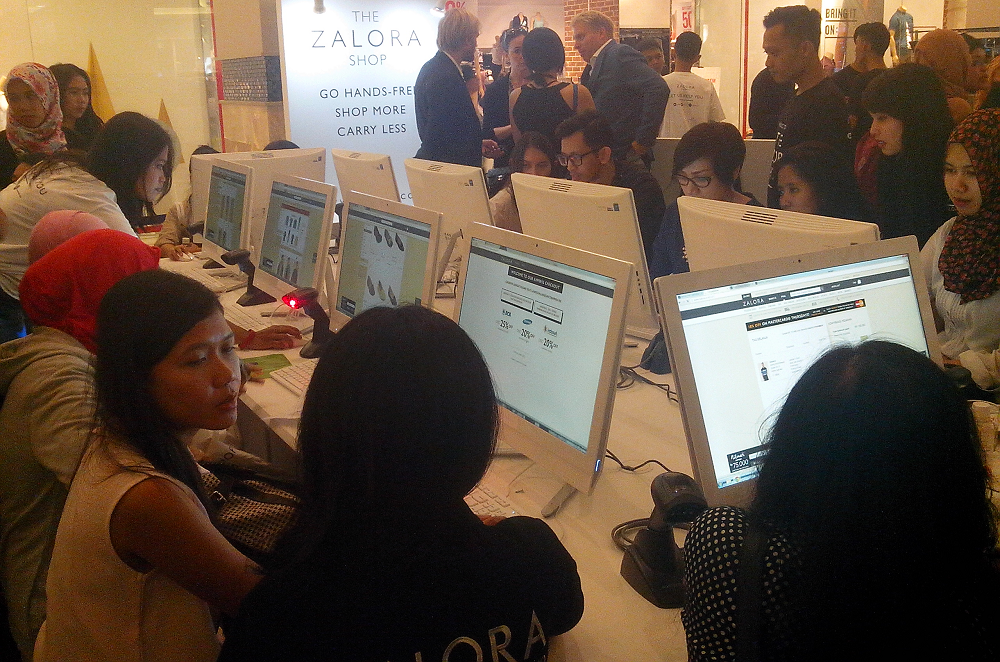 Pelanggan dapat merasakan berbelanja digital di ritel karena pop-up store tersebut juga dilengkapi dengan fasilitas komputer yang tehubung langsung dengan situs Zalora melalui internet. Meskipun masih belum pasti, pihak Zalora menyatakan bahwa mereka berencana untuk membuka toko-toko lain di kota-kota besar seperti Bandung, Bali, dan Surabaya pada tahun depan. Sedangkan untuk pop-up store yang terdapat di Kota Kasablanka ini, hanya akan hadir selama bulan Desember 2014 dengan menyediakan tema-tema tertentu, seperti Midnight Sale dan Boxing Day.
Terkait dengan event hari belanja online nasional yang jatuh pada tanggal 12 Desember nanti, pihak Zalora menjelaskan bahwa dengan hadirnya toko ini tidak akan mempengaruhi event tersebut. Pelanggan dapat berbelanja online seperti biasa pada event tersebut. Dalam acara media preview ini hadir juga desainer lokal Billy Tjong yang bekerja sama dengan Zalora untuk mendesain koleksi khusus yang hanya dijual di Zalora dan juga fashion blogger Diana Rikasari. The Zalora Shop ini akan melakukan Grand Opening-nya pada tanggal 6 Desember 2014 nanti.
"Kami optimis dengan dibukanya The Zalora Shop, konsumen yang biasanya lebih memilih untuk belanja secara offline akan tertarik untuk berbelanja secara online. Tujuan kami adalah untuk meningkatkan kepercayaan serta minat konsumen terhadap kemudahan, keamanan, serta kenyamanan belanja online dimana konsumen dapat membuktikan sendiri bahwa Zalora menawarkan produk dan fasilitas online terbaik, sehingga mereka tak perlu lagi ragu untuk berbelanja online," tambah Fredrik.
DailySocial.id adalah portal berita startup dan inovasi teknologi. Kamu bisa menjadi member komunitas startup dan inovasi DailySocial.id, mengunduh laporan riset dan statistik seputar teknologi secara cuma-cuma, dan mengikuti berita startup Indonesia dan gadget terbaru.