Angry Birds Versi Augmented Reality Siap Meluncur ke iOS
Dari Magic Leap One ke Oculus Rift dan HTC Vive, hingga akhirnya kini mendarat di iPhone dan iPad
Sebagai seorang penggemar game first-person shooter alias FPS, sudah sejak lama saya memiliki fantasi untuk bermain Angry Birds dari sudut pandang orang pertama. Hingga akhirnya saya dibuat girang sekaligus sedih oleh Rovio pada bulan September tahun lalu.
Kala itu, mereka mengumumkan game baru berjudul Angry Birds FPS: First Person Slingshot untuk AR headset Magic Leap One. Video trailer-nya berhasil membuat saya lompat kegirangan, tapi di saat yang sama, saya juga sedih menghadapi fakta bahwa saya sama sekali tak punya akses ke AR headset tersebut.
Perasaan sedih ini sedikit terobati sebulan yang lalu, tepatnya ketika Angry Birds VR: Isle of Pigs diumumkan. Saya bilang "sedikit", sebab saya pun tak punya Oculus Rift maupun HTC Vive untuk dapat memainkannya. Namun harapan rupanya belum sepenuhnya hilang.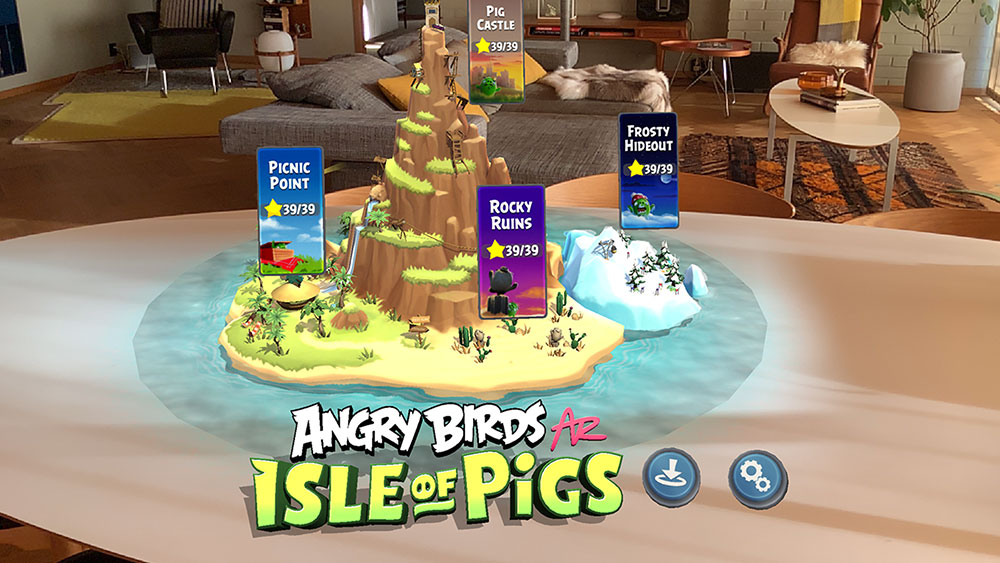 Di ajang Game Developers Conference (GDC) yang sedang dihelat di kota San Francisco, Rovio menyingkap Angry Birds AR: Isle of Pigs. Ya, ini merupakan game yang sama seperti yang dirilis untuk Oculus Rift dan HTC Vive sebelumnya, akan tetapi label "AR" pada judulnya mengindikasikan bahwa ia dibuat untuk dimainkan menggunakan smartphone.
Benar saja, game bikinan mitra Rovio, Resolution Games, ini sekarang sudah berstatus pre-order di platform iOS, dan kebetulan ponsel yang saya pakai (iPhone 6S) masih tercantum sebagai perangkat tertua yang sanggup memainkannya. Selain di iPhone, tentu saja kita juga bisa memainkannya di iPad.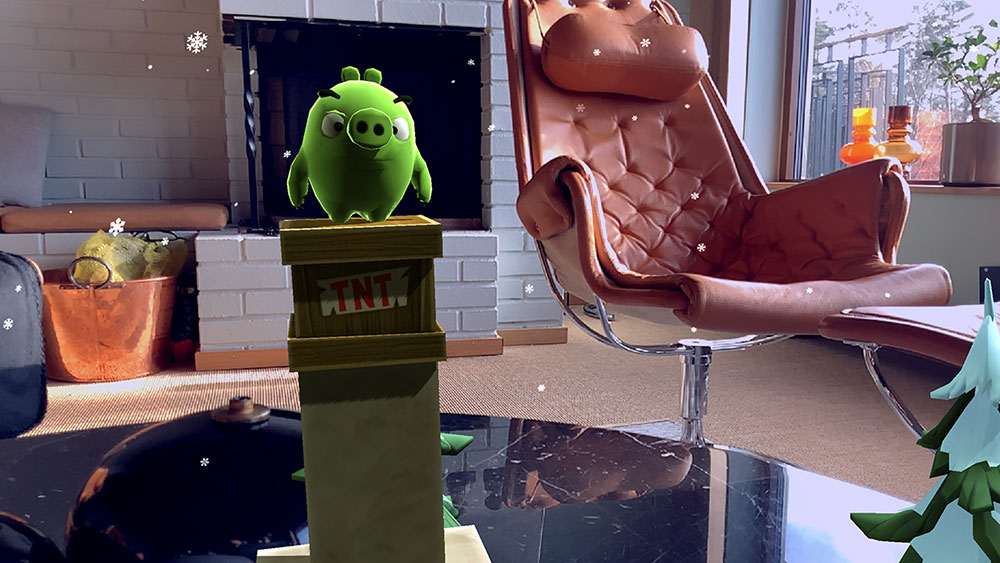 Tidak seperti game mobile pada umumnya yang bisa kita mainkan kapan dan di mana saja, Angry Birds AR akan lebih ideal dimainkan di kediaman sendiri, atau sejatinya di mana saja ada permukaan datar yang lowong. Memanfaatkan platform ARKit, game akan lebih dulu mendeteksi area di sekitar pemain, lalu struktur kompleks yang menjadi level permainan akan langsung dibangun di atas permukaan datar (meja atau lantai).
Yang membuatnya kurang ideal jika dimainkan di luar adalah, tubuh kita juga harus ikut bergerak untuk bisa mengamati level permainan dari segala sudut. Bermain selagi duduk atau berdiri di satu tempat saja berarti kita bakal kesulitan menemukan titik-titik lemah dari struktur yang harus dihancurkan untuk bisa melanjutkan ke level berikutnya.
Seperti halnya Angry Birds FPS maupun Angry Birds VR, Angry Birds AR juga dikembangkan oleh mitra Rovio, Resolution Games. Pada awal peluncurannya, akan ada 40 level yang bisa dimainkan. Game-nya sendiri baru akan tersedia dan bisa diunduh pada tanggal 11 April, berdasarkan estimasi yang tertera di lamannya di App Store.
Bagaimana dengan versi Android-nya? Sejauh ini belum ada informasi sama sekali, namun tidak ada salahnya berharap mengingat Android juga punya platform ARCore. Catatan terakhir: Angry Birds AR merupakan game free-to-play, akan tetapi seperti apa konten in-app purchase yang bakal tersedia masih belum dirincikan.
Sumber: TechCrunch dan Rovio.
Are you sure to continue this transaction?
processing your transaction....