App Buku Cerita Interaktif The Great Adventures of Botchi Segera Meluncur Minggu Ini
Masuknya berbagai perangkat beserta aplikasi canggih telah mengubah hidup, budaya dan cara manusia berinteraksi. Dalam kehidupan berkeluarga sehari-hari, tantangan terbesar dari hal itu adalah bagaimana mencari yang terbaik dan memanfaatkan teknologi untuk membuat Anda lebih dekat dengan orang-orang tersayang.
Kita telah menyaksikan banyak sekali permainan dan app edutainment dibuat khusus untuk si buyung. Tapi menurut publisher Manikmaya, ada hal penting yang menjadi identitas masyarakat Indonesia sejak dahulu: budaya mendongeng. Bersama studio Rolling Glory asal Bandung, Manikmaya akan meluncurkan The Great Adventures of Botchi, sebuah buku cerita digital interaktif yang mengisahkan petualangan Botchi, si bunglon cilik.
Dengan pendekatan mendongeng, The Great Adventures of Botchi mengajak anak-anak belajar mengenal dan mengeksplorasi warna primer, serta kombinasi-kombinasinya. Dalam 33 halaman miliknya, si buyung ditantang untuk memilih warna yang tepat, menarik garis atau menyingkirkan objek dengan warna tertentu. Menariknya, app tersebut juga dirancang sebagai medium sempurna agar orang tua dapat berpartisipasi.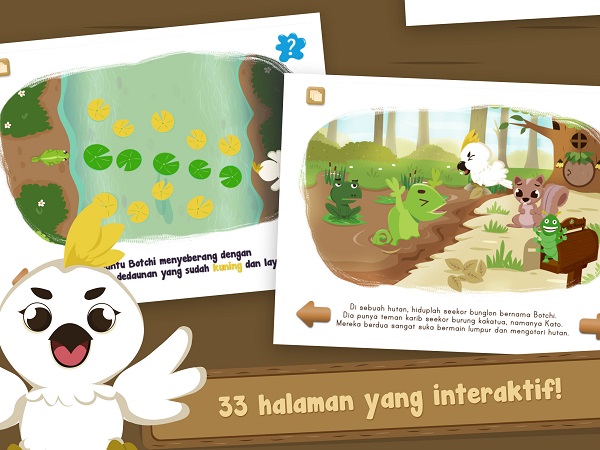 Info menarik: Agate Studio Jogja Luncurkan Game Geograpiea
Hal di atas ialah kombinasi sempurna: anak-anak bisa belajar sambil bermain dan orang tua diminta menjadi pembimbing mereka - membuat Anda dan buah hati menjadi semakin dekat. Dari situs resminya, Rolling Glory menjelaskan mengapa menyajikan buku dongeng interaktif adalah langkah tepat.
Aplikasi sejenis mampu mendongkrak tingkat kedekatan anak dan orang tua, memberikan si buyung kesempatan berkesperimen serta bereksplorasi di bawah bimbingan Anda, dengan begitu mengembangkan kecerdasan emosi dan otak kanan - sangat penting dalam mengembangkan daya pikir, imajinasi dan karakteristik.
The Great Adventures of Botchi memadukan narasi, interaktivitas dan mini-game, dilengkapi musik, lagu dan efek suara menarik, serta halaman eksperimen. "[Karakter] Botchi tidak jauh berbeda dengan kita ketika berumur empat hingga enam tahun, sangat ingin tahu akan segala hal. Keingintahuan inilah yang akan membuatnya berpetualangan bersama sahabat karibnya, Kato si Kakatua," tulis Rolling Glory.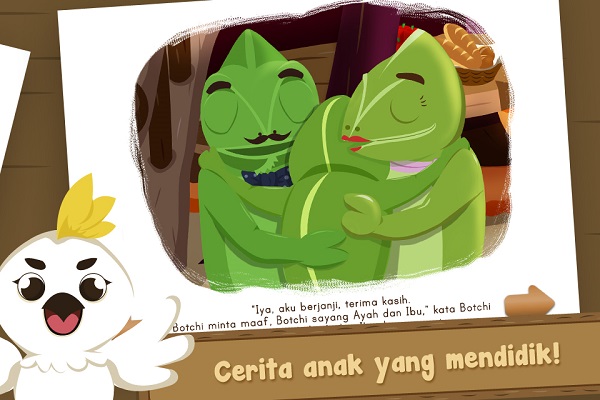 Info menarik: Anak 12 Tahun Ciptakan Printer Braille
Tidak lupa, dalam narasinya The Great Adventures of Botchi menyisipkan nilai moral kejujuran dan sifat menepati janji. Dan menurut sang developer, "Mendongeng adalah aktivitas yang menghibur bagi keluarga dan merupakan cara paling efektif dalam menanamkan nilai-nilai [positif] dalam kehidupan sehari-hari."
The Great Adventures of Botchi ialah app edutainment pertama buatan Rolling Glory. Tim sebelumnya telah meraih beberapa penghargaan, salah satunya dari ajang Asia Pacific Information and Communication Technology Alliance (APICTA) Awards tahun 2013 yang diadakan di Hong Kong. Dan berkolaborasi dengan Manikmaya, Rolling Glory segera menghadirkannya untuk Anda.
Aplikasi tersebut akan diluncurkan secara resmi hari Sabtu besok. Jika Anda memiliki perangkat ber-iOS, silakan unduh dan jajal The Great Adventures of Botchi via Apple store. Saya yakin, app lokal ini jauh lebih baik dibanding sekedar menginstal Angry Birds atau Subway Surfers untuk dimainkan anak-anak.
The Great Adventures of Botchi bisa diunduh gratis, ia mengusung sistem micropayment untuk membuka halaman permainan lebih banyak.
Are you sure to continue this transaction?
processing your transaction....