BlackBerry Q5 Sudah Bisa Dipesan oleh Konsumen di Inggris
Iqbal Farabi - 13 June 2013
Belum lagi BlackBerry Q10 bisa dipesan oleh konsumen di tanah air, BlackBerry sudah kembali merilis produk baru yang berbasis sistem operasi BlackBerry 10. BlackBerry Q5, yang diperkenalkan pertama kali pada acara BlackBerry Live di Amerika Serikat pada 14 Mei lalu, kini sudah mulai bisa dipesan oleh konsumen yang berada di Inggris.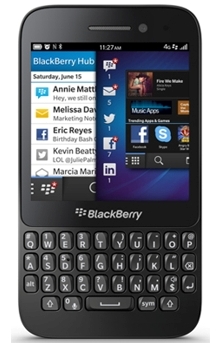 Dari segi spesifikasi teknis, BlackBerry Q5 bisa dikatakan sebagai 'adik' dari perangkat BlackBerry Q10. Mengambil bentuk sebagai perangkat dengan keyboard QWERTY fisik, BlackBerry Q5 memiliki spesifikasi yang lebih rendah dibandingkan dengan Q10. Q5 memiliki spesifikasi teknis berupa layar berukuran 3,1 inci, prosesor berinti ganda dengan kecepatan 1,2 GHz, memori RAM 2 GB, kamera belakang 5 megapiksel, dan kamera depan 2 megapiksel.
Menurut situs berita asal Inggris, The Inquirer, BlackBerry Q5 sudah mulai bisa dipesan oleh konsumen di Inggris menjelang rilis resminya ke pasar pada 15 Juli nanti. Di Inggris, BlackBerry Q5 dibanderol dengan harga 349 poundsterling atau setara dengan 5,4 juta rupiah berdasarkan kurs saat tulisan ini dibuat.
Sayangnya hingga saat ini belum ada informasi mengenai tanggal ketersediaan perangkat ini di negara-negara lainnya. Saya sendiri sangat yakin bahwa Indonesia pun akan segera menjadi destinasi penjualan perangkat ini mengingat statusnya sebagai salah satu pasar BlackBerry yang masih kuat.
Are you sure to continue this transaction?
processing your transaction....