Game
Blizzard Resmi Perkenalkan Hero Overwatch ke-27, Yaitu Putri Bungsu Torbjörn
Saat Blizzard mulai men-tease agenda untuk memperkenalkan karakter Overwatch baru minggu lalu melalui tweet dan blognya, gamer melihat ada dua kandidat hero yang betul-betul berbeda: seorang prajurit bernama Emre Sarioglu dan putri dari hero defense Torbjörn. Tokoh ini pertama kali diperkenalkan lewat film animasi Honor and Glory yang tayang bulan November silam.
Asumsi gamer ternyata tepat. Beberapa jam lalu, Blizzard Entertainment akhirnya resmi mengumumkan bahwa Brigitte Lindholm merupakan hero Overwatch ke-27 - dispesialisasikan buat pertempuran jarak dekat. Tebakan saya kemarin juga tidak keliru. Mengingat karakter melee sudah dihadirkan untuk kelas tank (Reinhardt) dan offense (Doomfist), Brigitte didesain sebagai hero support.
Sebagai putri bungsu dari Torbjörn, Brigitte malah mempunyai lebih banyak kesamaan dengan Reinhardt Wilhelm yang menjadi ayah baptisnya. Hal ini bisa Anda lihat dari kostum full-armor yang Brigitte kenakan serta senjata utamanya, yaitu 'gada roket' (mirip Rocket Hammer punya Reinhardt). Tentu saja sebagai hero support, tugas utama Brigitte sendiri bukanlah untuk menerima damage, tapi buat membantu rekan-rekannya.
Brigitte dibekali tiga skill 'dukungan': Repair Pack untuk mengobati kawan serta menambah health melewati batasan maksimal mereka (via armor); Barrier Shield, tameng energi (versi kecil dari Barrier Field Reinhardt) yang bisa menyerap serangan musuh; serta Inspire, yakni skill healing pasif. Skill ultimate Brigitte adalah Rally, berfungsi buat mempercepat gerakan teman-temannya dan memberikan mereka armor tambahan
Dalam pertempuran, Rocket Flail Brigitte bisa menjangkau jarak cukup jauh dan mengenai beberapa musuh sekali pukul. Selain itu ia bisa melempar gada tersebut (Whip Shot) untuk menghantam dan menjatuhkan lawan yang berada di luar jangkauannya. Brigitte juga bisa melesat maju dan membenturkan tamengnya ke musuh (Shield Bash), membuat mereka jadi tidak sadarkan diri.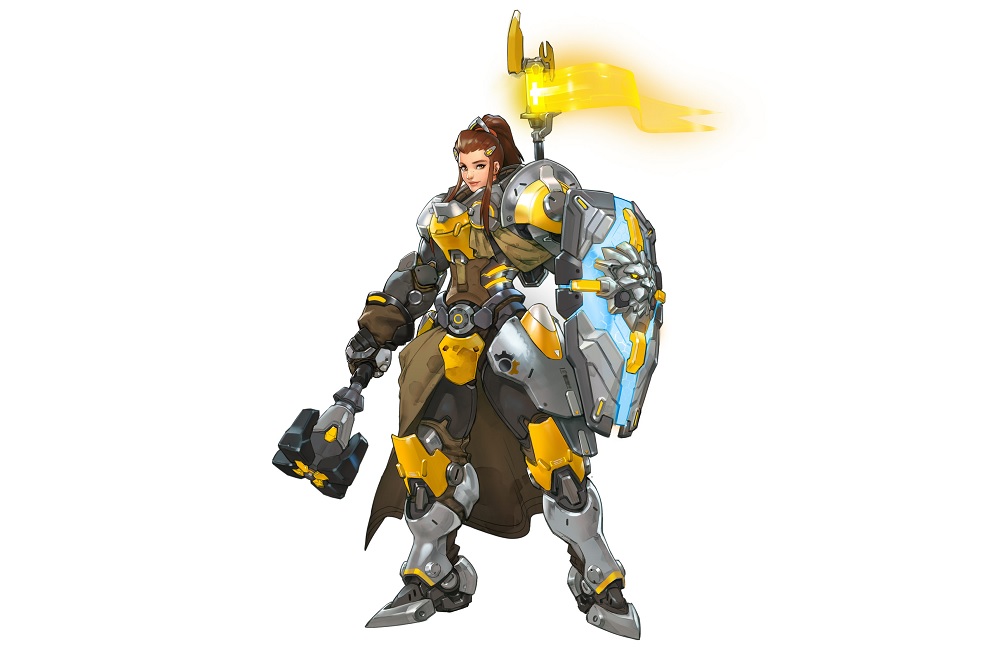 Brigitte Lindholm adalah karakter support ketujuh. Melihat kemampuannya lebih jauh, ia didesain untuk mengobati kawan-kawannya sembari menekan garis pertahanan terdepan tim lawan. Repair Pack dapat digunakan di momen-momen darurat, lalu Whip Shot bisa berguna buat memecah formasi musuh. Selanjutnya, Shield Bash bisa dimanfaatkan ketika menyerang ataupun bertahan.
Para pemain Overwatch sudah bisa menjajal Brigitte dengan bergabung ke server PTR (Public Test Region).
Saat artikel ini ditulis, page khusus karakter Brigitte maasih belum rampung. Laman tersebut belum menampilkan demonstrasi skill-skill berbeda seperti di page hero lain, lalu developer juga belum mengunggah screenshot-screenshot resmi karakter ini.
Are you sure to continue this transaction?
processing your transaction....