BLOCK71 Kini Hadir di Bandung dan Yogyakarta (UPDATED)
Sinergikan ekosistem startup dengan dunia akademik
Randi Eka - 25 October 2018
BLOCK71 hari ini (25/10) meresmikan ekspansinya ke Bandung dan Yogyakarta. Misinya masih sama, yakni untuk mendorong perkembangan ekosistem startup lokal. Seperti diketahui sebelumnya, BLOCK71 merupakan inisiatif dari NUS Enterprise –divisi kewirausahaan National University of Singapore—bersama dengan Salim Group.
Di Yogyakarta, BLOCK71 terletak di Jalan Prof. Dr. Herman Yohanes No. 1212, Terban. Sementara di Bandung, gedung BLOCK71 terletak di Jalan H. Juanda No. 108, Labak Gede.
Dalam sambutannya, perwakilan dari Salim Group, Mohamed Salim, mengatakan bahwa perusahaan mendukung penuh aktivitas yang dilakukan oleh BLOCK71. Ia berharap, adanya wadah kewirausahaan ini mendorong ide kolaborasi dan pertukaran ide, terlebih jaringan BLOCK71 saat ini sudah ada di Singapura, San Francisco, Souzhou, Jakarta, Bandung, dan Yogyakarta.
Mohamed juga menyebutkan, dipilihnya Yogyakarta dan Bandung bukan tanpa alasan. Kedua kota ini dinilai menjadi sumber bibit kreatif yang dapat menggerakkan industri startup. Pemilihan gedung pun didasarkan pada lokasi strategis yang dekat dengan kampus di masing-masing kota.
Tang Eng Chye selaku Presiden NUS Enterprise dalam sambutannya mengatakan bahwa ekspansi ini sejalan dengan pertumbuhan dan semangat kewirausahaan lokal. Secara kolektif BLOCK71 Singapura dan Indonesia akan memfasilitasi pertukaran informasi untuk memperkuat konektivitas dan mendorong pertumbuhan ekosistem startup.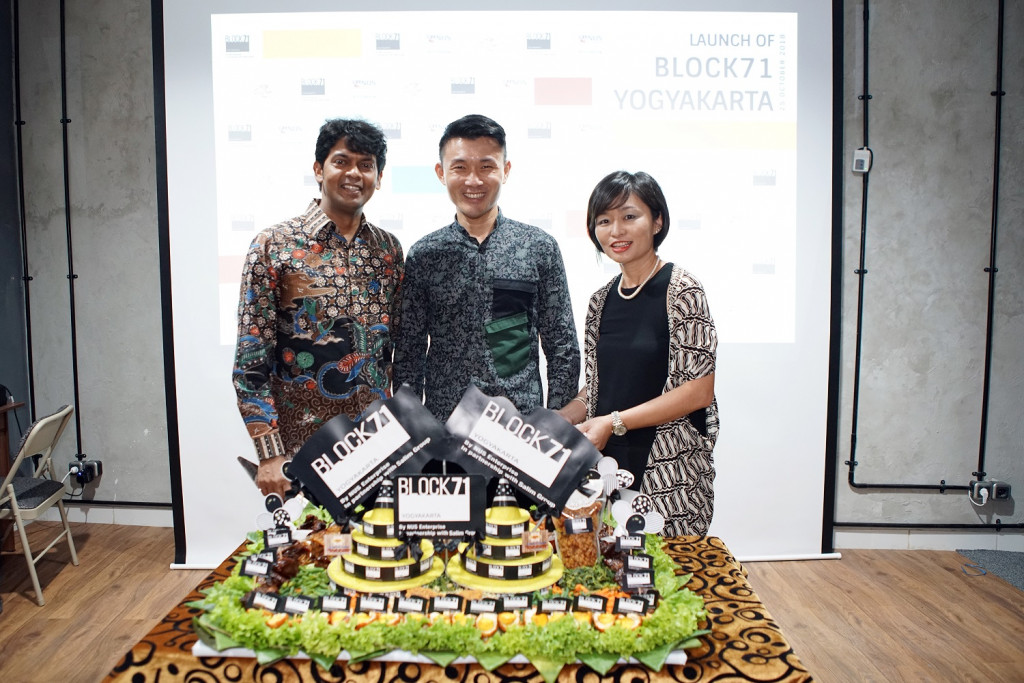 Berperan sebagai ecosystem builder startup lokal
Pelaku startup di Bandung dan Yogyakarta bisa memanfaatkan dukungan inkubasi dan inisiatif kewirausahaan lainnya. Akan ada banyak aktivitas yang diagendakan, seperti kompetisi bisnis, konferensi, validasi ide, hingga networking. Anggota BLOCK71 di kedua kota nantinya juga diberikan akses untuk terhubung dengan BLOCK71 lainnya, dengan tujuan membuka akses ke pasar internasional.
Selain kolaborasi khusus dengan startup, BLOCK71 di Yogyakarta dan Bandung juga akan menjalin hubungan strategis dengan kampus-kampus di wilayah terkait. Hal ini untuk membuka peluang kolaborasi antara mahasiswa dan pengusaha. Strategi ini dinilai efektif, karena salah satu isu yang sering dijumpai oleh pelaku usaha adalah soal pemenuhan sumber daya manusia yang kompeten.
Are you sure to continue this transaction?
processing your transaction....