Cara Mengatur Jarak Baris di Word agar Dokumen Lebih Rapi
Agar dokumenmu lebih rapi, kamu bisa mengatur jarak antar barisnya dengan cara berikut.
Dalam penulisan buku, artikel, maupun karya tulis ilmiah, jarak atau spasi antar baris adalah hal yang penting yang perlu diperhatikan. Pasalnya, jarak antar baris ini berguna agar isi di dalam dokumenmu menjadi lebih rapi.
Nah, Microsoft Word memiliki fitur yang memungkinkanmu untuk membuat jarak antar baris di Microsoft Word secara otomatis. Penasaran bagaimana caranya? Simak penjelasannya dalam artikel ini!
Cara Mengatur Jarak antar Baris di Word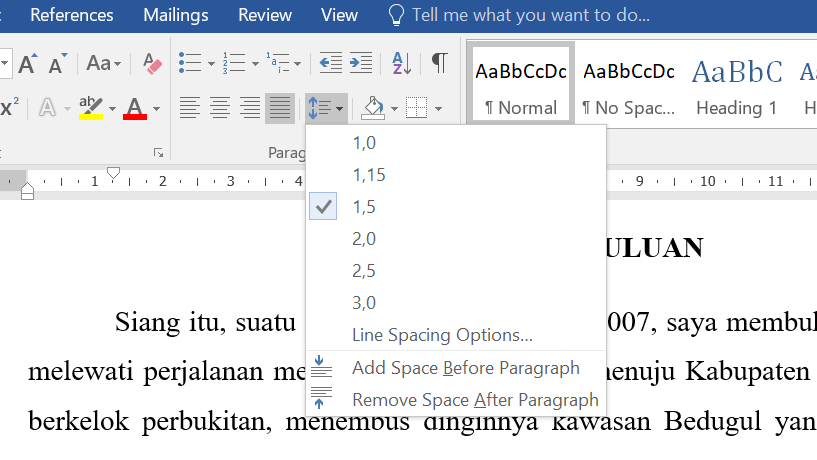 Untuk mengatur jarak antar baris cukup gampang. Caranya adalah dengan menggunakan fitur line spacing, yakni jarak antar baris dalam sebuah paragraf.
Adapun langkah-langkahnya adalah sebagai berikut.
Buka dokumen yang ingin diatur di Microsoft Word.
Kemudian, blok seluruh teks yang ingin diatur jarak barisnya.
Klik Line and Paragraph Spacing

pada menu Paragraph

di tab Home.
Kamu bisa memilih jarak baris yang kamu inginkan, mulai dari 1.0 hingga yang paling besar, yakni 3.0.
Sekarang, dokumenmu sudah lebih rapi dengan jarak baris yang kamu kehendaki.
Cara Mengatur Jarak antar Baris dengan Menu Line Spacing Options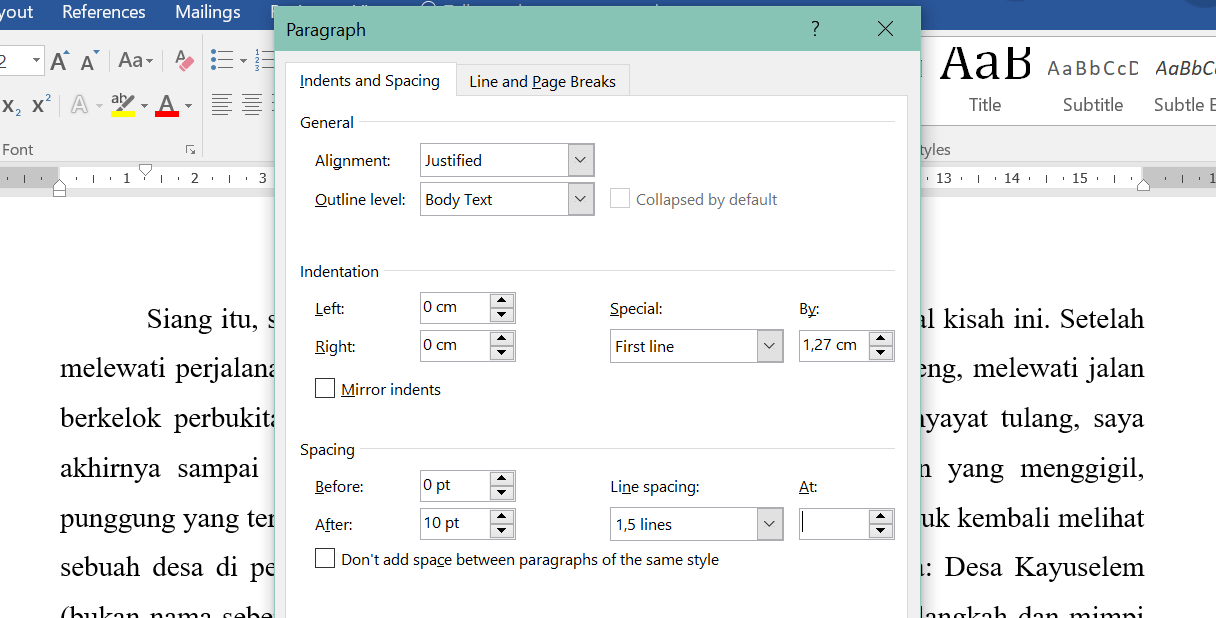 Selain mengaturnya secara otomatis, kamu juga bisa mengatur jarak antar baris secara manual agar lebih presisi.
Buka dokumen yang ingin diatur barisnya, lalu blok teks yang ingin diatur.
Klik Line and Paragraph Spacing > Line Spacing Options.
Jika jendela pop-up

telah muncul, atur jarak barismu dengan memilih tipe spasi yang kamu inginkan, seperti 1,5 lines, Double, At least, Exactly, serta Multiple. Kamu juga bisa mengatur jarak baris sendiri sesuai keinginanmu pada kolom yang tersedia.
Cara Mengatur Jarak antar Baris dengan Menggunakan Shortcut
Jarak antar baris juga bisa diatur menggunakan shortcut

atau tombol pintasan. Caranya, blok semua teks terlebih dahulu, lalu tekan shortcut

yang kamu inginkan.
Adapun beberapa jenis shortcut adalah:
Ctrl+2 untuk spasi ganda
Ctrl+5 untuk spasi 1,5
Ctrl+1 untuk spasi tunggal
Cara Mengatur Jarak Baris antar Paragraf
Kamu juga bisa merapikan dokumenmu dengan mengatur jarak baris antar paragraf. Berikut adalah beberapa langkahnya.
Blok paragraf yang ingin diatur jaraknya.
Klik Line and Paragraf Spacing

pada menu Home.
Pilih opsi Add Space Before Paragraph

untuk menambahkan jarak baris sebelum paragraf. Atau kamu juga bisa pilih opsi Add Space After Paragraf

untuk menambahkan jarak baris setelah paragraf.
Nah, itulah beberapa cara yang bisa kamu terapkan untuk mengatur jarak baris di Word. Terlihat mudah dan praktis, bukan?
Are you sure to continue this transaction?
processing your transaction....