Di Beijing, Kereta Bawah Tanah Juga Berfungsi Sebagai Perpustakaan Digital
Tiongkok adalah negara dengan jumlah penduduk terbesar di dunia. Di ibu kotanya sendiri, Beijing, terdapat sekitar 20 juta orang yang menduduki. Meski jalan-jalan di kota tersebut sering macet, sistem transportasi umumnya tergolong baik.
Salah satunya adalah jaringan kereta bawah tanah, dan pada jam-jam sibuk, jumlah penggunanya bisa membeludak. Di tengah-tengah keramaian tersebut, para penumpang kereta bawah tanah di Beijing biasanya mengisi waktu perjalanan mereka dengan menatap smartphone, tidak peduli tua maupun muda – saya sendiri pernah menjumpai seorang nenek yang tengah asik chatting memakai aplikasi WeChat.
Namun ada hal yang berbeda di dalam kereta bawah tanah Beijing mulai bulan Januari kemarin. Para penumpangnya bisa jadi tetap berkutat dengan smartphone masing-masing, akan tetapi beberapa di antara mereka tidak hanya bisa asik mengakses jejaring sosial, tetapi juga membaca buku digital alias e-book.
Hal tersebutkan dimungkinkan berkat proyek terbaru bernama "M Subway Library" yang dijalankan oleh operator jaringan kereta bawah tanah Beijing, MTR, bersama National Library of China (NLC). Konsepnya sederhana, yakni menyediakan e-book yang bisa dibaca penumpang kereta bawah tanah secara cuma-cuma.
Info menarik: Teknologi Ini Mungkinkan Tuna Netra untuk Berkelana di Stasiun Kereta Bawah Tanah Secara Mandiri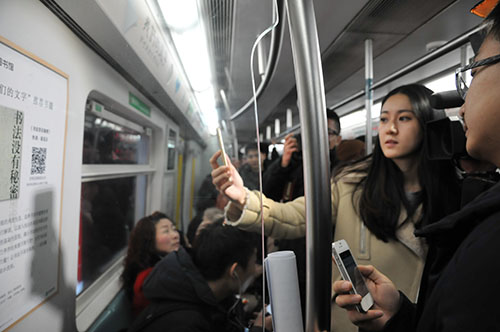 Bagaimana cara penumpang mendapatkan e-book tersebut? Dengan memindai kode QR yang terpampang pada sejumlah poster di dalam gerbong kereta. Para penumpang kemudian dapat membaca e-book tersebut secara online melalui smartphone atau tablet masing-masing.
Buku-buku digital tersebut tentunya berasal dari koleksi NLC. Para pustakawan NLC memilih 10 dari 70.000 e-book dengan berbagai genre, mulai dari sastra klasik, non-fiksi sampai fiksi ilmiah. Kesepuluhnya dipilih berdasarkan tema tertentu yang bisa berganti setiap beberapa bulan.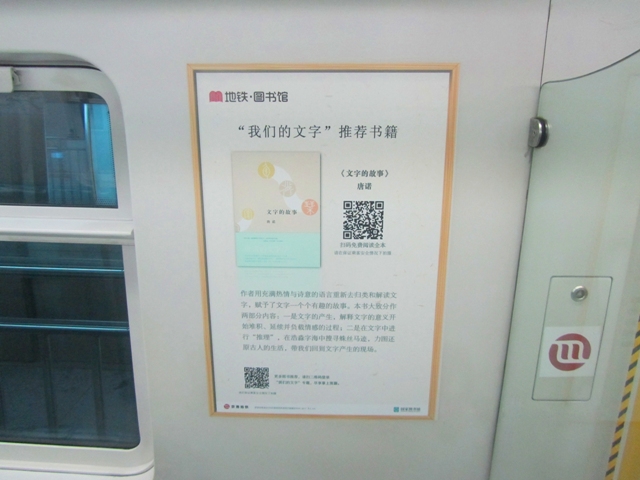 Pada tahap pertama, tema yang ditetapkan adalah "Our Characters", dimana konten e-book yang dipilih banyak mengisahkan tentang budaya Tiongkok. Ke depannya, selain mengikuti tema, e-book yang disediakan juga akan dipilih berdasarkan selera mayoritas pembacanya.
Info menarik: Semakin Percaya Diri Berkunjung ke Negeri Orang Bersama Google Translate Versi Baru
Konsep perpustakaan digital ini menarik karena, ketimbang membiarkan para pengguna transportasi umum menghabiskan waktunya dengan, misalnya, adu argumen di Facebook, pemerintah daerah bisa memotivasi mereka untuk belajar sesuatu dengan membaca.
Bagaimana dengan kita? Jakarta, Bandung, Yogyakarta, Surabaya, Bali, Medan, tidakkah kalian tertarik mengaplikasikan konsep serupa? Mungkin kita bisa memulainya di halte-halte bus kota, kemudian berlanjut ke sistem lainnya secara bertahap selagi sosialisasi digalakkan.
Sumber: NLC dan MTR via Fast Company. Gambar header: Subway via Shutterstock. 
Are you sure to continue this transaction?
processing your transaction....