E-commerce Integration as Igloo's Strategy to Increase the Insurance Product Penetration
Recently secured series A+ worth of 238.4 billion Rupiah
Igloo, known as Axinan, is a Singapore-based insurtech which available in some Southeast Asia members, including Indonesia. Recently, the company announced series A+ worth of US$16 million or around 238.4 billion Rupiah. Intouch Holdings PLC led this round with the participation of Openspace Ventures, Linear Capital, and some investors from the previous round.
In this round, the company also announced a rebranding valid for all products and services throughout the operational areas as per April 2020, from Axinan to Igloo.
Previously, Igloo app arrived in Indonesia through collaboration with Sompo Indonesia (Japan-based insurance company) in the mid-2019. It's targeting millennials, with various kinds of insurance products, such as for gadgets, travel inquiries, and online shopping insurance. There are currently local teams in Jakarta, led by Country Manager.
In terms of online shopping insurance, or stated in the official site as "transit insurance", they already formed a partnership with local e-commerce, including Bhinneka, Bukalapak, and Tokopedia. There are also other platforms as well, such as Shopee, Lazada, and many more.
Regarding its partnership with local players, Igloo Indonesia's Country Manager, Anggoro Kusumo said, "Igloo has collaborated with several e-commerce services with protection services such as freight insurance (after purchasing), for lost or damaged goods, personal accident insurance, fire insurance property, etc. All of these insurance services are offered in collaboration with insurance companies in Indonesia that have been registered with the OJK. "
Igloo will use fresh money to improve services through firming technological capabilities, patents, also recruitment and development of human resources. In addition, Igloo will also focus on new customer acquisition, dynamic risk assessment, and accelerate the claim process; all of which will be offered by Igloo insurance partners through an open platform.
Patents become one of Igloo's most concerned services, recently they obtained a patent for smartphone's screen assessment technology to support one of their services.
Insurance products as supporting lifestyles are indeed new commodities some players continue to explore. Aside from Igloo, there are other insurtechs offer similar products. For example, PasarPolis, they sell travel protection and gadget protection insurance. Most recently, they also collaborated with Gojek to present the GoSure channel in the Gojek ecosystem.
A view on insurtech marketshare
Ingloo's Founder & CEO, Wei Zhu said in his speech, the company has seen growth in Southeast Asia's digital insurance sector. This is a great opportunity for related services to be able to capture these opportunities and provide answers to consumer demands.
The former Grab's CTO also added, despite its huge potential, the penetration of digital insurance products in the region is only around six percent. It is said the Southeast Asian digital insurance industry is currently valued at US$ 2 billion and is expected to continue to increase to US $ 8 billion in 2025.
According to the DSResearch report titled "Insurtech Report 2019", data on awareness about insurtech services in Indonesia - especially for services directly targeted on users, is not through integration into third-party platforms. Of the total 1296 respondents using insurance services, 69.44% are aware of insurtech. Insurtech products are considered effective in helping the registration process, claims, to find out about the latest promos of insurance products.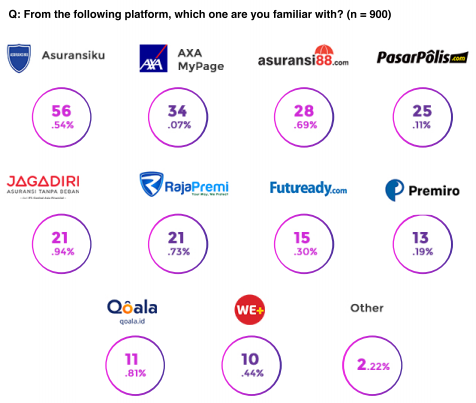 The survey also mentioned about the most familiar platform with respondents. Asuransiku, AXA Mypage, Asuransi88, PasarPolis, and JagaDiri are some of the most popular.
–Original article is in Indonesian, translated by Kristin Siagian
Are you sure to continue this transaction?
processing your transaction....