Fans Star Wars, Ayo Rakit Lightsaber Anda sendiri
Telah dihadirkan ke dalam beragam media hiburan, Star Wars memegang rekor sebagai waralaba film paling sukses dan terbesar di dunia. Satu hal yang tidak berubah adalah kecintaan fans pada senjata legendaris milik Jedi dan Sith, yaitu lightsaber. Mainan lightsaber memang sudah banyak tersedia, tapi bagaimana jika Anda kini dimudahkan untuk merakitnya sendiri?
Ide itu ditawarkan oleh Philip Isherwood. Selama tujuh tahun hobi membuat senjata 'pedang laser' fiktif berubah menjadi karier. Diakui sebagai pencipta proplightsaber berkualitas, karya Isherwood telah melanglang buana ke penjuru dunia. Sekarang ia memperkenalkan Adaptive Saber Parts, lightsaber dengan sistem modular, memungkinkan kita merancang senjata khas ksatria Jedi sesuai keinginan.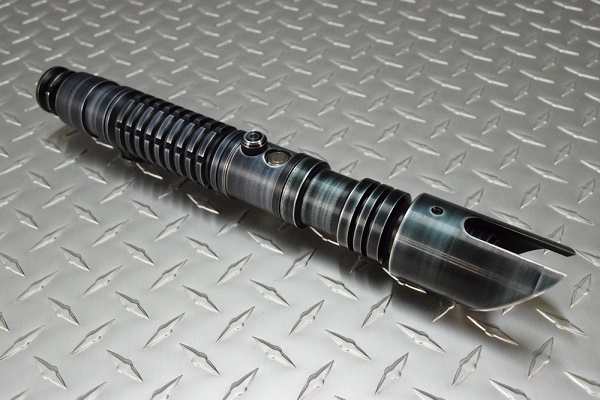 Berkat Adaptive Saber Parts, kita tidak perlu lagi menyiapkan mesin mahal dan perlengkapan patri. Pendekatannya mirip mobil Tamiya atau robot Gundam, namun desain hanya dibatasi oleh imajinasi Anda. Di periode awal distribusi, Isherwood dan tim SaberForge menyajikan lebih dari seratus part logam dengan tiga jenis finishing berbeda. Seandainya ditotal, ada jutaan konfigurasi desain yang bisa dibuat.
Info menarik: 5 Hal Yang Perlu Anda Ketahui Tentang Star Wars: The Force Awakens
Adaptive Saber Parts mengusung material logam baja berstandard pesawat terbang, di atas kelas prop film, dan dibentuk dengan presisi tinggi. Anda bisa menambahkan komponen elektronik 'plug and play' di dalam supaya lightsaber mengeluarkan suara-suara berbeda saat digerakkan. Meng-upgrade bagian itu sama sekali tidak memerlukan solder, tinggal ditempatkan di area yang disediakan.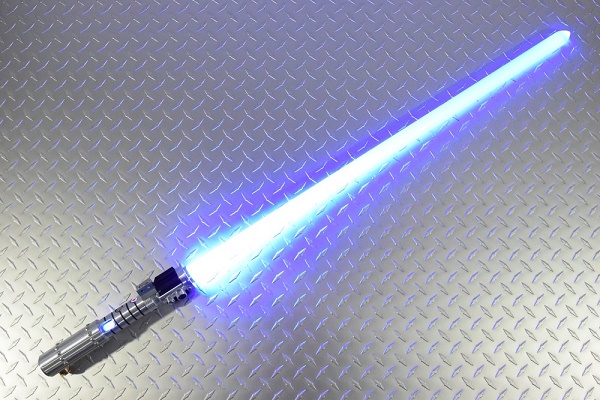 Pertanyaan terakhirnya kini ialah, apakah Isherwood hanya fokus pada gagang saja? Tentu tidak. SaberForge turut menyiapkan 'bilah pedang laser' - juga modular dan dapat dilepas. Bagian tersebut memanfaatkan pipa anti-benturan tebal berbahan dasar polikarbonat, biasa digunakan untuk kaca anti-peluru. Ketika berduel, Anda tak perlu cemas. Adaptive Saber Parts sangat kuat, siap diadu melawan pedang kendo (sinai) hingga bokken dengan kayu ek solid.
Teknologi brightness boost turut memastikan lightsaber berpijar terang - paling terang dibanding mainan sejenis dari produsen lain. Begitu percaya dirinya SaberForge terhadap durabilitas Adaptive Saber Parts, mereka memberikan garansi selama satu tahun untuk tiap komponen yang dijual. Oh jangan lupakan pilihan warnanya. Selain opsi standard seperti merah, biru dan hijau, terdapat warna eksotis semisal pink, ungu, jingga darah, hijau mint, biru es dan lain-lain.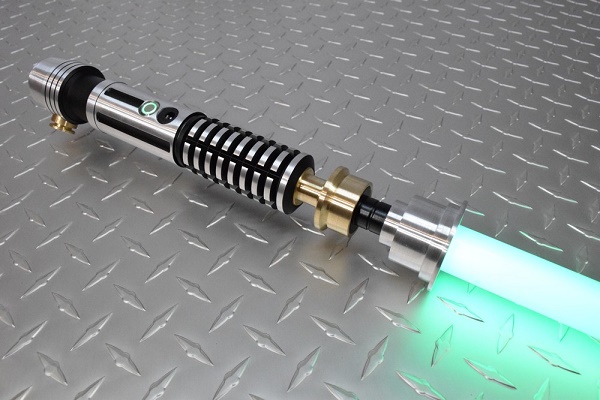 Program penggalangan dana Adaptive Saber Parts sedang berlangsung via crowdfunding, tapi tim sudah mengamankan target stretch awal mereka. Silakan pesan lightsaber Anda sekarang di Kickstarter. Hilt dijual US$ 150, namun satu paket lengkap dibanderol US$ 225 sampai US$ 350.
Are you sure to continue this transaction?
processing your transaction....