Filosofi Kopi Kini Hadir Untuk Para Gamer
Ada yang sudah menonton film Filosofi Kopi? Film tersebut diangkat dari novel karya Dewi "Dee" Lestari yang ditayangkan di layar lebar. Bagi Anda yang sudah menonton ataupun belum menonton filmnya, kini bisa memainkan game yang diangkat dari film tersebut.
Game berjudul Filosofi Kopi merupakan kolaborasi dari Visinema Pictures, Tinker Games, dan Rolling Glory. Menggunakan media game sebagai pendukung sebuah film merupakan model yang cukup populer.
Banyak sekali judul-judul besar dari Hollywood yang sudah memiliki versi game-nya seperti Despicable Me, the Avengers, Hunger Games, dan lain-lain. Keberadaan game bisa menjadi media kampanye pra rilis/saat pemutaran yang efektif dan juga bisa menjadi media tambahan untuk bisa berinteraksi lebih dalam dengan penontonnya.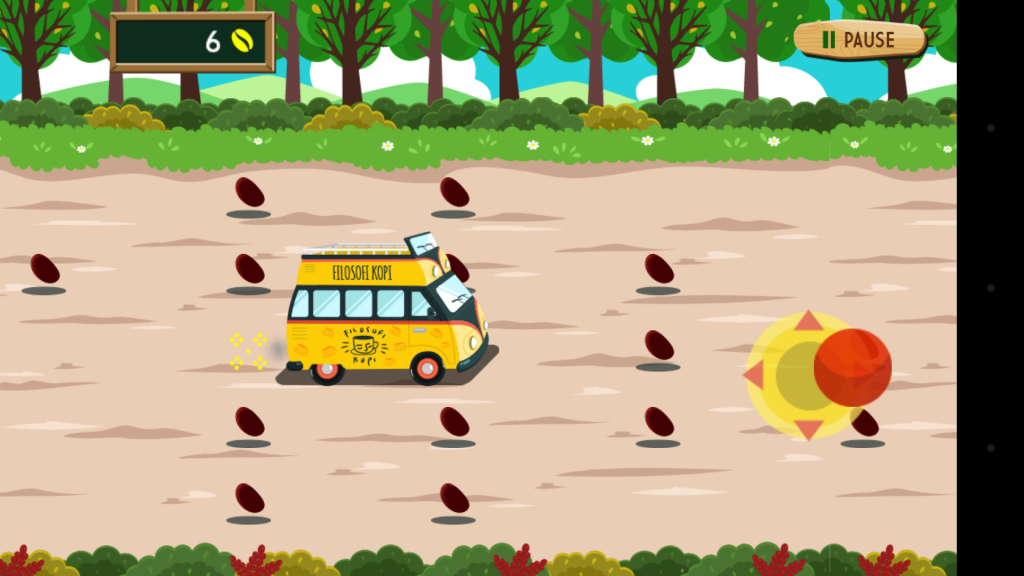 Game Filosofi Kopi sendiri merupakan game bertema 2dscrollingendlessrun. Kita akan mengendarai sebuah van berwarna kuning di hutan belantara untuk mengumpulkan biji kopi. Di dalam van tersebut terdapat dua orang pria. Mungkin bagi yang sudah menonton filmnya akan mengetahui bahwa kita akan membantu Ben dan Jody, karakter di dalam film Filosofi Kopi, untuk mengumpulkan biji kopi. Bagi yang belum menonton film-nya bisa jadi akan sedikit bertanya-tanya siapa dua karakter tersebut dan apa untuk apa mereka mengumpulkan biji kopi.
Info menarik: Hati-Hati, Game Berjudul Kimo Ini Akan Membuat Anda Kesal Tapi Penasaran
Objektif dari game ini adalah untuk mengumpulkan biji kopi sebanyak-banyaknya. Di akhir permainan, kita akan bisa membagikan highscore kita ke media sosial yang kita miliki. Untuk mengumpulkan kopi, kita harus bisa dengan lihat mengemudikan van berwarna kuning milik kita. Akan ada bebatuan yang menghalangi jalan yang harus bisa kita hindari. Kemudian juga akan ada kendaraan lain di jalan yang akan membuat perjuangan mendapatkan biji kopi semakin sulit.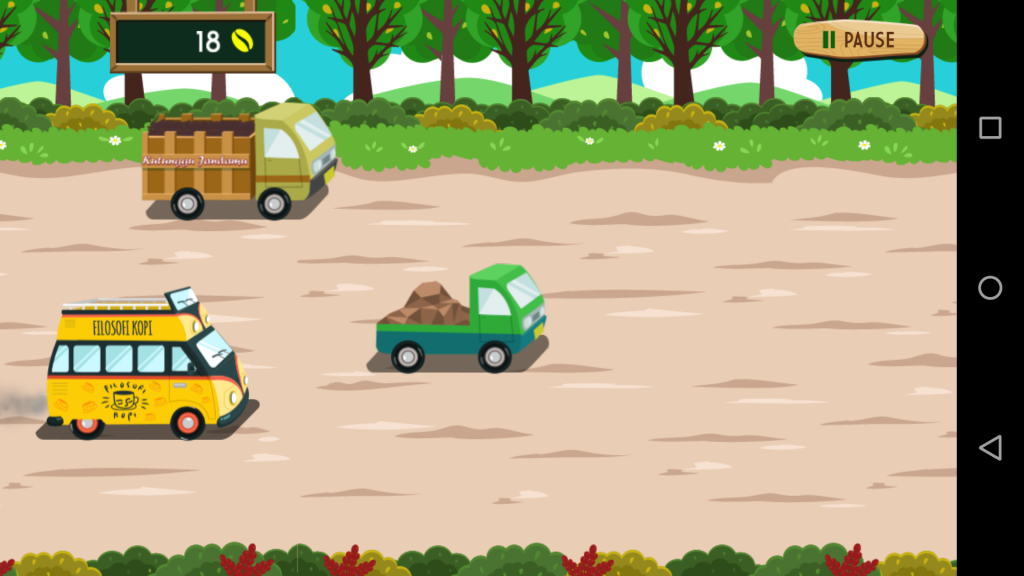 Setelah mencobanya, game ini cukup menarik meski tentu akan lebih seru lagi jika ditambahkan lebih banyak elemen di dalam gameplay, misalnya powerup atau opsi untuk mengganti kendaraan yang bisa kita pakai. Lalu juga bisa diberikan sedikit cerita di dalam game ini agar mereka yang tidak menonton filmnya bisa memahami konsep cerita dan akan menjadi tertarik untuk menonton filmnya setelah memainkan game ini.
Buat yang menyukai novel dan film Filosofi Kopi, game Filosofi Kopi akan menjadi pelengkap yang sangat pas. Game ini sudah bisa diunduh di Google Play secara gratis.
Are you sure to continue this transaction?
processing your transaction....