Gojek Gandeng Maingame.com Perkaya Fitur GoGames
Kompetisi game yang dikelola Maingame.com dapat diakses dari aplikasi Gojek
Gojek, melalui GoGames, menjalin kerja sama dengan platform penyedia game lokal Maingame.com untuk menghadirkan berbagai kompetisi dan hiburan game di aplikasi.
Menurut pemaparan Head of Third Party Platform Gojek Sony Radhityo, inisiatif ini diharapkan dapat turut mengisi waktu luang pelanggan di tengah karantina mandiri yang tengah dilakukan masyarakat di berbagai daerah.
"Kehadiran Maingame.com semakin memperkuat posisi GoGames sebagai one-stop gaming ecosystem, yang kini fokus untuk menghadirkan pengalaman bermain para pecinta game maupun masyarakat umum lewat berbagai macam game menarik hanya dalam satu platform," ujar Sony.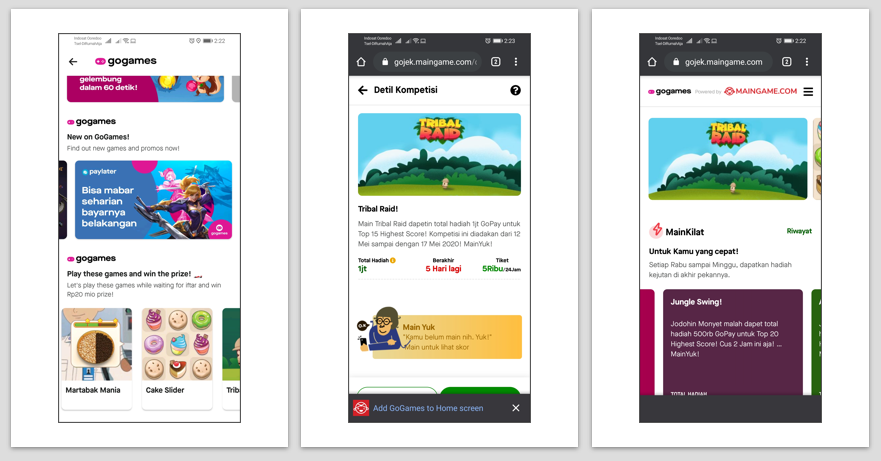 Maingame.com didirikan oleh Anton Soeharyo sejak November 2019. Di bawah naungan PT Bahagia Bersama Indonesia, platform ini dikembangkan untuk memudahkan pengguna memainkan berbagai game tanpa harus repot mengunduh aplikasi satu per satu.
Berbasis situs web berbasis HTML 5 dan Progressive Web App, layanan ini diharapkan bisa menjangkau semua kalangan. Karena relatif lebih efisien dan bersahabat dengan berbagai tipe ponsel pintar.
Salah satu fitur andalan di Maingame.com adalah "Kompetisi", memungkinkan para peserta untuk bergabung dalam sebuah kontes permainan yang diadakan dalam periode tertentu. Ada hadiah utama dan hadiah harian yang akan diberikan untuk setiap pemenang.
Untuk kebutuhan transaksi pembayaran khususnya membeli tiket ke kompetisi, selain potong pulsa, Maingame.com juga telah mengintegrasikan layanannya dengan GoPay.
Gojek sendiri telah merilis fitur GoGames sejak September 2019 lalu. Di fase awalnya, terdiri dari tiga fitur utama. Pertama adalah GoGames Top-up, memungkinkan pengguna melakukan top-up kredit dan membeli barang virtual untuk kebutuhan bermain game.
Kedua ada GoGames Recipe, berisi kanal informasi yang juga dilengkapi tips dan trik permainan game. Dan yang ketiga adalah GoGames TV, menampilkan konten terkurasi perhelatan kompetisi game tingkat nasional dan internasional.
Application Information Will Show Up Here
Are you sure to continue this transaction?
processing your transaction....