Gojek Wraps Up Acquisition of Moka at 2 Trillion Rupiah Valuation
It has been submitted to KPPU; reliable source release the information
The acquisition news of Moka point-of-sales startup by Gojek finally comes to an agreement, after spreading rumors since Agustus 2019. First, the company has submitted corporate action to the regulator, in this case, through KPPU official page as of April 9th, 2020.

Second,  Bloomberg also reported from a reliable source that Moka has acquired by Gojek at US$130 million or around 2 trillion Rupiah. The number has increased from the reported ones at US$120 million. The transaction is ongoing since last year and met an agreement just few months ago.
Gojek has taken the strategic step to channel the Series F funding which has been going since October 2018. In mid-March 2020, the company reportedly received additional funds of US$ 1.2 billion or equivalent to 18 trillion Rupiah for the round, completing the acquisition target of US $ 3 billion or equivalent to 42.2 trillion Rupiah.
Moka's role can be very significant. Based in Jakarta, the company currently established by Grady Laksmono and Haryanto Tanjo since 2014 has reached users in 100 cities in Indonesia. More than 35 thousand restaurants, cafes, and other retail outlets take advantage of its POS mobile application.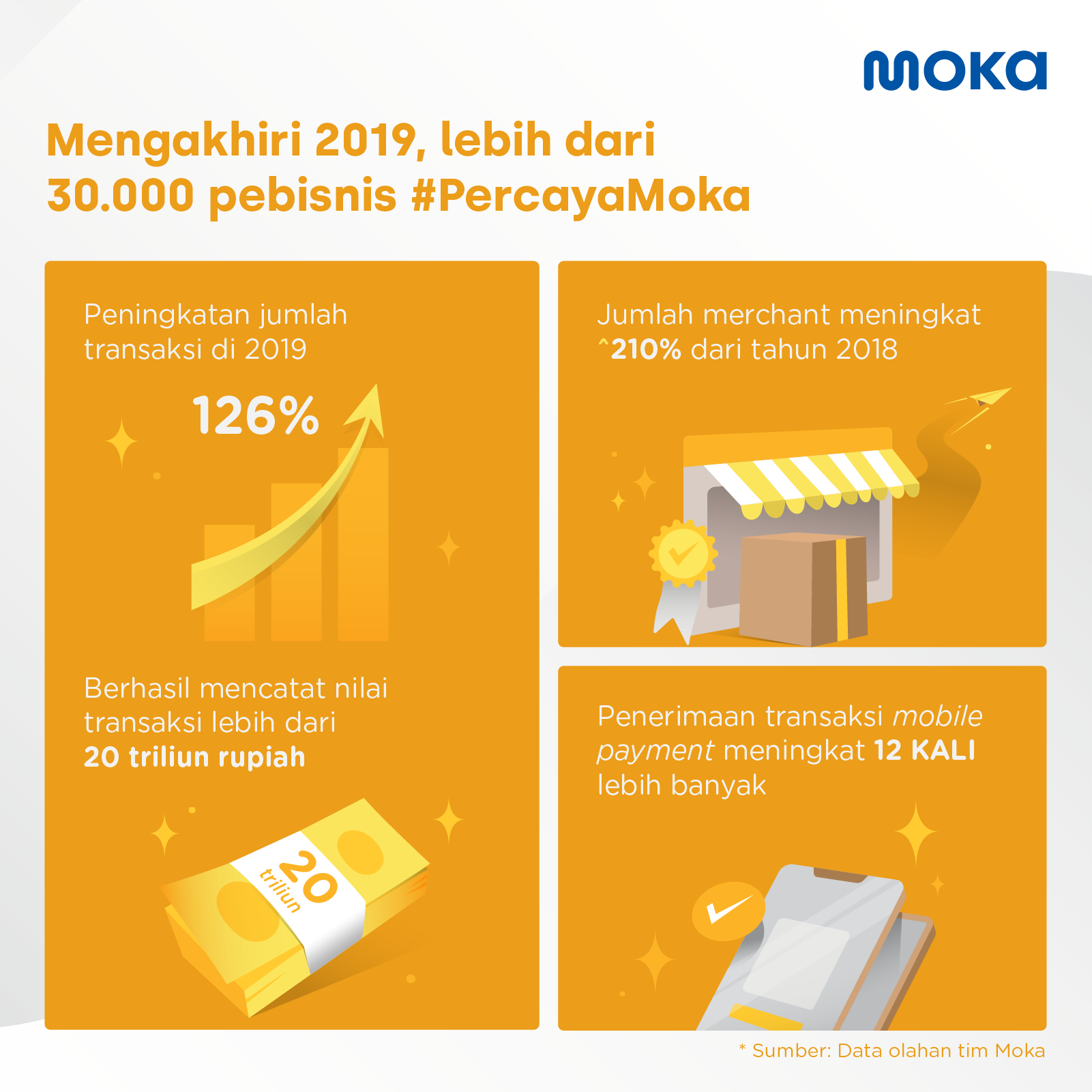 Moka aware of the tight competition in this vertical and continues to innovate including to launch Moka Fresh platform (purchasing raw materials) and Moka Capital (merchant loan funds) - in his statement Tanjo said that Moka's vision of becoming a "merchant supper app", intends to accommodate various retailers' needs in an integrated manner through a digital platform.
In addition to cash transactions, the Moka cashier system allows business owners to accept payments with digital platforms such as Gopay, Ovo, LinkAja, even Kredivo and Akulaku. While a deeper collaboration scenario between Gojek and Moka has not been delivered.
This is becoming one, out of many Gojek's acquisitions for Indonesian startups. Previously, the local decacorn also took several startups including Loket, Kartuku, Midtrans, Mapan, and Promogo.
Some acquisitions has succeeded in expanding the Gojek service ecosystem, for example, the consolidation with Loket team that produced the GoTix service. Loket Founder Edy Sulistyo was lined up to lead the entertainment division owned by Gojek.
–Original article is in Indonesian, translated by Kristin Siagian
Application Information Will Show Up Here
Application Information Will Show Up Here
Are you sure to continue this transaction?
processing your transaction....