Asia Pasifik Jadi Pasar Penting Bagi Ekosistem Aplikasi di Google Play
Mengacu pada laporan AppAnnie yang diterbitkan menyambut 10 tahun Google Play
Google Play menjadi salah satu pasar aplikasi terbesar di dunia berkat popularitas platform Andorid yang terus meningkat dalam lima tahun belakangan. Perusahaan analisis data AppAnnie mengeluarkan laporan khusus menyambut usia 10 tahun Google Play. Dalam laporannya disebutkan, Asia Pasifik saat ini memegang peran penting dalam pertumbuhan ekosistem aplikasi.
Mengamati pertumbuhan download dan consumer spend Google Play dari tahun 2012, AppAnnie mencatat terjadi pertumbuhan yang cukup signifikan, paling tinggi pada tahun 2015 dan 2017. Terjadi lonjakan hampir 2 kali lipat. Di akhir 2018 ini diprediksikan consumer spend di Google Play senilai $27 miliar. Konsisten naik dari tahun ke tahun.
Asia Pasifik menjadi regional paling penting bagi kenaikan ini. Total sejak tahun 2015 regional tersebut menyumbang 51% dari total consumer spend yang didapatkan Google. Di tahun 2017, Asia Pasifik menyumbang lebih dari $11 miliar dari total $22 miliar pendapatan Google Play, dengan perbandingan untuk kategori games $10,1 miliar dan $0,9 miliar untuk aplikasi.
Sementara untuk download, sepanjang Google Play beroperasi, India, Amerika Serikat, dan Brazil menjadi tiga teratas dengan jumlah unduhan masing-masing 36 miliar, 55,1 miliar, dan 25,2 miliar. Sementara Indonesia berada di urutan ke lima dengan total unduhan mencapai 14,6 miliar.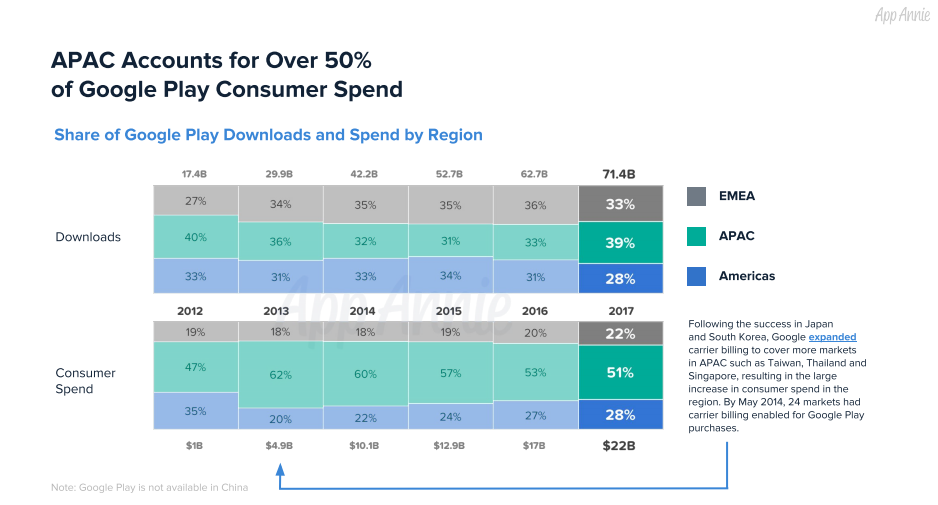 Asia Pasifik juga berperan sebagai pengembang
Selain menjadi regional penyumbang terbesar untuk urusan download dan consumer spend, Asia Pasifik masuk dalam daftar pengembang aplikasi yang paling banyak digunakan. Seperti game Puzzle & Dragon (GungHo Online Entertainment) dan Monster Strike (mixi) dari Jepang yang menjadi game dengan consumer spend tertinggi sejauh ini.
Dalam jajaran 10 besar juga ada nama-nama seperti Fate/Grand Order (Sony / Japan), Lineage M (NCSOFT / Korea Selatan), Lineage 2 Revolution (Netmarble / Korea Selatan), dan Clash of Kings (Elex Techonology / Tiongkok).
Demikian juga untuk kategori aplikasi dengan consumer spend paling tinggi. Dari 10 besar ada 6 aplikasi berasal dari Asia Pasifik. Mereka adalah LINE (Jepang), LINE Manga (Jepang), KakaoTalk (Korea Selatan), LINE PLAY (Jepang), BIGO LIVE (Singapura), dan Pokecolo (Jepang).
Are you sure to continue this transaction?
processing your transaction....