Grand Final Turnamen MSI Beat It 2014 Akan Dimulai Besok
Yoga Wisesa - 31 October 2014
MSI Beat It ialah salah satu kompetisi gaming bergengsi terbesar yang diadakan oleh produsen hardware komputer. Event ini terlahir berbarengan dengan aktifnya MSI di pasar gaming. Setelah menyaring tim-tim eSport terbaik di dunia semenjak awal bulan Juni kemarin, grand final siap dilaksanakan tanggal 1 November besok di kota Taipei, Taiwan.
Tak seperti tahun lalu, dalam turnamen kali ini MSI hanya fokus mempertandingkan dua judul permainan: Dota 2 dan StarCraft II. Sang produsen komponen PC itu mengundang fans untuk berkunjung ke ATT Show Box di Sinyi District. Tentu saja orang akan mengkomparasinya dengan ajang seperti Major League Gaming atau The International. Anda tak perlu khawatir, MSI sudah mengusung standar internasional, termasuk fasilitas, layanan, hingga sistem bracket.
Telah terpilih 16 pro-gamer StarCraft II dan delapan tim Dota 2 dari seluruh dunia yang akan memperebutkan hadiah dengan total grand prize senilai US$ 113.500. MSI juga turut mengundang beberapa selebritis lokal, juga menyelenggarakan pameran cosplay serta DJ show. Tentu MSI tidak sendirian, demi melangsungkan Beat It 2014, mereka dibantu para vendor terkemuka dunia lain; Nvidia, Intel, SilverStone, DXRacer, Eizo dan Kingstone.
Untuk game StarCraft II, beberapa pemain ternama akan saling bertarung satu lawan satu. Delapan dari 16 gamer profesional berasal dari Korea Selatan, dan sudah bisa ditebak, Lee 'Flash' Young Ho hadir di antara mereka. Lee dikenal sebagai salah satu pemain terbaik dan paling dominan, dan berhasil memenangkan enam piala Starleague. Mulai meniti kariernya semenjak StarCraft pertama, ia kini juga merupakan gamer StarCraft II paling disegani.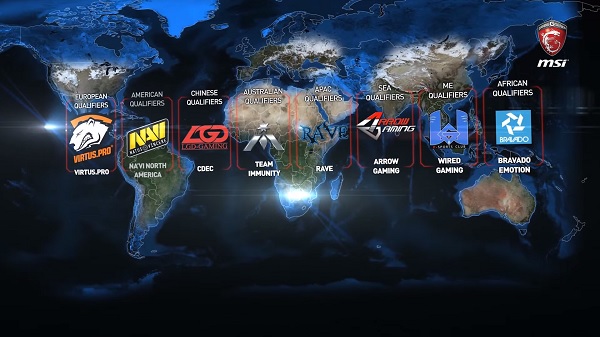 Info menarik: Giliran PC All-in-One MSI Yang Kini Dipersenjatai GPU GeForce GTX 900M
Flash akan berlaga dengan beberapa nama familiar lain seperti Chris 'HuK' Loranger dari Kanada serta Yang 'Sen' Chia asal Taiwan. Dua pertandingan kualifikasi di Korea dan Asia Tenggara lalu juga telah menghasilkan enam pemain untuk ajang final besok. Di sana, gamer-gamer generasi baru mendapatkan kesempatan menjajal kemampuan mereka melawan para veteran.
Di kompetisi Dota 2, ada delapan jawara yang akan berlomba. Mereka adalah Virtus.Pro (Eropa), Na'Vi North America (Amerika), LGD Gaming (China), Team Immunity (Australia), Rave (Asia Pasifik), Arrow Gaming (Asia Tenggara), Wired Gaming (Timur Tengah) dan Bravado Emotion (Afrika). Sayang sekali tidak ada tim asal Indonesia, tapi setidaknya NXA Ladies terpilih sebagai caster resmi MSI Beat It 2014 versi Bahasa Indonesia.
MSI Beat It 2014 rencananya berjalan selama dua hari, tanggal 1 dan 2 November 2014. Sang produsen juga mengajak Anda mengikuti program lucky draw dengan men-share trailerFinal Countdown yang dapat disimak di bawah ini.
Are you sure to continue this transaction?
processing your transaction....