Warung Pintar Selenggarakan "Hackathon Pintar 1.0", Bagian dari Ekspansi di Banyuwangi
Menantang inovator digital hadirkan solusi untuk permasalahan seputar UMKM dan pariwisata
Pasca perolehan pendanaan seri B awal tahun ini, startup new retail Warung Pintar menyegerakan ekspansi dimulai dari wilayah Jawa paling timur, yakni Banyuwangi. Sebagai bagian dari agenda ekspansi, Warung Pintar akan mengadakan berbagai rangkaian acara, salah satunya bertajuk "Hackathon Pintar 1.0".
Hackathon Pintar 1.0 adalah kompetisi kolaboratif menciptakan produk digital untuk memberikan solusi terhadap masalah yang dihadapi dalam waktu 24 jam. Saat ini pendaftaran untuk peserta masih dibuka dan akan ditutup pada tanggal 15 Maret 2019 mendatang. Selanjutnya pada 22 Maret 2019 akan diumumkan 50 tim yang lolos dan berhak mengikuti Hackathon Day pada 29 Maret 2019 di Pendopo Sabha Swagata, Banyuwangi.
Sebagai awalan, pada 1 Maret 2019 lalu Warung Pintar telah menyelenggarakan acara Road to Hackathon Pintar 1.0 di Dinas Kebudayaan dan Pariwisata Banyuwangi. Acara ini dilaksanakan untuk memperkenalkan mekanisme kompetisi, cerita inspirasi tim teknologi Warung Pintar, membahas tantangan UMKM & Pariwisata di Banyuwangi serta solusi yang diharapkan. Acara ini turut dihadiri BRI sebagai salah satu sponsor yang menjelaskan pemanfaatan API di kompetisi ini.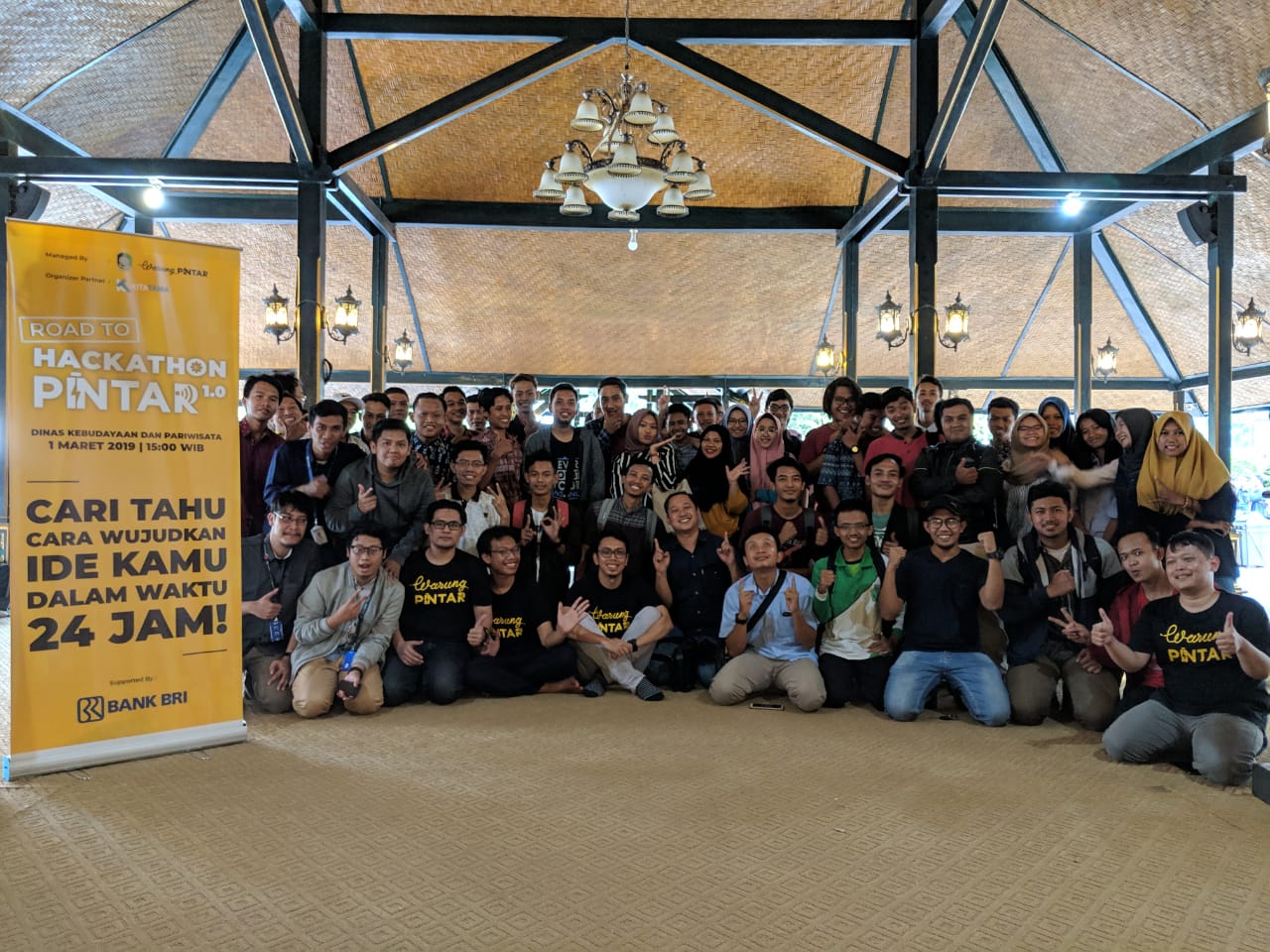 "Banyuwangi dikenal sebagai salah satu destinasi wisata terbaik di Indonesia. Sektor pariwisata dan UMKM adalah salah satu tulang punggung pertumbuhan ekonomi di Banyuwangi. Revolusi Industri 4.0 mendorong usaha mikro hingga besar untuk turut memanfaatkan teknologi agar mampu bersaing," ungkap CTO & Co-founder Warung Pintar Sofian Hadiwijaya.
Sofian menambahkan, "Hackathon Pintar 1.0 mengusung Pariwisata dan UMKM Pintar sebagai tema utama. Kami mengajak anak muda Banyuwangi dan sekitarnya untuk membawa perubahan dengan bersama-sama mencari solusi bagi permasalahan UMKM dan pariwisata di Banyuwangi."
Acara puncak berlangsung pada 30 Maret 2019 di Festival Juragan Pintar, Banyuwangi untuk menyeleksi 3 pemenang dengan total hadiah 30 juta rupiah. Warung Pintar berharap Hackathon pertama di Banyuwangi ini dapat menjadi kesempatan anak muda mengasah kreativitas dan ikut terlibat langsung membawa perubahan untuk UMKM dan pariwisata di wilayah setempat.
Bagi yang tertantang untuk turut serta di Hackathon Pintar 1.0, informasi dan pendaftaran dapat ditemukan melalui tautan berikut: http://bit.ly/DaftarHackathonPintar.
--
Disclosure: DailySocial merupakan media partner Hackathon Pintar 1.0
Are you sure to continue this transaction?
processing your transaction....