Huawei Mate X Siap Tantang Samsung Galaxy Fold di Segmen Baru Foldable Smartphone
Sama-sama foldable, tapi dieksekusi secara sangat berbeda
Glenn Kaonang - 25 February 2019
2019 resmi menjadi tahunnya foldable smartphone alias ponsel yang layarnya bisa ditekuk. Belum lama berselang setelah Samsung memperkenalkan Galaxy Fold, Huawei sudah langsung tancap gas menyingkap bakal rivalnya, yaitu Mate X.
Meski sama-sama mengusung premis foldable, kedua ponsel ini dieksekusi secara sangat berbeda. Perbedaan yang paling kentara adalah, Huawei menempatkan semua layar Mate X pada bagian luarnya, sedangkan Samsung memilih menanamkan layar kecil di bagian luar, lalu yang besar di bagian dalam.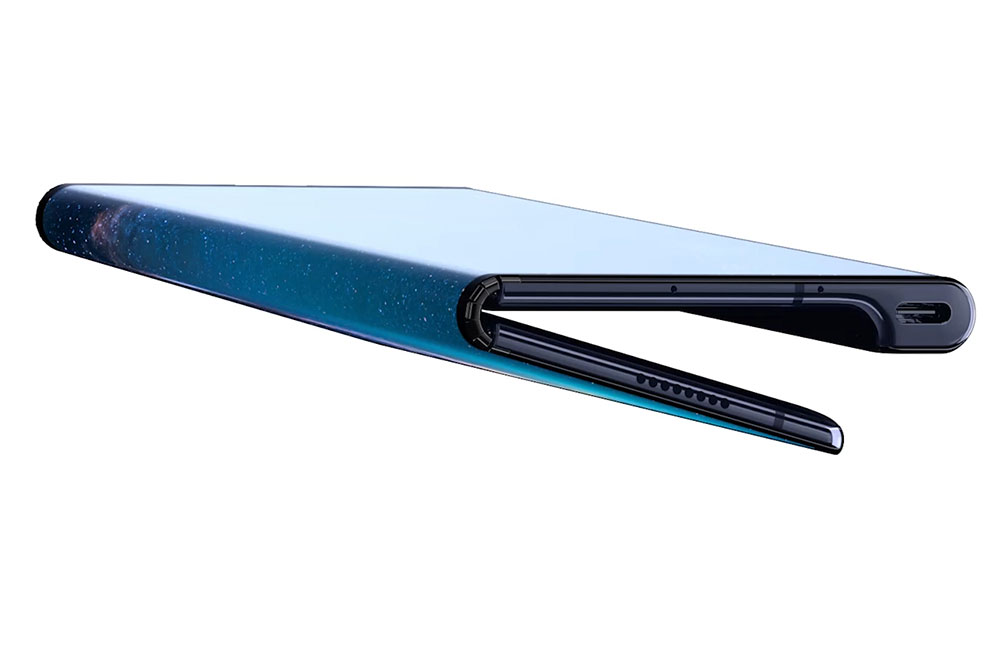 Hasilnya, kalau buat saya pribadi, punya Huawei terkesan jauh lebih menarik. Dalam posisi normal (terlipat), Mate X tampak lebih menyerupai smartphone pada umumnya, dengan layar yang membentang dari ujung ke ujung. Tidak demikian untuk Galaxy Fold, sebab layarnya pada posisi normal tampak begitu imut-imut.
Juga berbeda adalah bagaimana Galaxy Fold kelihatan begitu tebal ketika dalam posisi terlipat, sedangkan Mate X masih masuk dalam batas wajar dengan tebal cuma 11 mm. Ini berkat solusi pintar yang diterapkan Huawei: menempatkan kamera, tombol pengunci beserta port USB-C pada satu sisi samping.
Lebih menarik lagi, bagian samping itu juga berfungsi sebagai grip ketika ponsel sedang dalam keadaan terbuka lebar layarnya. Rancangan seperti ini langsung mengingatkan saya pada Amazon Kindle Oasis, dan bagusnya, sisanya bisa dibuat setipis mungkin. Dalam kasus Huawei, tebal perangkat (kecuali bagian grip itu tadi) hanya berkisar 5,4 mm saja dalam posisi terbuka.
Layarnya sendiri merupakan panel OLED berdimensi 8 inci dengan resolusi 2480 x 2200 (nyaris berbentuk persegi). Saat ditutup dan kembali ke posisi normal, layarnya pun otomatis 'terbagi' menjadi dua: 6,6 inci beresolusi 2480 x 1148 di depan, 6,4 inci beresolusi 2480 x 892 di belakang (persis di sebelah tiga kamera berlogo Leica).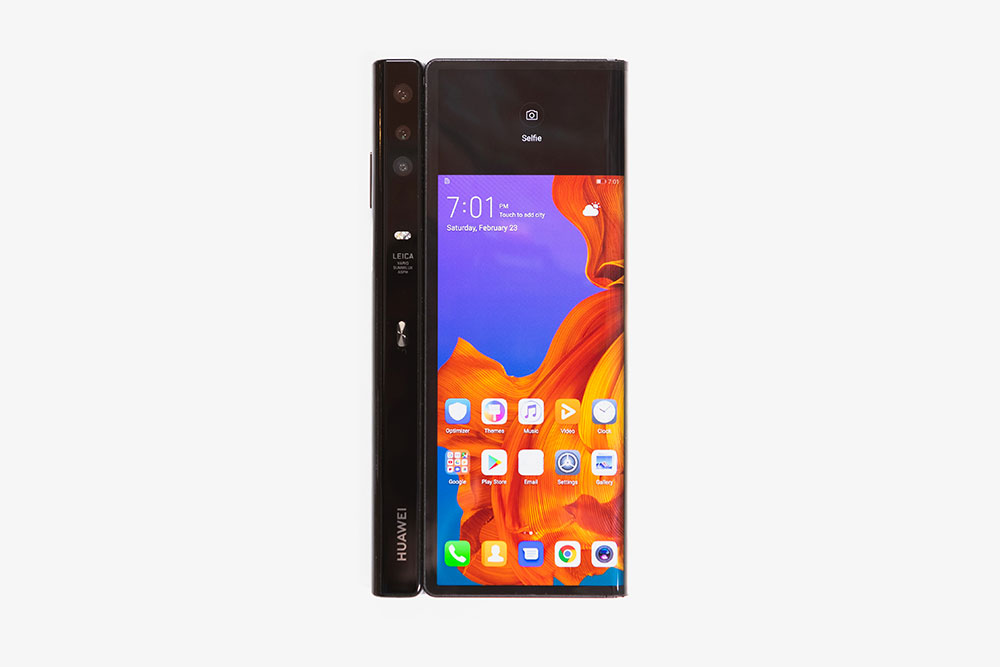 Lagi-lagi saya terkesima dengan arahan desain Huawei yang begitu cerdas. Seperti yang bisa Anda lihat, layar depannya sama sekali tidak dilengkapi notch. Lalu bagaimana ketika pengguna hendak mengambil selfie atau melakukan panggilan video? Balik saja ponselnya, dan gunakan layar belakangnya. Simpel, efektif.
Beralih ke spesifikasi, Mate X juga sama sekali tidak mengecewakan. Perangkat diotaki chipset 7 nm Kirin 980, lengkap beserta RAM 8 GB dan kapasitas penyimpanan 512 GB. Kirin 980 adalah chipset yang sama persis seperti yang terdapat pada Mate 20 Pro, sehingga performa Mate X semestinya setara dengan salah satu flagship terkini Huawei tersebut.
Untuk spesifikasi kameranya, Huawei masih enggan membeberkan. Kendati demikian, perwakilan Huawei menyampaikan kepada The Verge bahwa kualitas kameranya juga bakal setara dengan Mate 20 Pro.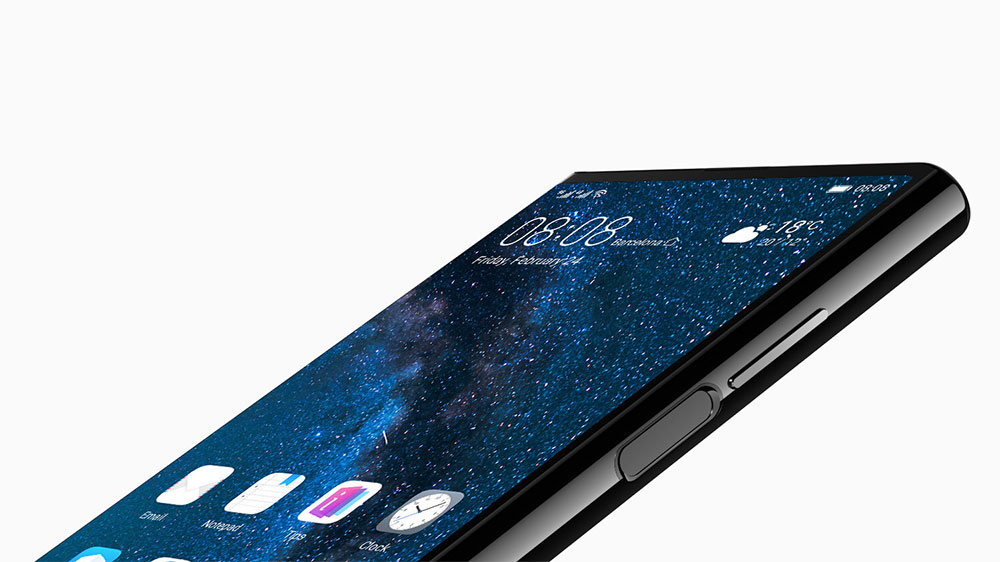 Soal baterai, Mate X juga dibekali sepasang baterai layaknya Galaxy Fold, dengan total kapasitas 4.500 mAh, dan baterai ini dapat diisi ulang hingga mencapai 85% kapasitasnya dalam waktu 30 menit saja. Kejutan yang terakhir, Mate X juga merupakan salah satu dari segelintir ponsel yang sudah 5G-ready.
Semua itu harus ditebus dengan harga yang sama sekali tidak murah, sama kasusnya seperti Galaxy Fold. Untuk Mate X dengan konfigurasi spesifikasi seperti yang saya jabarkan di atas, Huawei mematok harga 2.299 euro saat dipasarkan mulai pertengahan tahun nanti.
Sumber: The Verge.