Introducing Jumpstart, A Smart Vending Machine Startup for Coffee
Operates as a smart machine and offline stores, to be available in the first-tier cities this year
The mushrooming coffee shops in every corner of the city in Indonesia reflects the high enthusiasm of coffee lovers. International Coffee Organization (ICO) listed Indonesian consumption of 60 kg/lb coffee at 4.6 million sachets in the 2016/2017 period, it's in the 6th position of 10 most coffee consuming countries in the world.
Welcoming the high enthusiasm of local coffee, technology innovation is required to acquire consumers. A different concept of serving coffee offered by Jumpstart by launching a self-service smart vending machine.
Jumpstart's Co-Founder (who don't want to be named) told DailySocial about the company founded by 3 coffee lovers with much concern to the freshly brewed coffee at the office without having to come to the store and queue. This solution will be presented through the vending machine that is yet available in Indonesia.
He adopted the vending machine concept in the developed countries and adjust it to local needs. After some iteration process, the first Jumpstart vending machine is publicly presented in 2017.
"We need a year of preparation because we are yet to obtain data on Indonesian consumer habits. Therefore, conducted several tests, in terms of taste, ingredients, machine knowledge, everything is checked thoroughly in case of error," he added.
Furthermore, Jumpstart machine is equipped with the internet of things (IoT) to manage all the coffeemaking processes to the procurement. The current technology facilitates the team to keep the quality of the coffee and its hygiene. Two times a week, there will be a team to clean and refill the empty stock.
Coffee is an art which to handle it, requires specific techniques, in terms of measuring, grinding, pressure, hot water temperature, and others. All of these things must have the right amount to provide the best quality. Therefore, he claims Jumpstart uses the freshly brewed method.
"We have a team of experts creating the menus. The types of coffee Indonesians like, most aren't really like sour coffee, it tends to be sweet but strong [caffeine]. In terms of prices, it's far more affordable than the ones at a coffee shop, we start from Rp10,000 to Rp15,000."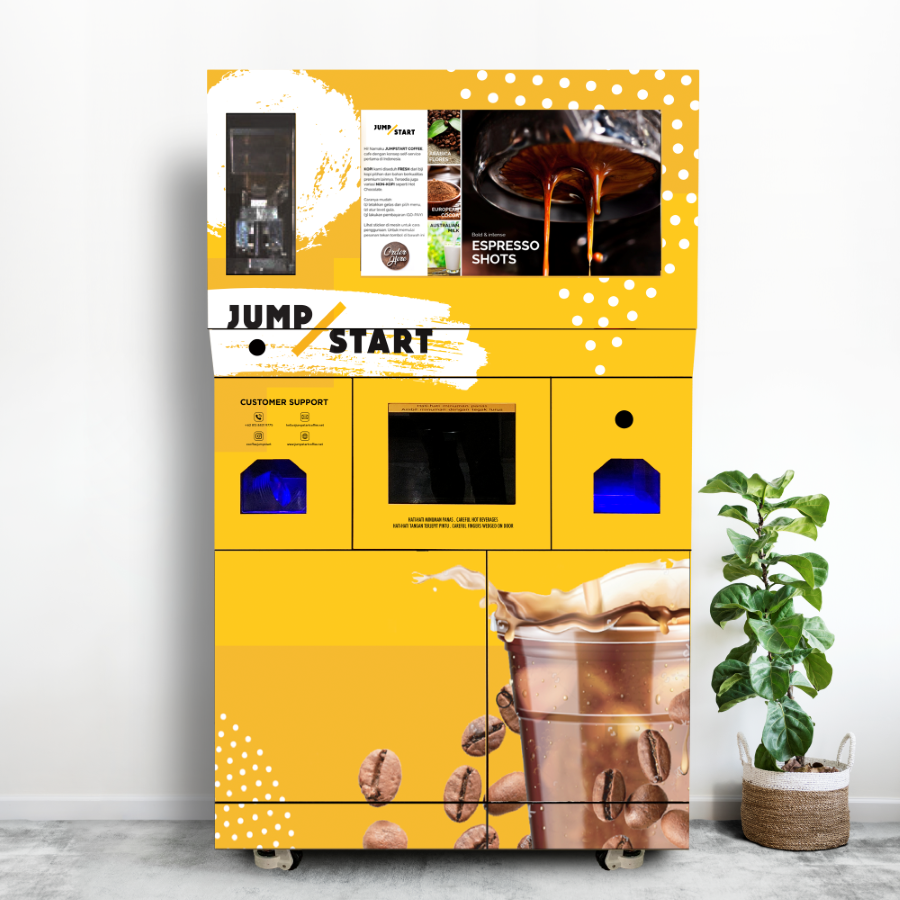 In its development until today, Jumpstart has developed 20 menus not only coffee, but also non-coffee such as chocolate, matcha, and available in hot or cold.
Jumpstart's Co-Founder avoids elaborating further on the distribution of the engine by far or the business model. Currently, they are operating only in Jakarta with a point of presence in offices, or public places such as malls, campuses, hospitals and so on.
Jumpstart competes with other coffee shop startup players which already adopt digital technologies such as Fore and Kopi Kenangan.
Appreciation for e-money platforms
Jumpstart real journey is not immediately providing e-money payment options. At first, the machine is taking cash for payment. He said the education process through an app is easier than cash, supported by several factors.
In fact, there are many consumers are yet to understand the concept of a vending machine, that everything is self-service. The habit is yet to built and insecurity hits hard.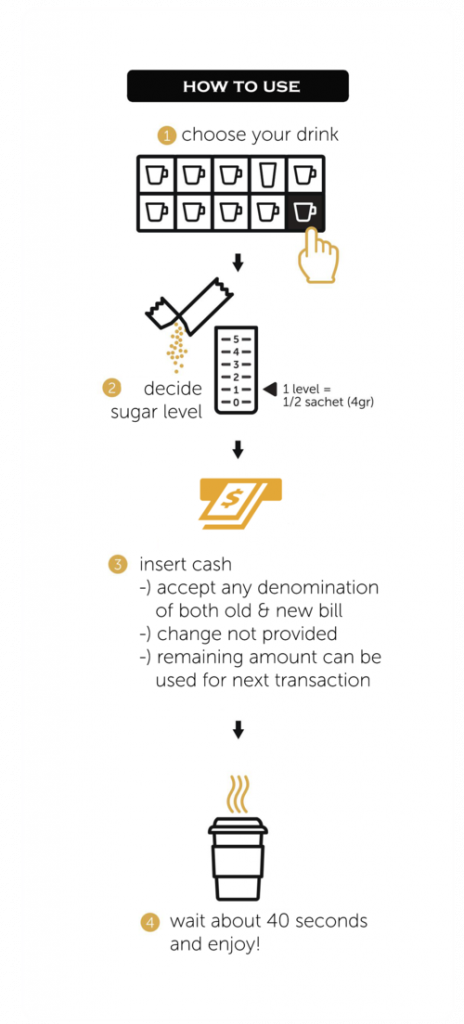 For example, when paying in cash, there are many complications that ultimately hinder the intention of the buyer. Like, money should not be worn out, must provide the exact amount, must entering one by one and can not be all at once. When the error occurs, the buyer will be complaining because there are no guards.
"Since the presence of e-money players, everything is much more convenient. The process is quite helpful because we're launching in time [along] with the e-money players."
Future plans
He said Jumpstart plans to expand its presence to other big cities, including Bandung. Next, the company will release an application to facilitate ordering drinks.
"It is likely that when we expand, we will adjust the taste to suit the standard of each resident because each region has a different appetite."
Not only selling through smart coffee machines at various points, the company also opens offline outlets like most other coffee shops. The outlet serves to serve buyers who order through online platforms as GoFood. The location is distributed around office buildings, malls, or public places.
Jumpstart's official site now accommodates online ordering.
Jumpstart has received funding from investors with undisclosed details. Jumpstart team is now around 40 people.
–Original article is in Indonesian, translated by Kristin Siagian
Are you sure to continue this transaction?
processing your transaction....