Dorong Pertumbuhan Konsep O2O, JD.ID Luncurkan Gerai Offline "Wellio"
Wellio dan gerai konsep ekslusif lainnya akan hadir di berbagai pusat perbelanjaan Jakarta dan Surabaya
Layanan e-commerce asal Tiongkok, JD.ID, kembali membuka gerai offline di Jakarta. Bernama Wellio, gerai ini mencoba konsep baru dengan menawarkan multi category yang menjual berbagai kategori produk, mulai dari elektronik rumah tangga, gadget, hingga berbagai produk pelengkap gaya hidup (lifestyle).
"Saat kita bergerak maju menuju era kenormalan baru yang sarat akan perubahan, adalah tugas kami untuk menyambut perubahan-perubahan itu dengan tangan terbuka serta membantu transisi tren belanja para pelanggan kami, itulah dasar kami untuk membuka Wellio by JD.ID," kata Head of Offline Business JD.ID Eyvette Tung.
Dengan dibuka-nya Wellio, JD.ID juga memperkenalkan kembali fitur "Nearby Shop". Diluncurkan pada bulan November 2020 lalu, fitur ini bisa memperlihatkan gerai-gerai offline di manapun konsumen berada, dengan durasi kirim yang lebih singkat.
Ekspansi Wellio akan menjadi fokus divisi offline JD.ID tahun ini. Wellio dan gerai konsep ekslusif lainnya akan hadir di berbagai pusat perbelanjaan strategis Jakarta dan Surabaya.
Mendorong kembali Online-to-Offline (O2O)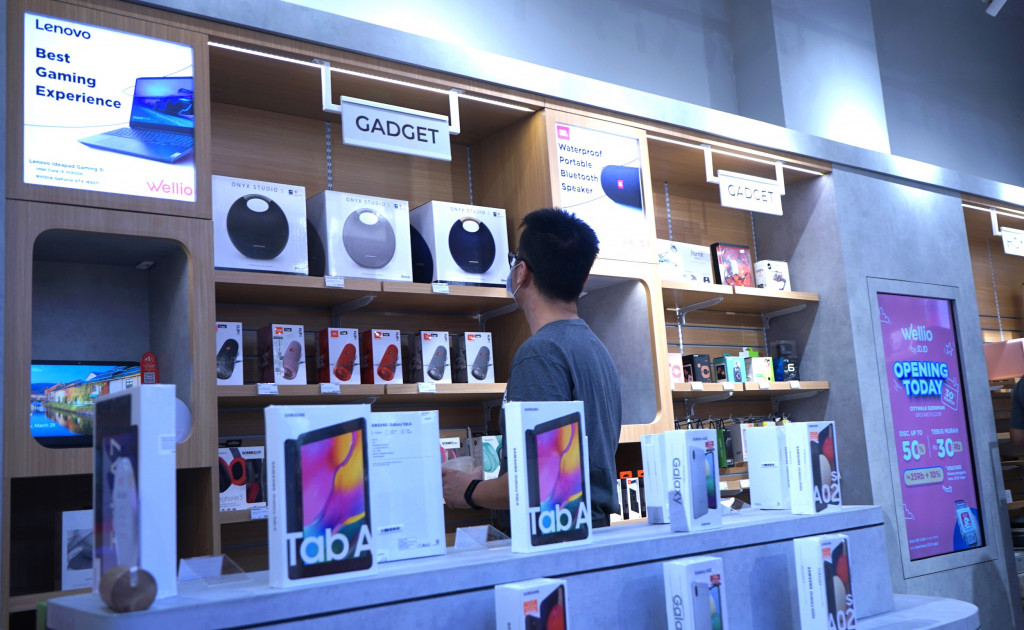 Berdasarkan riset yang dilakukan secara internal oleh JD.ID, pandemi telah mengubah gaya hidup dan kebiasaan dari masyarakat ketika mengkonsumsi produk. Perusahaan berupaya menggabungkan dua saluran bisnis yang berbeda (online & offline) menjadi satu, sehingga diharapkan bisa melengkapi satu sama lain.
"Harapannya adalah dengan ekspansi dari Wellio by JD.ID, kami dapat melakukan penetrasi market secara agresif dengan mengedepankan 'Joyful Shopping Experience' sebagai modal utama. Dan menjadi platform ecommerce pertama dengan integrasi offline-online terluas di Indonesia."
Sebelumnya JD.ID telah memiliki toko offline yang telah diluncurkan pada tahun 2018 lalu dengan nama JD.ID X. JD.ID X merupakan gerai produk serba ada yang berbasiskan teknologi AI (artificial intelligence) pertama di Indonesia, dengan fitur pemindai wajah, radio-frequency identification (RFID), dan metode pembayaran non-tunai.
JD.ID juga telah membangun JD HUB. Gerai ini menjual berbagai produk kebutuhan sehari-hari dengan kombinasi pengalaman belanja online dan offline, yang terletak di bilangan Gandaria, Jakarta Selatan.
Selain mengedepankan konsep O2O, JD.ID akhir tahun 2020 lalu juga mulai fokus ke rantai pasokan, penambahan gudang dan logistik.
Application Information Will Show Up Here
Are you sure to continue this transaction?
processing your transaction....