Justika Legal Service Marketplace Releases a Lawyer App
Product development becomes the main focus after receiving Pra Series A funding from Assegaf Hamzah & Partners
Marsya Nabila - 12 March 2019
Justika law service marketplace releases Justika Lawyer Connect to accommodate the partnered advocates with clients. This app is limited to selected advocates.
This app is a part of product series by Justika post receiving Pra Series A funding with undisclosed value from one of the large firm in Indonesia, Assegaf Hamzah & Partners (AHP) in the late January 2019.
"We want to wrap up the product development. Since going live in June 2018, we only have consulting service through phone. A good problem comes from our user that they're eager to request for further services, such as document issuance, live consulting, and companionship, it's our to-be-finalized products," Justika's CEO, Melvin Sumapung said to DailySocial.
Melvin explained the special app will connect all orders from clients requesting for specific advocate. It intends to facilitate advocate with high-mobility that afraid to ruin the operational hours.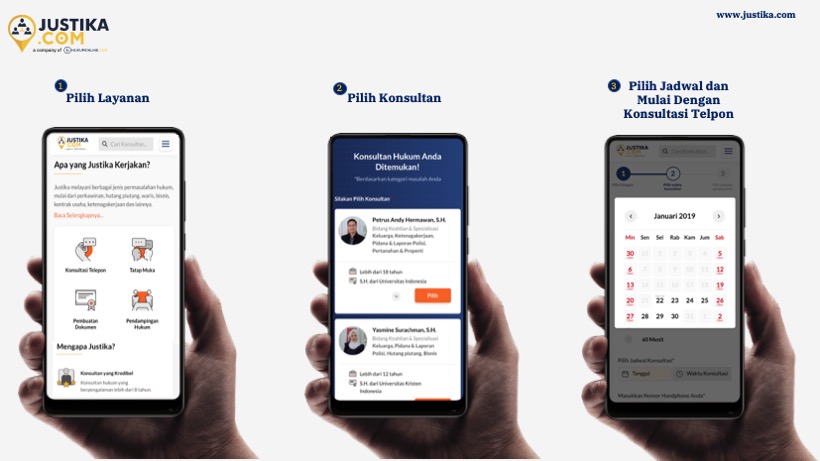 The app will give notification to the advocate related to the issue and the system will automatically manage the conference room. When the advocate entered the conference room, the system will detect and connect the client to start the consulting session.
There will be automatic reminder and recorder when the conversation begin.
"Timer works to make sure everything is within 30 minutes, the cost is Rp299 thousand. Recorder is for revisiting, in case something happened, which previously accepted by both parties."
Justika development
He said Justika is currently has 900 registered advocate in its platform. However, only 11 of them already put in charge of clients. Sumapung said the decision was taken because the team should filter the client's demand with the advocate skill.
The subsidiary of Hukum Online deals with many issues concerning family, individuals and SMEs. Therefore, advocates registered to Justika are expected to have expertise in this field. This year, the plan is for advocates in charge to be increased by 20-30 people.
"We want to make sure that we didn't only provide curated advocates, but the skill can follow the user's demand. Therefore, user can use lawyer for the specific case."
Advocate can partnered up with Justika after getting through Justika's internal and verification process. The company will ask for more information about the skills, experience, advocate license, network, and the career journey.
Regarding Justika's plan with AHP, Sumapung said the team will make the only investor as a strategic partner for product knowledge. AHP is considered as great partner not only in law, but also in building the firm from zero to this point.
He added, although there's no talk about AHP's advocates to join as Justika's partners, they expect to receive the support.
"We have so much to learn from them [AHP] because the expertise, including to build a lawfirm," he said.
Since established in June 2018, Justika has managed to serve clients in various locations, such as Gresik, Sumatera, Lombok, and Papua. Most of them are in middle class. To date, users are claimed to have increased by 10 times.
We target the middle class consumers, because the high society are the bigger law firm's clients, while the low level is supported by LBH," Justika's CPO, Hafidz Kalamullah said.
– Original article is in Indonesian, translated by Kristin Siagian
Are you sure to continue this transaction?
processing your transaction....