Lexus Berhasil Ciptakan Hoverboard
Yoga Wisesa - 25 June 2015
Tidak ada regulasi resmi yang mengatur soal pembuatan dan pemakaian skateboard. Berdasarkan sejarah, ia dianggap sebagai tren kontemporer sekaligus instrumen olahraga berbasis papan beroda. Itu sebabnya ada banyak sekali desain, misalnya longboard, shortboard, slalom board, wave board, hingga penjelmaan skateboard dalam kisah fiksi ilmiah: hoverboard.
Berbicara soal hoverboard, film Back to the Future II mungkin akan selalu disebutkan. Pasalnya, di sanalah premis unik kegunaan 'skateboard terbang' terlihat jelas, dan hingga kini para inventor berupaya mencari solusi demi merealisasikannya. Tahun lalu satu tim kecil sukses menggarap hoverboard pertama di dunia bernama Hendo Hover. Yang cukup mengejutkan, Lexus ternyata dikabarkan turut mengembangkan alat transportasi unik itu.
Produsen kendaraan premium milik Toyota tersebut mengungkap Lexus Hoverboard alias Slide. Ketika Hendo masih menyerupai perangkat eksperimental yang lebar dan bulky, penampilan Lexus Hoverboard sangat stylish walaupun baru prototype. Slide sengaja dibuat agar merepresentasikan identitas Lexus. Ia mempunyai lapisan kayu bambu diatas, dipadu tubuh melengkung dan spindle grille ala Predator di bawah. Lexus Hoverboard memanfaatkan segala jenis material yang ada pada mobil mewah mereka.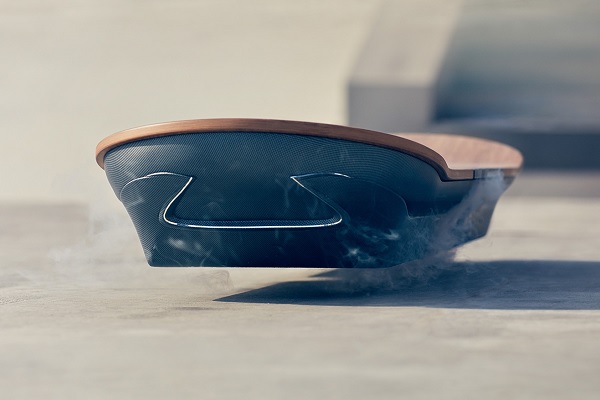 Demi mengerjakan Slide, tim proyek Lexus dilaporkan berkolaborasi dengan para ahli di bidang teknologi super-conductive. Bahkan jika Anda berkunjung ke situs resminya, perjelasan Lexus sangatlah minim. Mereka cuma menuturkan bagaimana tim mengusung gaya angkat magnetis untuk meraih sistem pergerakan tanpa gesekan. Lexus menggunakan rangkaian magnet permanen dan superconductor yang didinginkan oleh nitrogen cair.
Info menarik: Mari Sambut Hendo Hoverboard, Skateboard Terbang Pertama di Dunia
Komposisi di atas, terlebih lagi nitrogen cair, bukanlah bahan-bahan aman buat produk konsumen. Namun menariknya, tipe purwarupa ini sudah lulus dalam tes perdana di Barcelona. Sayang di video teaser, Slide hanya tampak melayang beberapa sentimeter di atas permukaan. Padahal lebih bagus lagi seandainya ia dipamerkan bersama orang di atasnya, atau sekedar bergerak.
"Tidak ada hal yang mustahil," kata Lexus Chief Engineer Haruhiko Tanahashi di video berdurasi setengah menit tersebut. "Kita cuma perlu mencari tahu caranya saja." Kini saya penasaran, apakah dengan magnet, artinya Lexus Hoverboard hanya bisa terbang di atas permukaan logam?
Kemunculan Slide tidak berarti Lexus mencoba masuk ke ranah produk hoverboard. Ia sama sekali tidak dijual. Lexus Hoverboard merupakan satu dari empat bagian debut kampanye Amazing in Motion.