LG K10 dan K7 Siap Pukau Pasar dengan Segenap Fitur Ciamik
LG K10 dan K7 mempunyai beberapa varian yang cukup membingungkan
Bambang Winarso - 6 January 2016
Memanaskan gelaran bergengsi CES 2016, LG telah menyiapkan beberapa jagoannya untuk disuguhkan di sana. Akan ada dua punggawa yang dipastikan bakal mejeng, yakni LG K10 dan LG K7 yang tergabung dalam keluarga K Series. Masing-masing smartphone kemudian akan dibagi lagi menjadi beberapa varian yang dibedakan atas komponen jeroan dan kamera. LG mengatakan bahwa lineup terbaru ini dikemas tidak hanya dengan rupa yang menawan berupa kaca 2.5D Arc tapi juga dengan teknologi kamera lebih canggih. Sangat mungkin smartphone-smartphone ini akan jadi penantang bagi Oppo F Series yang juga akan memulai debut di tahun ini.
LG K10
Tiba saatnya kita bahas spesifikasi masing-masing varian LG K Series, yang pertama adalah LG K10 yang ukuran layar standarnya adalah 5,3 inci HD dengan teknologi In-Cell Touch. Smartphone ini ditawarkan dalam beberapa varian, varian yang pertama sudah mendukung 4G LTE yang mengusung prosesor 1.2GHz atau 1.3GHz quad-core atau konfigurasi lainnya dengan prosesor 1.14GHz octa-core. Sementara varian kedua hanya mendukung 3G dengan bekal dalaman berupa prosesor quad-core 1,3GHz.
Di sektor kameranya, varian LG K10 4G LTE memboyong kamera 13MP di belakang dan 8MP di depan, ada juga pilihan kamera 5MP. Sedangkan varian LG K10 3G sedikit lebih rendah, dengan kamera utama 8MP dan kamera depan 8MP atau 5MP. Konfigurasi "membingungkan" lainnya, LG K10 tersedia dalam beberapa opsi RAM mulai dari 1GB, 1,5GB dan 2GB, di mana kapasitas memori internal yang disediakan mulai dari 8GB hingga 16GB. Anehnya kapasitas baterai yang disiapkan hanya 1 ukuran, yaitu 2.300mAh. Beruntung seluruh varian LG K10 dipastikan sudah menggunakan sistem operasi Android 5.1 Lollipop yang sudah mendapatkan beberapa fitur penghemat daya.
https://www.youtube.com/watch?v=P62o2NVYrFw
LG K7
Varian LG K7 lebih sederhana, di depan kita akan menjumpai layar WVGA berukuran 5 inci, tersedia dalam varian 4G LTE dan juga 3G di mana keduanya sama-sama menggunakan prosesor quad-core tapi berbeda kecepatan, yakni 1,1GHz dan 1.3 GHz. LG menyematkan dua pilihan kamera belakang, 8MP dan 5MP sementara kamera depan hanya tersedia pilihan  5MP.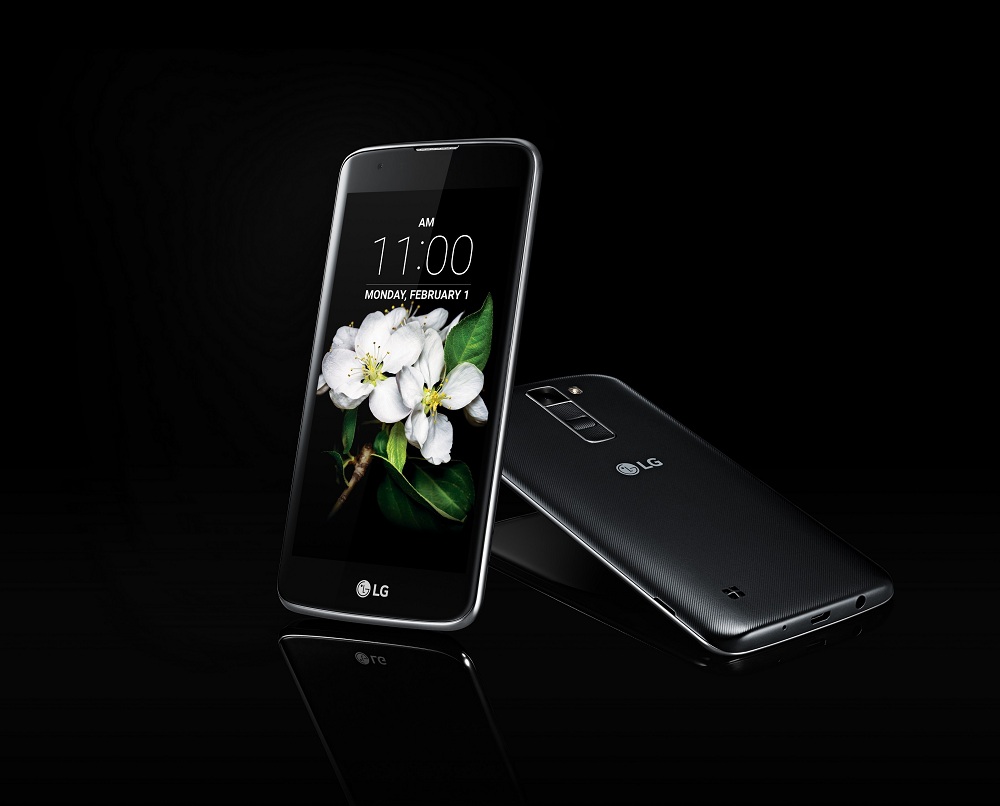 Kapasitas RAM dan memori masing-masing varian tak terpaut jauh, yakni 1,5GB dan 1GB dengan memori internal 16GB dan 8GB. Sementara daya topang energi dipercayakan pada komponen baterai 2.125mAH serta pilihan sistem operasi Android 5.1 Lollipop.
Seluruh varian LG K Series di atas menjanjikan kualitas jepretan kamera yang lebih baik. Dijelaskan oleh LG, perangkatnya memiliki fitur-fitur unggulan seperti Gesture Shot, Tap and Shot dan Gesture Interval Shoot yang akan membantu pengguna dalam mengabadikan foto selfie.
Sayang LG belum mau membeberkan berapa banderol untuk masing-masing punggawa barunya ini.
Sumber berita LG.
Are you sure to continue this transaction?
processing your transaction....