Game
Masa Beta Titanfall Dibuka di Hari Valentine?
Meneruskan berita soal tahap beta Titanfall yang dijanjikan akan segera hadir, akhirnya tanggal 'peresmian' masa beta-nya terdeteksi oleh para pengawas internet yang tak pernah kenal lelah.
Pertama kali dilaporkan oleh situs berbahasa Prancis, Xboxygen, dan disampaikan kembali oleh seorang user Neogaf, versi beta Titanfall meluncur kurang dari tiga minggu lagi - di hari Valentine, tepatnya tanggal 14 Februari 2014.
Uniknya, sang co-founder studio Respawn Entertainment, (yang 'kebetulan' mantan CEO Infinity Ward) Vince Zampella, mengomentari soal kebocoran berita itu via Twitter miliknya bahwa, "Detail versi Xbox One dan PC akan hadir beberapa hari lagi." Terlepas dari itu, ada satu syarat untuk Anda yang tidak sabar untuk menjajal beta Titanfall: untuk para pengguna PC sendiri, Anda harus melakukan pre-order via GameStop untuk konsumen di Amerika Serikat dan Micromania untuk mereka yang berada di Perancis.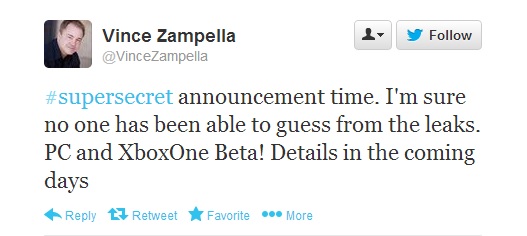 Dan tweet Zampella tersebut mengindikasikan bahwa Respawn tidak mengkonfirmasi soal apakah benar masa beta akan dimulai pada tanggal itu. Itu juga artinya klaim Xboxygen yang mengatakan beta Titanfall dimulai 14 dan berakhir 19 Februari bisa jadi kurang tepat.
Info menarik: Gamer Bertualang Selama Tiga Tahun Untuk Mencari Ujung Dunia Minecraft
Tapi satu yang pasti, ia akan segera hadir - cepat atau lambat. Pertanyaannya adalah bagaimana jika ternyata Vince Zampella dan kawan-kawan mengumumkan bahwa beta ini tersaji secara terbuka, atau istilahnya open beta, seperti yang diterapkan pada Battlefield 4? Akankah itu membuat orang-orang yang pre-order via GameStop kembali tidak merasa spesial?
Beberapa orang terpilih sebenarnya sudah menjajal game ini lebih dulu saat masih berada dalam tahap alpha. Namun tujuan Respawn dan Electronic Arts saat itu adalah untuk menjajal seberapa optimal Titanfall berjalan di hardware Xbox One. Dalam tahap beta, mereka akan menguji coba infrastruktur multiplayer Titanfall yang Respawn miliki - apalagi mereka telah mengubah total pemain dari enam menjadi 24 orang.
Dari mendengar komentar-komentar para alpha-tester sendiri, banyak orang merasa Titanfall begitu mirip dengan Call of Duty - dengan segala killstreak, poin XP dan gameplay cepat di dalamnya. Titanfall dirilis tanggal 11 Maret, tapi memang sama sekali tidak menyakitkan jika kita bisa menjajal versi beta-nya lebih dulu sebelum membeli.
Via PC Gamer. Gambar header: Titanfall.com.
Are you sure to continue this transaction?
processing your transaction....