Survei nPerf: Telkomsel Penyedia Mobile Internet Terbaik 2018, Indosat Ooredoo di Urutan Terbawah
Didasarkan hasil 636.757 kali pengujian kecepatan, streaming, dan browsing
nPerf merupakan perusahaan asal Perancis yang bergerak dalam bidang pengukuran kualitas koneksi internet. Baru-baru ini mereka merilis laporan bertajuk "Barometer of Mobile Internet Connection in Indonesia", mengukur performa enam penyedia mobile internet. Di laporan itu nPerf menasbihkan Telkomsel sebagai penyedia terbaik tahun 2018. Diikuti XL, Smartfren, Bolt (diukur sebelum Bolt ditutup), 3 Tri, dan Indosat Ooredoo.
Hasil tersebut didasarkan 636.757 kali pengujian, termasuk tes kecepatan, tes streaming, dan tes browsing. Selain itu aspek-aspek pengukuran termasuk rasio koneksi sukses, download bitrate, upload bitrate, latensi, dan kemampuan browsing maupun streaming Youtube.
Telkomsel tidak unggul di semua aspek. Hanya upload bitrate dan kemampuan browsing yang menjadi nomor satu.
Sementara itu XL Axiata menjadi penantang serius bagi seluruh provider mobile internet di Indonesia. Meski menempati nomor dua, XL Axiata secara keseluruhan memiliki selisih tipis dengan Telkomsel.
Misalnya untuk rasio koneksi berhasil, XL memiliki persentase sebesar 69,32% sementara Telkomsel berada di angka 64,33%. XL bahkan mengungguli Telkomsel dalam aspek kemampuan streaming Youtube.
Smartfren secara umum unggul dalam rasio sukses dengan 69,43% dan download bitrate 14,77 Mb/s; mengungguli Telkomsel (8,06 Mb/s) dan XL Axiata (6.68 Mb/s)
Sementara itu 3 Tri dan Indosat yang dalam survei ini tenggelam di urutan dua terbawah jauh tertinggal dari para pesaingnya. Terutama untuk aspek download bitrate dan upload bitrate. 3 Tri hanya membubuhkan rata-rata download bitrate sebesar 3.15 Mb/s dan upload bitrate 3.44 Mb/s. Sementara Indosat dengan rata-rata download bitrate 6.97 Mb/s dan upload bitrate 1.19 Mb/s.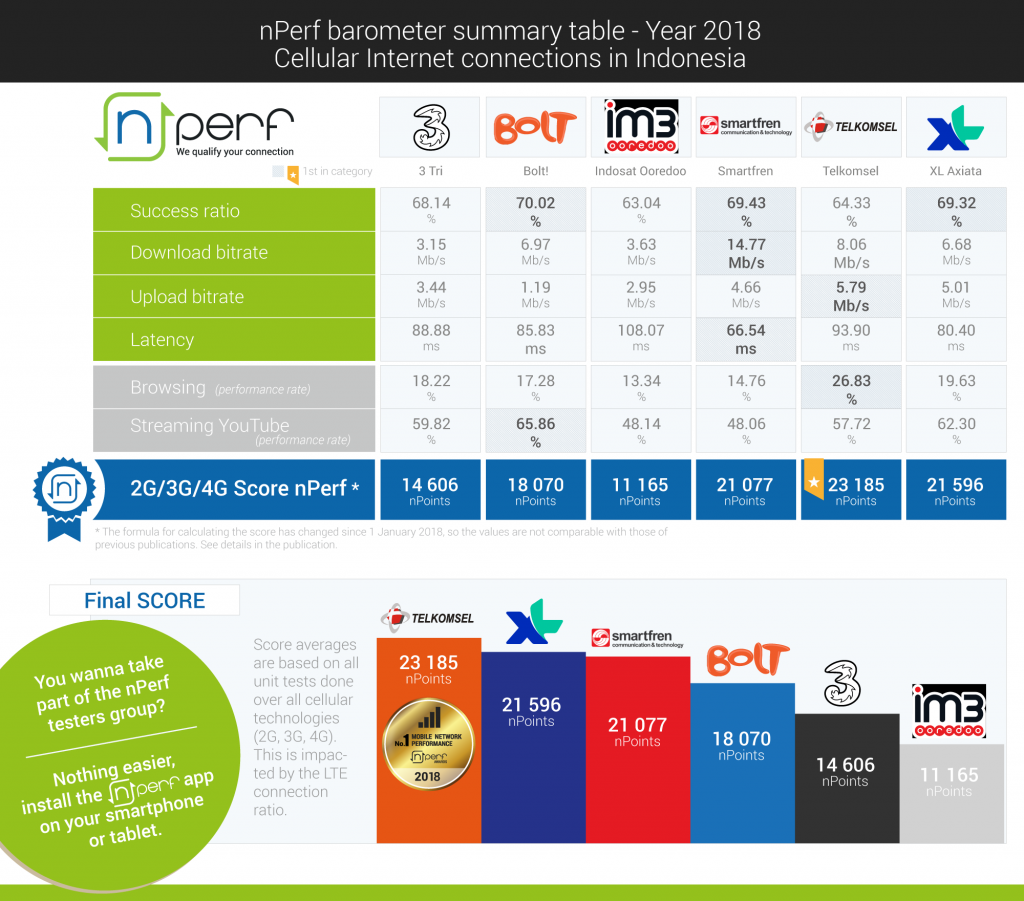 Bolt dan Smartfren terbaik untuk koneksi 4G di tahun 2018
nPerf selain menyoroti hasil secara keseluruhan di semua jenis jaringan juga melakukan survei di 266.446 titik 4G terminal untuk menguji kemampuan provider mobile internet di Indonesia. Hasilnya, Smartfren dan Bolt menjadi juara. Cukup jauh mengungguli provider lainnya.
Untuk rasio koneksi sukses menggunakan jaringan 4G Bolt mendapatkan angka 99,98% dan Smartfren berada di angka 99,88%. Sedangkan provider lainnya, Telkomsel (66,83%), XL Axiata (72,93%), 3 Tri (59,825), dan Indosat Ooredoo (48,14%).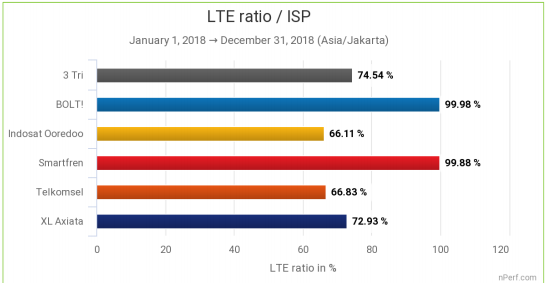 nPerf juga menyoroti beberapa provider memberikan kecepatan yang terbatas untuk penggunaan yang insentif, seperti streaming video dalam format high definition.
"Ketika kita melihat kecepatan pengunduhan, kami melihat bahwa sebagian besar operator seluler memberikan kecepatan yang terbatas untuk penggunaan intensif seperti streaming video dalam (resolusi) high definition. Hanya Smarfren yang memberikan kecepatan unduhan yang cukup untuk penggunaan intensif," tulis pihak nPerf dalam laporannya.
Are you sure to continue this transaction?
processing your transaction....