MSI Gaet Blizzard dan ESL Buat Adakan Turnamen Berhadiah $ 200.000
Yoga Wisesa - 29 May 2015
Sangat menarik melihat cara MSI mencuri hati gamer. Mereka sediakan beragam pilihan produk, menunjuk nama-nama populer gaming sebagai duta mereka, mengadakan gathering kecil-kecilan, sembari menyelenggarakan acara kelas dunia. Satu ajang tahunan yang paling akrab di telinga gamer ialah MSI Beat it. Tapi cukup lama kabar mengenainya tidak terdengar...
Mungkin alasannya adalah MSI sedang sibuk mempersiapkan acara yang jauh lebih besar dan ambisius, serta menawarkan jumlah hadiah lebih banyak: US$ 200.000. Sang spesialis komponen PC dan notebook itu diketahui menggandeng publisher/developer legendaris Blizzard Entertainment dan organisasi Electronic Sports League (ESL) demi mengadakan Masters Gaming Arena. MGA akan menjadi wadah bagi atlet olahraga elektronik profesional memamerkan keahlian mereka.
"Penggantian nama menandai tekad kami untuk berevolusi dan melakukan yang lebih baik sebagai merek gaming terdepan dunia," tutur Vice President Eric Kuo. "Warisan Beat It selama bertahun-tahun diteruskan melalui Masters Gaming Arena - merepresentasikan semangat serta kesungguhan dalam mendukung esport. MSI MGA akan menyatukan gamer dari seluruh dunia, bersama-sama menulis sejarah baru di industri gaming."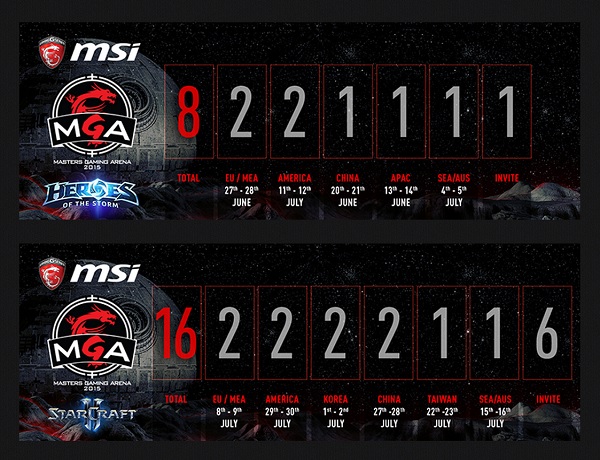 MSI MGA akan dimulai lewat babak kualifikasi regional di wilayah Amerika Serikat, Eropa dan Asia. Turnamen dijadwalkan untuk dimulai di Asia bulan Juni, kemudian berturut-turut berlanjut meliputi area lainnya. Acara puncaknya adalah babak Grand Final selama empat hari, dilaksanakan di Seattle bersamaan dengan event PAX (Penny Arcade Expo) Prime 2015. MSI menjanjikan banyak sekali pengalaman seru di sana.
Info menarik: MSI Sediakan Mini PC Mungil Terpintar Bernama Cubi
Kini pertanyaan selanjutnya ialah, permainan apa yang dipertandingkan di Masters Gaming Arena? Mereka bukanlah judul 'biasa': StarCraft II dan game MOBA terbaru, Heroes of the Storm. Permainan terakhir ini baru diluncurkan global tanggal 2 Juni 2015 (open beta sudah dimulai 19 Mei 2015 kemarin). Keduanya merupakan judul garapan Blizzard Entertainment, dijalankan dari produk-produk gaming high-end MSI.

Kolaborasi MSI bersama ESL sendiri dimaksudkan untuk memperluas jangkauan brand, serta memastikan MGA berjalan lancar dan memperoleh perhatian besar dari khalayak gaming global (tak cuma PC).
Ingin berpartisipasi langsung? Kunjungi dan daftarkan diri Anda di situs MSI Masters Gaming Arena, atau sekedar ikuti program Trailer Sharing di Facebook serta Daily Quiz via Twitter - berhadiah headset MSI SteelSeries Siberia V2, gaming mouse MSI, mousepad hingga kartu grafis MSI.
Informasi lebih rinci bisa Anda akses dengan mengunjungi MSI.com. Silakan tonton trailer MGA di bawah.
Are you sure to continue this transaction?
processing your transaction....