Nikmati Game Parodi Film The Expendables, The Expendabros, Gratis via Steam
Hingga kini, permainan movie tie-in yang benar-benar dibuat dengan apik untuk console dan PC masih sulit ditemukan, dan mayoritas dari mereka dirilis di platform mobile. Di satu sisi, perusahaan film hanya melihatnya sebagai proyek promosional sampingan; di sisi lain, pemain di platform game mainstream memiliki standar yang tinggi.
Hal yang tidak biasa telah terjadi, dan sebuah kesempatan terbuka bagi tim developer Free Lives Games dan publisher Devolver Digital. Saat ini mereka berkolaborasi mengembangkan sebuah game parodi film action tahun 80- dan 90-an dengan genre action side-scrolling berjudul Broforce. Merasa tertarik dengan proyek itu, Lionsgate membuat sebuah proposal ke tim developer untuk menggarap sebuah spin-off sekaligus crossover.
Free Lives setuju. Dengan menggunakan aset permainan Broforce, sang developer meluncurkan The Expendabros di Steam. Dari segi ide, Broforce dan film The Expendables sendiri memiliki banyak kesamaan: cerita yang tidak rumit, narasi yang sederhana, penyajian penuh action, dan yang paling penting, nostalgia.
Seperti Broforce, tokoh The Expendables telah disadur ke dunia game. Karakter Stallone, Statham, Terry Crews, Wesley Snipes hingga Arnold Schwarzenegger hadir di sini, dengan penambahan 'bro' di tiap namanya.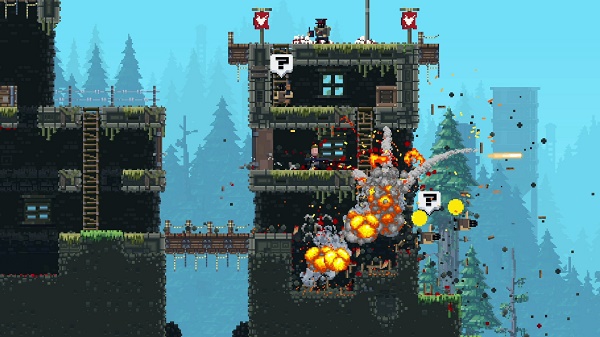 Evan Greenwood selaku founder Free Lives menjelaskan bahwa timnya tidak menuntut bayaran apa-apa dalam membuat The Expendabros. Mereka merasa bangga bisa mendapatkan lisensi resmi karakter The Expendables, apalagi dapat merilis permainan ini hampir bersamaan dengan penayangan The Expendables 3 di layar lebar. Bagi Free Lives Games, hal tersebut sudah lebih dari cukup.
Info menarik: Broforce Telah Tersedia di Steam Early Access
Dari perspektif pengembang, The Expendabros juga bisa berperan sebagai versi demo Broforce untuk konsumen yang sudah tidak sabar ingin menjajalnya, tanpa harus berpartisipasi dalam program Early Access di Steam (tersedia semenjak tanggal 7 April 2014). Yang sangat menarik dari proyek crossover ini adalah ia disajikan secara cuma-cuma.
Di dalam permainan, Anda diajak untuk beraksi di medan tempur Eropa Timur dalam sepuluh misi menegangkan dan aksi baku tembak yang bombastis menghadapi pasukan, artileri serta kendaraan lapis baja musuh. Ada tujuh karakter The Expendables yang hadir dalam The Expendabros, masing-masing memiliki kemampuan yang berbeda. Untuk dapat mengakses karakter tersebut, pemain harus menyelamatkan mereka terlebih dulu.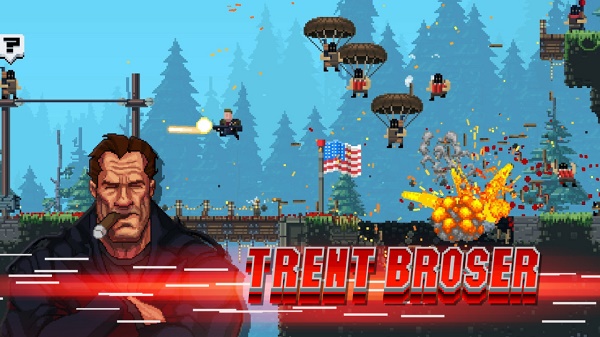 Seperti Broforce, The Expendabros menawarkan visual 2D bergaya retro dengan sistem destructible environment - artinya objek dan bangunan yang ada di dalam permainan bisa dihancurkan, memberikan pemain kebebasan dalam bagaimana mereka menyelesaikan level.
Info menarik: Resident Evil Akan Diluncurkan Kembali Untuk Platform Next-Gen
Game ini juga tidak menuntut sistem hardware bertenaga besar, yang Anda butuhkan adalah prosesor Intel Core Duo, RAM 2GB, GPU yang kompatibel dengan OpenGL 3.0, sistem operasi Windows Vista atau yang terbaru, dan ruang hard disk sebesar 150 MB.
The Expendabros sudah tersedia di Steam sejak tanggal 5 Agustus lalu. Jika Anda menyukainya, tidak ada salahnya membeli Broforce yang ditawarkan dengan harga cukup murah: US$ 15.
Sedikit catatan: The Expendabros hanya akan tersedia hingga tanggal 31 Desember 2014, setelah itu kita tidak bisa memainkannya lagi - kemungkinan berkaitan dengan kesepakatan lisensi.
Via Rock Paper Shotgun. Sumber gambar: Steam.
Are you sure to continue this transaction?
processing your transaction....