PasarPolis Announces Series B Funding Worth of 796 Billion Rupiah
The biggest number in Southeast Asia's insurtech sector
PasarPolis insurtech startup announced the closing of its series B (oversubscribed) funding. Overall, the total investment was successfully booked at $ 54 million or equivalent to 796.7 billion Rupiah. Investors involved in this round are LeapFrog Investments, SBI Investment, Alpha JWC Ventures, Intudo Ventures, and Xiaomi.
This round is claimed to be the largest amount among insurtech startups in the region. Previously, several startups offering insurance services also received significant funding, for example from PolicyPal ($20 million) and CXA Group ($58 million) - both are Singapore based.
PasarPolis is to use the fresh funds to support and accelerate business growth. This includes units outside Indonesia, in Thailand and Vietnam. The inclusion of LeapFrog is said to help accelerate PasarPolis in reaching new insurance consumers through its regional network. Meanwhile, with Xiaomi, the company wants to create insurance technology that is more accessible and holistic.
In 2018, PasarPolis received series A funding from Gojek, Tokopedia, and Traveloka with an undisclosed value. The development of artificial intelligence and big data technologies was the main focus then, along with the expansion of partnerships and integration of services to several partner applications, including the three platforms becoming investors.
"Their (investors) support is a great validation of our positive impact in the industry and society," said Cleosent Randing, the Co-Founder & CEO of PasarPolis.
One of the main strategies for PasarPolis is partnership-based, currently there are at least 25 digital company partners who help sell insurance products. Since 2018, the company claims to have experienced an 80-fold growth in monthly policies issued. The company also claims to have had a fourfold increase in the number of partners during the same period.
In his official statement, Fernanda Lima as Partner of LeapFrog Investments said, "With 30 insurance companies and 25 digital partners, (PasarPolis) has served more than 4 million new consumers in June 2020 [..] There is great potential for positive social impacts. writing provided to novice buyers of insurance services using digital ecosystems, digital payments, and mobile platforms. "
It is showed in the Insurtech Report 2020 released by DSResearch that the insurance business support ecosystem in Indonesia is quite complete. In the digital realm, there are already several players. With a similar business model, PasarPolis has several direct competitors which can be seen in the chart below.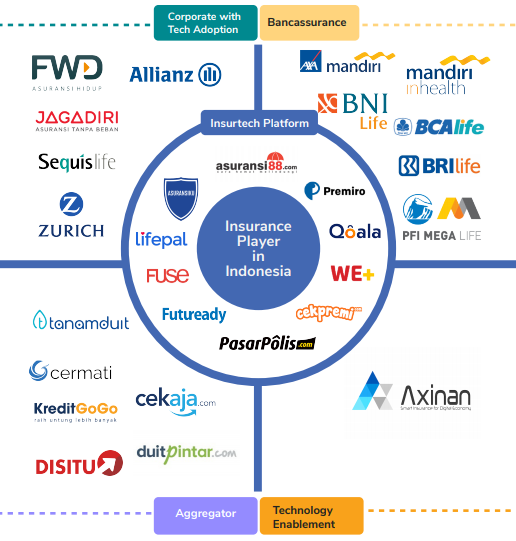 –Original article is in Indonesian, translated by Kristin Siagian
Application Information Will Show Up Here
Are you sure to continue this transaction?
processing your transaction....