Anda yang biasa bermain game di ponsel pintar tentu tak asing lagi dengan game bernama Tebak Gambar. Game asah otak yang digawangi oleh pengembang lokal Kardus Imajinasi ini sukses merebut hati gamer tanah air dan tak tergeser dari peringkat pertama Top Chart Play Store kategori game teka-teki sejak 2014. 18 juta unduhan menjadi bukti sahih yang mengukuhkan label mentereng tersebut. Prestasi yang tak mudah diraih oleh sembarang pengembang.
Masih di genre puzzle, Kardus Imajinasi kembali menghadirkan sebuah permainan asah otak bernama DET: solve the mystery. Namun sedikit berbeda dengan kreasi pertama, di judul ini Kardus Imajinasi memberikan polesan misteri sehingga pemain dapat merasakan sensasi menantang di balik setiap teka-teki yang disuguhkan.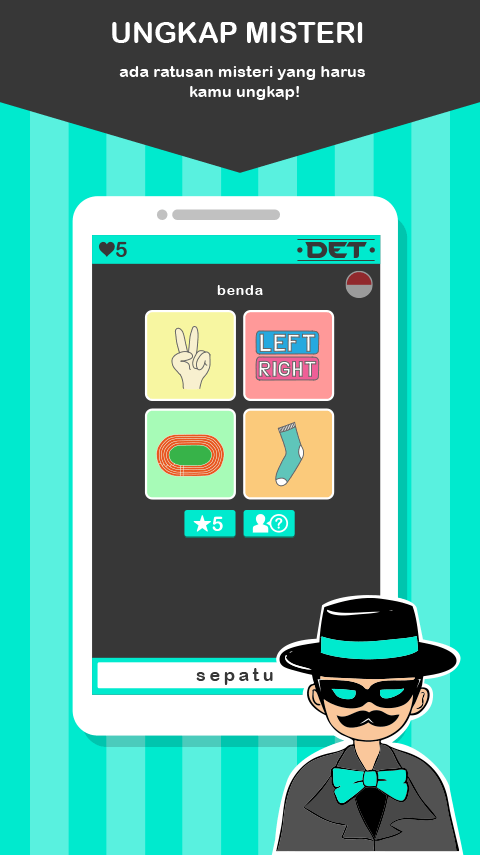 Di game DET: solve the mystery, ceritanya dimulai dari maraknya kasus kehilangan yang melanda berbagai negara di dunia. Keresahan ini memaksa Presiden Dunia memerintahkan si Det, tokoh utama di dalam game untuk mengungkap misteri yang menjadi keresahan banyak orang.
Penyelidikan pun dimulai, Det memperlihatkan kemampuannya dalam memecahkan misteri bermodalkan clue yang ia temui. Tapi, Det tak bisa melakukannya seorang diri. Ia butuh rekan yang punya visi secerdas dirinya, mampu berpikir di luar kebiasaan dan tepat dalam membuat keputusan. Di sinilah peran para pemain, yaitu Anda. Misinya adalah membantu Si Det menjawab sebuah kata yang berkaitan dengan clue yang diberikan. Semakin banyak misteri yang terjawab, semakin sulit pula soal yang tersedia untuk memecahkan misteri berikutnya.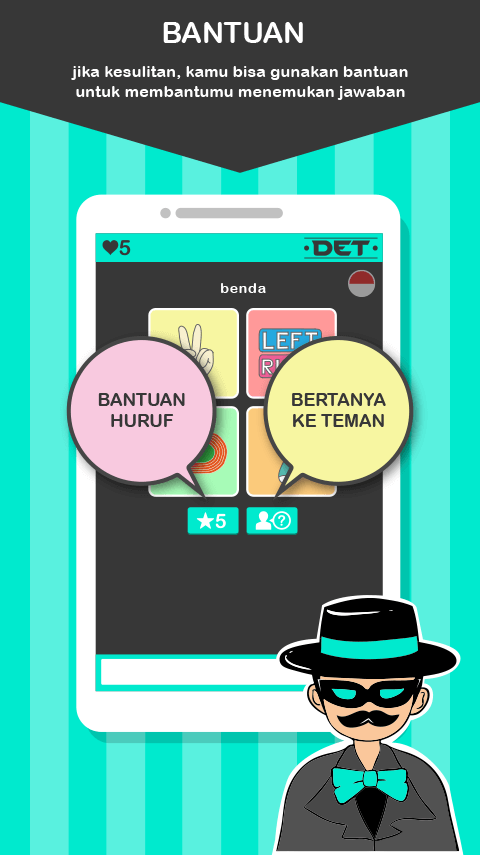 "Kami bangga dapat menghibur audiens kami melalui game 'Tebak Gambar'. Meskipun hanya dengan konten lokal (Indonesia) yang sederhana, ternyata dapat menghibur lebih dari 18 juta pengguna. 'Tebak Gambar' bahkan menginspirasi perusahaan lain dalam membuat konten yang polanya serupa dengan game 'Tebak Gambar'. Begitu pula dengan game 'DET:solve the mystery', dengan konten yang universal, harapan kami game ini mampu merangkul pemain yang lebih banyak lagi, tidak hanya di Indonesia, namun juga di mancanegara." —kata Irwanto Widyatri, Co-Founder Kardus Imajinasi dalam rilis pers yang kami terima.
Sobat DS yang gemar dengan game asah otak dan sedang berburu tantangan baru, DET: solve the mystery wajib dicoba. Unduh game-nya dari Play Store sekarang.
Application Information Will Show Up Here
DailySocial.id adalah portal berita startup dan inovasi teknologi. Kamu bisa menjadi member komunitas startup dan inovasi DailySocial.id, mengunduh laporan riset dan statistik seputar teknologi secara cuma-cuma, dan mengikuti berita startup Indonesia dan gadget terbaru.