Social Media
[Pic of The Day] Fan Page Garuda Indonesia Lebih Responsif, di Twitter Telkomsel Geser Lazada
Di kolom Pic of the Day bulan lalu yang membahas tren media sosial Facebook dan Twitter, Trenologi menyoroti fan page Facebook Telkomsel yang paling responsif dan Lazada yang paling banyak di-mention via Twitter sepanjang Oktober 2014. Tapi di bulan November, terjadi beberapa perubahan. Selengkapnya dalam Pic of they Day tren sosial media November 2014 berikut.
Terdapat beberapa perubahan antara tren Facebook fan page di bulan Oktober dan November 2014. Pertama munculnya Samsung Mobile Indonesia yang melengserkan IM3 di kategori top engagement.
Kemudian XL Rame yang digeser oleh Garuda Indonesia di kategori top growth dan munculnya Zalora di posisi pertama menggantikan OLX.
Info Menarik: Mobile Game Terbaik Facebook 2014
Perubahan juga terjadi di kategori top response time dimana Garuda Indonesia menjadi yang paling responsif menggeser Telkomsel yang kini bertengger di posisi kedua. Lebih lengkap cek infografis berikut:

Jika di jejaring sosial Facebook Telkomsel cenderung turun, berbeda dengan tren di Twitter. Dimana Telkomsel yang bulan Oktober tak tampak di tiga besar justru mampu melompat ke tangga pertama di indikator top engagement dan most retweets and replies, menggeser Yamaha Indonesia dan Bolt yang kini berada di tangga kedua di masing-masing kategori tersebut.
Info Menarik: PC Quad-Core Sebesar Kartu Kredit Ini Cuma Dibanderol US$ 35
Di kategori most mentioned lagi-lagi Telkomsel jadi yang terbaik mengalahkan Lazada yang di bulan lalu berada di puncak. Anda dapat melihat perubahan lainnya di infografis berikut ini: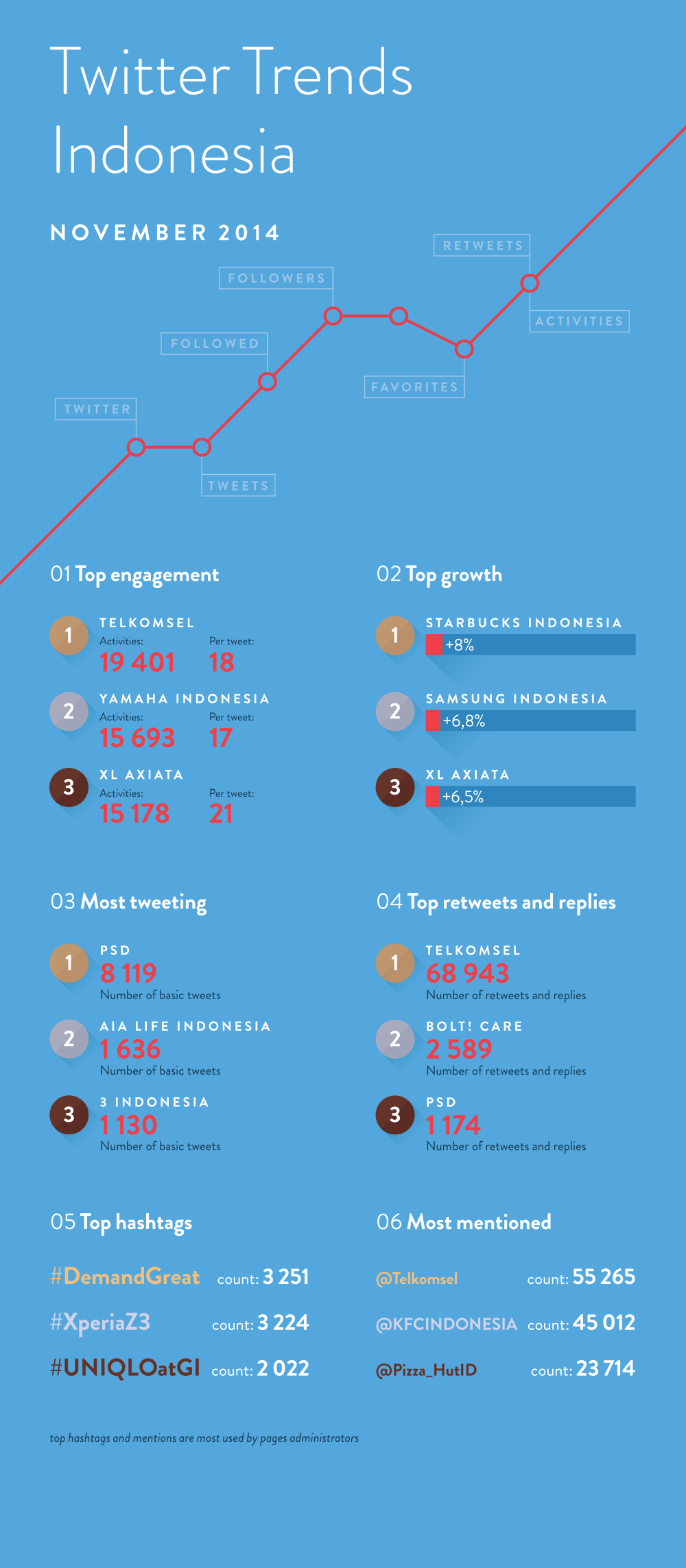 Sumber: 1 | 2 dan Imago. Gambar header: Celebrate via Shutterstock.
—
Kolom Pic of the Day (PoD) adalah kolom yang menghadirkan gambar pilihan yang dikutip dari situs Imago. Gambar berupa tabel, infografis atau yang lainnya ini akan berkisar seputar dunia digital. Diharapkan pilihan informasi ini bisa memberi manfaat, ide atau informasi berguna bagi pembaca TRL.
Are you sure to continue this transaction?
processing your transaction....