Pilihan Kita Akan Menyelamatkan Nyawa Dalam Game Eksklusif PS4, Until Dawn
Yoga Wisesa - 28 May 2015
Level interaktif merupakan hal dasar yang membedakan video game dan film, tapi meski tidak diwajibkan, prinsip sinematik banyak diadopsi oleh developer. Beberapa contoh hybrid film dan permainan bisa kita lihat dari judul-judul semisal Heavy Rain sampai The Wolf Among Us. Dan satu permainan ber-genre serupa akan segera dihadirkan ke console PlayStation 4.
Pengungkapan Until Dawn sebenarnya sudah dilakukan cukup lama. Awalnya ia digarap untuk platform last-gen PS3, namun publisher Sony Computer Entertainment mengalihkannya jadi permainan eksklusif PlayStation 4. Until Dawn adalah perpaduan penyajian film dan formula petualangan, dibungkus dalam tema survival horor 'slasher' semisal Friday the 13th atau Scream.
Hasilnya berpotensi menjadi game yang sangat unik. Until Dawn mengenalkan delapan sekawan: Sam, Josh, Jessica, Mike, Emily, Matt, Ashley dan Chris. Mereka bersama-sama menghabiskan malam di dalam kabin kayu, demi memperingati hilangnya seorang teman bernama Hannah. Sayangnya para karakter ini tidak sadar, keselamatan mereka sedang terancam oleh kemunculan sesosok pembunuh berantai.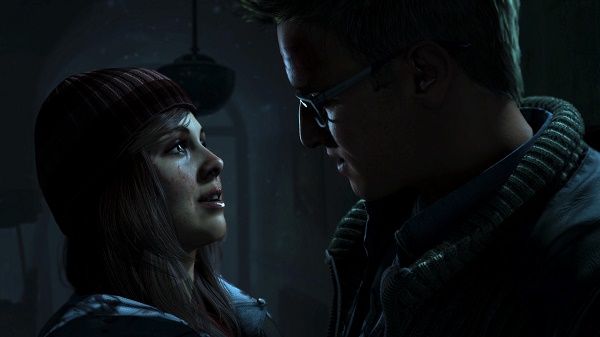 Until Dawn sengaja didesain untuk dimainkan beberapa kali, karena jika bukan begitu, sulit bagi Anda untuk mengerti keseluruhan jalan ceritanya. Tiap petualangan berlangsung selama sembilan jam dari perspektif berbeda, di mana game akan memanfaatkan sistem bernama 'Butterfly Effect'. Sistem tersebut membuat setiap pilihan - sekecil apapun - mempunyai dampak besar, yang mungkin tidak diduga-duga.
Info menarik: Game Horor Perception Andalkan Suara Sebagai Medium Utamanya
Pemain sendiri ditantang dengan pilihan moral dan etis yang sangat sulit. Contohnya, apakah Anda bersedia mengorbankan satu karakter demi menyelamatkan teman lain? Butterfly Effect diracik untuk mengaburkan baik dan buruk, dan keputusan Anda akan menentukan hasil akhir game: Boleh jadi menyebabkan seluruh tokoh tewas, atau malah menyelamatkan semuanya.
Butterfly Effect menyuguhkan banyak sekali cabang narasi serta skenario berbeda, dan developer Supermassive Games menjanjikan jumlah ending yang sangat banyak. Kemudian sistem auto-save turut diracik secara ketat supaya pemain tidak bisa mengkases file save terdahulu jika mereka menyesali keputusan sebelumnya. Keseluruhan fitur tersebut terdengar inovatif, tapi Supermassive perlu menyeimbangkannya supaya sistem tidak terlalu 'menghukum' gamer.
Bersamaan dengan publikasi trailer terbaru, Supermassive Games dan Sony mengumumkan tanggal rilis Until Dawn, yaitu jatuh pada 25 Agustus 2015. Video dapat Anda saksikan di bawah.
Belum puas? Ini dia satu lagi trailer berjudul Roses Are (Blood) Red.
Gambar: PlayStation.com.
Are you sure to continue this transaction?
processing your transaction....