Pinhome Proptech to Digitize Interaction Process in Property Transactions
In partnership with BNI Sharia
Kristin Siagian - 21 July 2020
Pinhome provides services to property owners/agents and buyers. Founded by CEO Dayu Dara Permata and CTO Ahmed Aljunied, they found some unsolved issues for businesses in the ecosystem. Therefore, Pinhome aims to accommodate property transactions as easier, faster, and transparent with the technology support.
Dayu revealed to DailySocial, Pinhome is not a property house, nor is it a marketplace. "Pinhome is very different, we are an online platform that facilitates interaction between owners, buyers and property agents. As property owners, it will benefit them for we will have access to hundreds of thousands of agents who are ready to help market their properties in the future."
As a prospective buyer, Pinhome is ready to escort the transaction process, from the beginning to the contract process. As for fellow agents, the profits will not only help market the property they represent but more than that, they will provide access to millions of other properties.
"Currently, the company is still focused on creating value for users. Pinhome, through the platform, will provide a lot of conveniences both for property owners, for potential buyers, partner agents, to our partners such as banks, contractors, and others. Along with the company's value, get revenue from revenue sharing among stakeholders involved in property transactions," Dayu said.
Partnership with BNI Sharia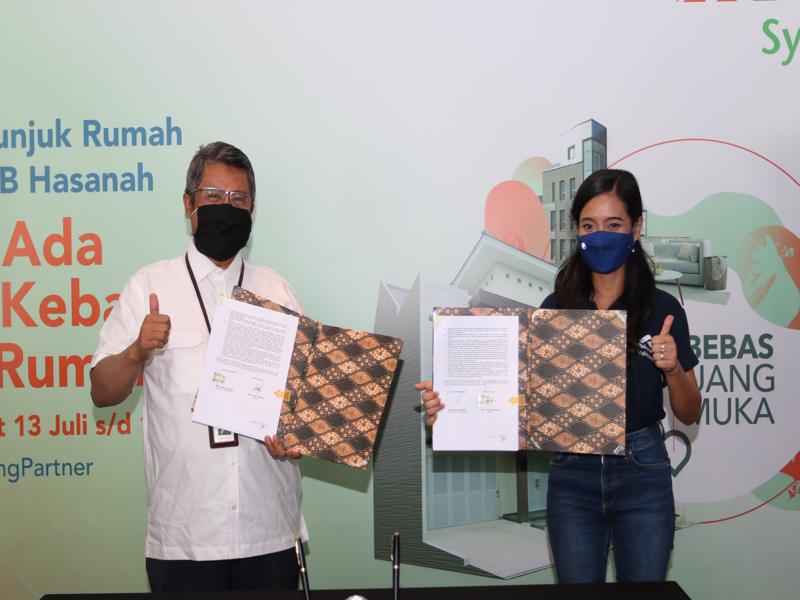 As a newcomer, Pinhome aspired to collaborate with hundreds of thousands of property agents throughout Indonesia. To date, the platform has been available in big cities in Indonesia. Furthermore, the company wants to provide the best property transaction experience in all cities in Indonesia inclusively.
One of the strategic steps launched by Pinhome is a partnership with BNI Syariah. Through this collaboration, they are targeting more potential customers, especially in the millennial segment for the Pinhome platform focuses on online transactions.
In this partnership, BNI Syariah provides housing ownership financing facilities (BNI Griya iB Hasanah) for people who want to have housing in accordance with sharia principles. There are several residential options, namely houses, apartments, office shophouses (shophouses) and shophouses.
"We hope this collaboration can ultimately have a positive impact on our consumers, where they have the freedom to choose the type of financing that suits them. Therefore, we have conventional and sharia financing options," Dayu said.
Currently, Pinhome has established partnership with several banking institutions. However, partnership with BNI Syariah became very special, because this is the first collaboration with sharia-based banking. This year, there are several targets to achieve, including the number of property listings, fellow property agents, and partners.
"In addition, we will continue to complete the Pinhome system. This is certainly to provide the best service to all Pinhome customers, both owners, buyers, agents, and all our partners," Dayu said.
–
Original article is in Indonesian, translated by Kristin Siagian
Application Information Will Show Up Here